Efforts have been in place to make transitioning to Ethereum 2.0 go smoothly. And the community members are already getting ready to see Phase 0 of Ethereum 2.0 launched on 1st December 2020.
According to Vitalik Buterin, the co-founder of Ethereum (ETH), in the first weeks of the ETH 2.0 launch, all validators will be offered favorable payout conditions.
Penalties Policy and Staking Rewards Reconsidered
Buterin stated that the penalties for the early Ethereum 2.0 have been reduced from 33.3% to 25%, adding that "early-bird" offer will make the payouts policy of Ethereum validators more attractive for everyone involved.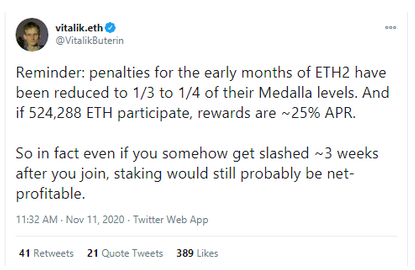 Read Also: Vitalik Buterin Says Ethereum 2.0 Is On Track to Meet Its Prelaunch Requirements
Validators in Ethereum 2.0 are liable to be penalized if they breach the rules of fair transaction confirmation. For instance, validators could be penalized for double-attesting the same block, prolonged inactivity, or attempting to effect a chain split.
So, Vitalik is of the opinion that any validator expelled from the Ethereum 2.0 proof of stake (PoS) mechanism 3 weeks after entering would still go with profits.
Moreover, the co-founder of Ethereum Foundation assured that ETH 2.0 validators would be rewarded with significantly high payouts of 25% APR, if 524,288 ETH are locked in the deposit contract, which is the minimum amount of ETH required to make the much-awaited upgrade a reality.
Ethereum Infrastructure Provider Infura Facing Service Outage
As a report has it, Ethereum infrastructure provider Infura is currently experiencing a service outage, causing a delay in price feeds of Ethereum (ETH) and ERC-20 tokens of a number of cryptocurrency exchanges and related services.
The report reads on Infura status page as follows:
"We are currently experiencing a service outage for our Ethereum Mainnet API. Our on-call team is investigating and working to restore service functionality."
Read Also: Vitalik Buterin Is Playing a Long Game, I'm Constantly Impressed with Him –Michael Novogratz
The issue reportedly started on 11th November 2020, at 08:12 UTC.
The outage prompted Binance and Bithumb to disable their ETH and ERC-20 tokens withdrawals.
The popular Ethereum wallet owned by ConsenSys, MetaMask, is also having issues since Infura is its default service provider.