A cryptocurrency analyst, Scott Melker, popularly known in the crypto industry as Wolf Of All Streets, has revealed he's bullish on seven altcoins, including Cardano (ADA), Ethereum (ETH), Litecoin (LTC), Ripple's digital token XRP, and three others.
The crypto strategist said he believes that these digital currencies are capable of printing new positive trends as a new altseason starts:
Melker tweeted: "I am presently long ADA (Cardano), EOS, ETH (Ethereum), LTC (Litecoin), and XRP (fraction of original position after hitting target) with low leverage… This quick alt season could end anytime, so I am going after it while I can."
Read Also: Analyst: XRP May Finally Be Entering a Long-Awaited Bull Cycle; Targeting Nearly $1.00
The analyst also stated that he's becoming more bullish on Polkadot (DOT), believing that the digital currency is starting to showcase signs of bullish momentum:
"RSI broke resistance, usually price follows. I am already in this on that massive bullish divergence, but this could really go if Bitcoin allows it."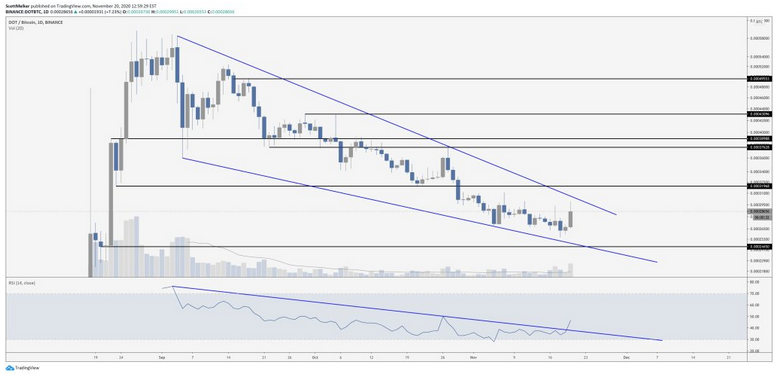 According to Melker, he's also bullish on the decentralized finance asset Compound (COMP).
The crypto analyst believes that altcoins have room to surge in the short term:
"Bitcoin dominance potentially breaking support here. If this continues, we will have at least a continued opportunity in the short term to trade altcoins. If it keeps going down, full-blown alt season."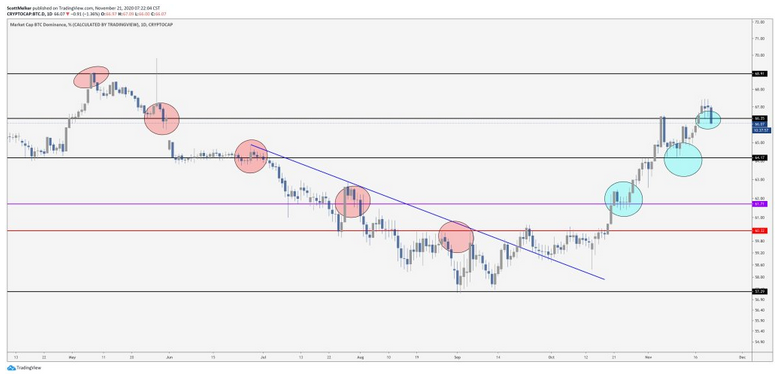 As for the long-term timeframe of the Bitcoin dominance index, Melker marks 63% as a crucial level for altcoins.
Read Also: Top Analyst: Ethereum (ETH), Ripple's XRP, Litecoin (LTC) and Six Others Are Set For Major Uptrend
"The weekly candle was looking likely to break through key descending resistance. Now it is back below. Rejection here on the weekly and alts will continue to fly."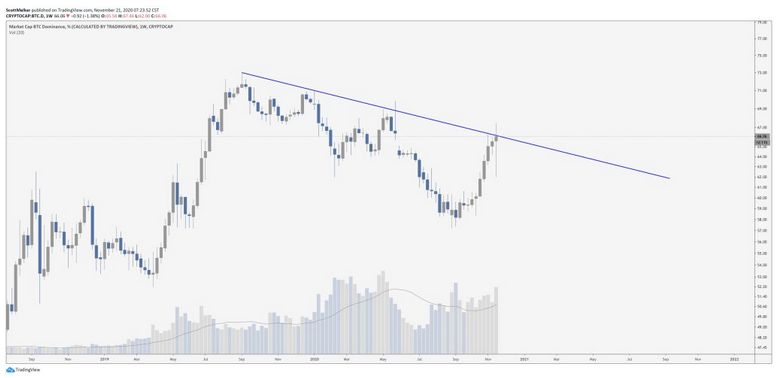 Read Also: I Purchased 500,000 ETH from Vitalik Buterin and 30,000 BTC in First Crypto Investment – Mike Novogratz
Despite the fact that Altcoins have started to display signs of strength, Melker remains long-term bullish on Bitcoin (BTC) as he expects the leading cryptocurrency to undergo a sell-side liquidity crisis, considering the stern institutional demand.
Melker noted
"Grayscale is buying more Bitcoin than is being mined. Cash app and PayPal are soon to be doing the same. That is just three companies. Imagine when every company wants exposure. And you do as well. Supply-side shock is a near certainty."