Analyst: XRP May Finally Be Entering a Long-Awaited Bull Cycle; Targeting Nearly $1.00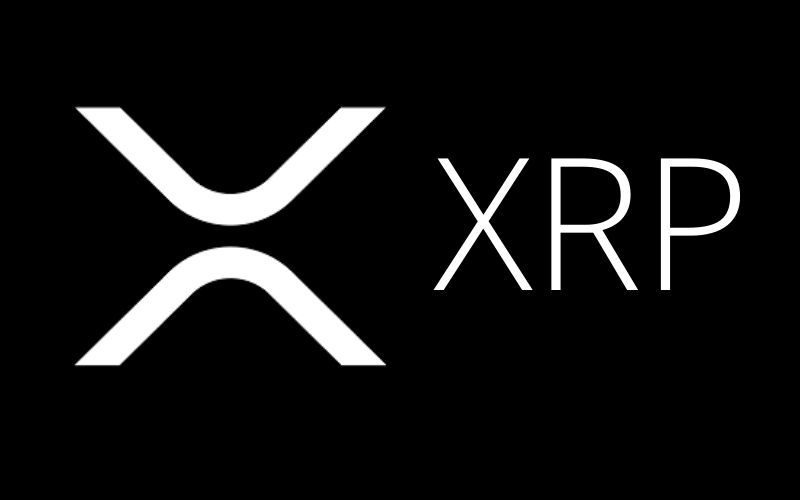 A popular cryptocurrency analyst and trader has recently aired his take regarding the price trend of the fourth-largest digital currency by market capitalization, XRP.
According to the pseudonymous analyst who is identified on Twitter as Magic, XRP may finally be entering a long-awaited bull cycle, with nearly $1.00 price target.
In a post on Trading View, the analyst stated that XRP recently broke above a symmetrical triangle which was last attained in September 2019.
Read Also: PayPal Decides Not To Support XRP. Here Is Why
Magic strategically placed his upside target between $0.8 and $0.92 price regions. This price target is relatively 173% increase from $0.3 printed by the cryptocurrency a few hours ago.
The analyst shared this on Trading View, captioning an illustrative chart:
"Based on the size of the falling wedge pattern, I've found that the upside target should be around the $0.80 level. However, the 23.6% retrace for the entire bear market is at about $0.92.
"So, it's possible that XRP could rally well above the $0.80 level to test the $0.92 level. The MACD (moving average convergence/divergence) is printing a strong expansion to the upside, increasing the probability of a push to higher levels."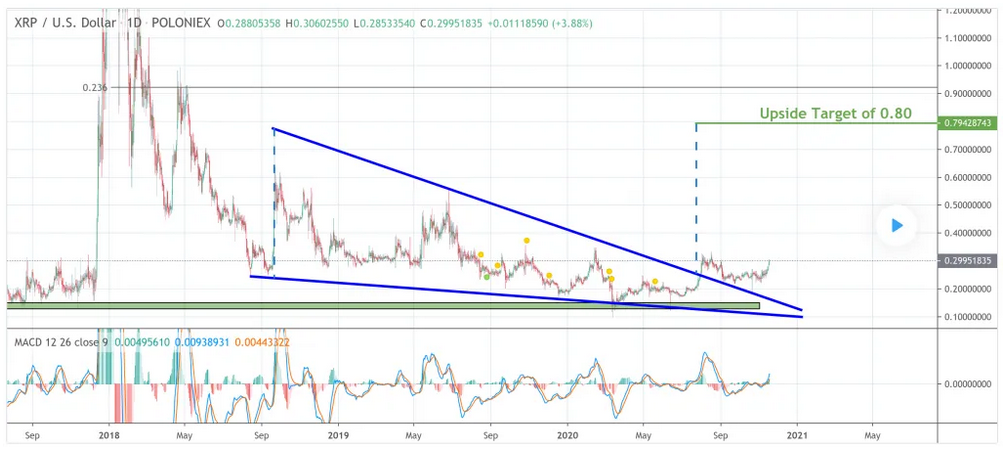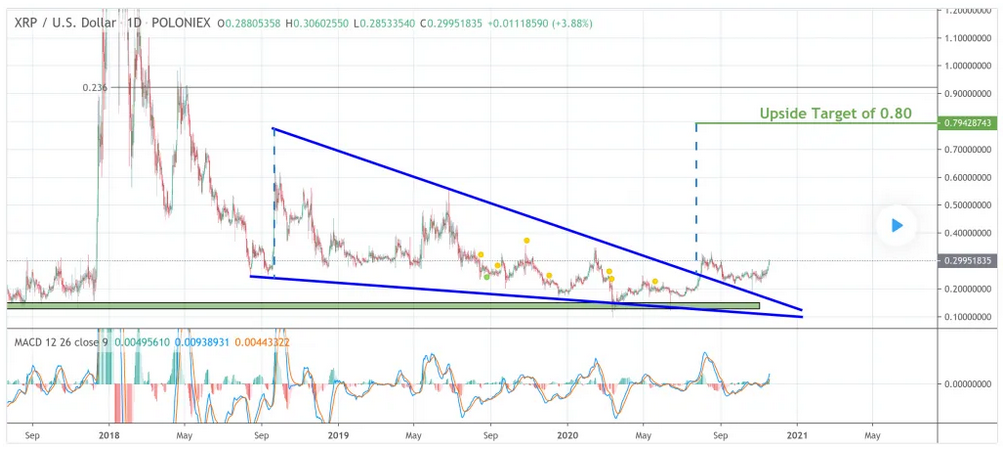 However, the analyst went further to warn traders that XRP would face several lines of resistance before his bullish prediction can come to play. XRP bulls must first break through the $0.32 resistance, followed by $0.55 level.
Read Also: David Schwartz Highlights Obstacles Facing XRP As Price Lags Behind Bitcoin (BTC)
XRP in the Market
So far this year, the crypto asset has underperformed compared to the two largest cryptocurrencies, Bitcoin (BTC) and Ethereum (ETH). At the time of writing, XRP is priced at $0.288879, with a 4.02% price downtrend in the last 24 hours.
XRP started 2020 at $0.19 and has failed to maintain its stability above $0.3 support. Compared to the current price, the digital asset is up 57% this year, while BTC and ETH are up 145% and 271% respectively this year.