Sven Henrich, the founder and lead market strategist at NorthmanTrader, has stated in his recent note that there is still a possibility for the price of Bitcoin (BTC), the largest cryptocurrency by market cap, to collapse.
He said it's crucial for the flagship cryptocurrency to reach "sustained new highs" in February. Otherwise, Bitcoin could embark on another bearish reversal such as that of early 2018. So, Henrich targets a possible crash to $6,400 area in 2022.
Read Also: Bitcoin (BTC) Loses $30,000 Support, Erasing Almost All of 2021's Gains. Here's why
He further pointed out that if the structure takes the form of 2017 highs, it could well be the next target lower. Failure to hold that support, the confluence interjection of key trend lines may ultimately yield a target of around $6400 in 2022.
Although Bitcoin's bull case still remains positive, Henrich believes that the leading cryptocurrency is moving closer to a critical point in the current bull cycle.
Bitcoin (BTC) Must Hit and Hold $45,000
According to Henrich, Bitcoin must convincingly break above $45,220 to gain a hold above the 3.618 Fibonacci level.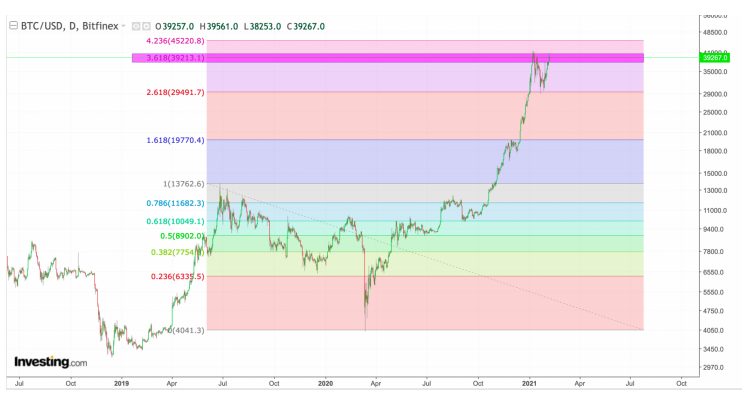 Image Source: northmantrader.com
After finding support at the 2.618 Fibonacci level during the two latest price retracements, Bitcoin (BTC) could eventually lose it and face a huge price dip if it fails to attain a new all-time high soonest.
Extremely Similar To 2018 Bear Market
According to Henrich's account, the current performance of Bitcoin is extremely similar to that of early 2018 when the king of coins was preparing for the historic bear market.
Read Also: Bitcoin (BTC) Reaches Price Milestone after Three Years of Waiting
As the market strategist stated, Bitcoin (BTC) is at risk of forming a monthly rejection candle and a lower high in the following month. Such a setup was effectively a death knell for Bitcoin's previous bull run.
Henrich concluded that traders have to prepare for possible bearish divergence, even if Bitcoin manages to attain new highs.