Going by the recent data released by Bithomp, Jed McCaleb, who co-founded the cross-border payment giant, Ripple, has initiated another selloff of the digital token XRP, just a few days after cashing out the sum of 10 million XRP worth $2,436,178 at the time the transfer was effected.
In another news, XRP Liquidity indexes across the Ripple's On-Demand Liquidity (ODL) partners, including Australian BTC Markets, Mexico's Bitso, Philippines' Coins.ph, and Bitstamp, have continued to stay low, which deters the liquidity of the digital currency from attaining new all-time highs for quite a long while.
Ripple Co-Founder Jed McCaleb Cashed out 11.4 mln XRP
As it's generally believed in the cryptocurrency ecosystem, the frequent selloff of any digital currency is not good for its market value.
A report by XRP Monitor on 18th September 2020 has it that Ripple co-founder, Jed McCaleb, who was the Chief Technical Officer (CTO) of the Payment giant before David Schwartz, wired 11.4 million XRP worth about $3 million at the time of writing.
According to CoinMarketCap, the fourth-largest cryptocurrency by market cap just managed to break above $0.25 resistance level. At press time, XRP is priced at $0.253319, with a 0.09% price plummet in the last 24 hours.
XRPL Monitor further reported huge transactions of XRP in the last 24 hours. One of these huge transactions was effected on Coinbase Pro, which was 9,999,980 XRP worth $2,500,565.
XRP Liquidity Remains Low
In recent reports shared by Liquidity Index Bot, XRP Liquidity indexes continue to stay far from their all-time highs on the four major Ripple's ODL partners such as Bitso, BTC Markets, Coins.ph, and Bitstamp.
These relatively low numbers have remained like this since 12th March 2020, when cryptocurrency market crashed along with stock market and oil.
XRP Liquidity indexes as shared by Liquidity Index Bot can be seen below: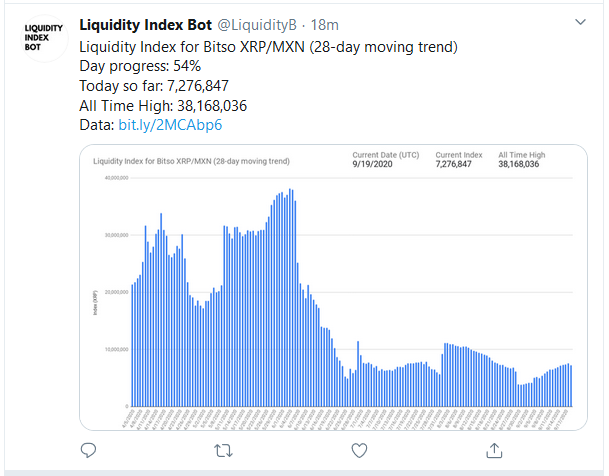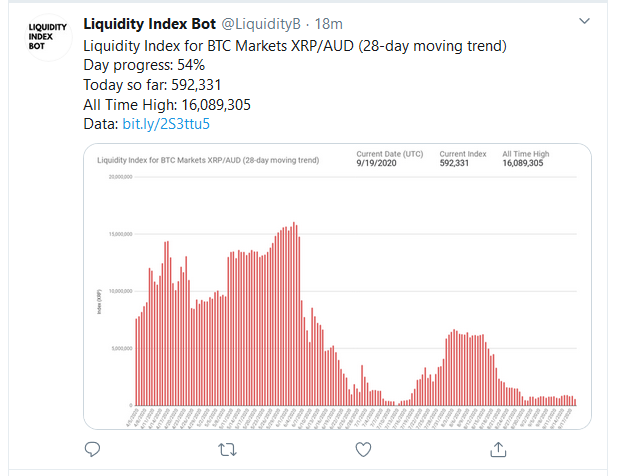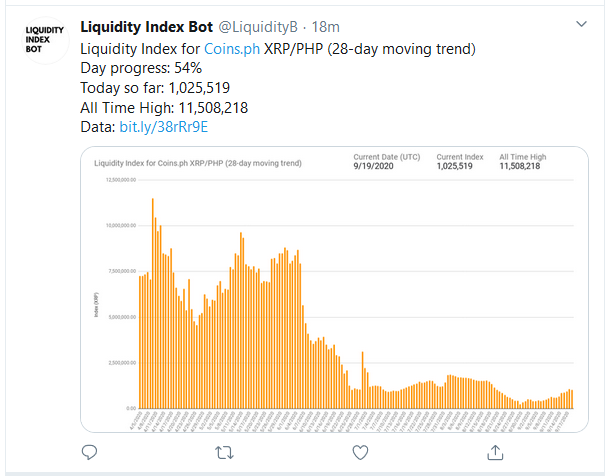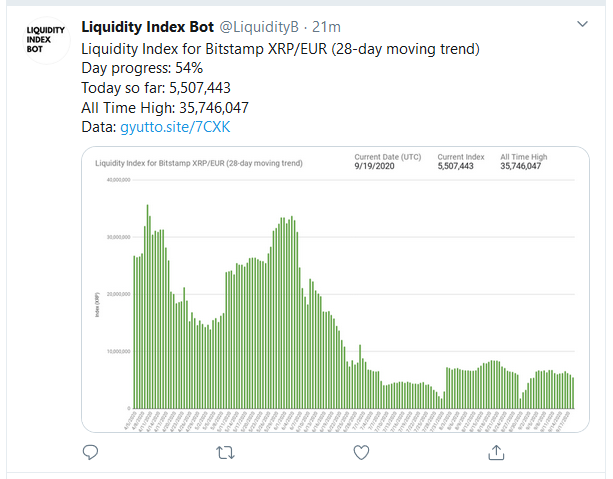 However, the decrease in XRP Liquidity has not dissuaded Ripple from expanding its ODL into other regions such as Asia, Africa, and Latin America.
Join us on Twitter
Join us on Telegram
Join us on Facebook