Crypto Trader Lists the Reasons Why XRP Price Will Never Attain 5 Figures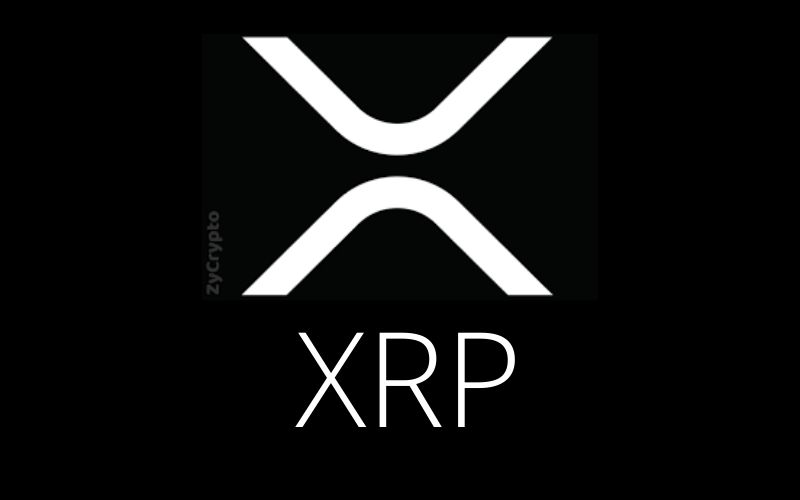 A cryptocurrency trader and investor has some hours ago listed the reasons why he thinks that the Ripple's digital token XRP can never attain a 5-digit price level, such as $10,000.
There have been a number of exorbitant predictions for the price of XRP. There was 589 per XRP prediction and an outrageous $10,000 per the Ripple's digital currency.
So many crypto pundits and analysts have seen these predictions as a dream emanating from a quarter of the XRP community, which may never see the light of the day. While some others remain positive, believing that the huge heights are attainable by the top cryptocurrency.
To think of the possibility of those prices, we have to consider the present price of the digital token. At price time, XRP is trading a bit below $0.25. So, those prices predicted will definitely take the market cap of XRP beyond imagination. This point was also mentioned by the trader that argued the possibility of attaining such price levels.
Trader States Reason Why XRP Will Never Attain $10,000
Sharing an opinion on Twitter, a cryptocurrency enthusiast identified as Emhyr, listed different reasons why the fourth-largest digital currency by market cap, XRP, will never attain a 5-digit price level.
Emhyr tweeted, "Reasons why XRP will never reach 5 figures: Micro payments would not work. Market cap would be incomprehensible. Bitcoin isn't going to 100M. Buyers and sellers need to meet each other for these prices to happen. No one is buying 1 XRP for 10k ever, not fucking ever. STOP."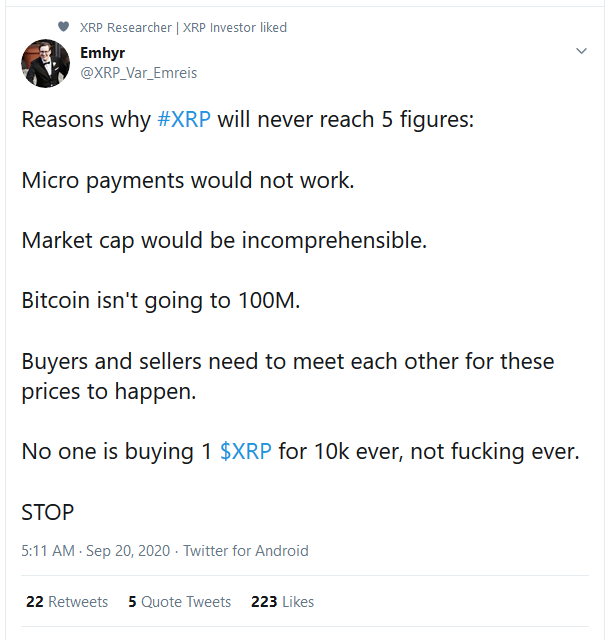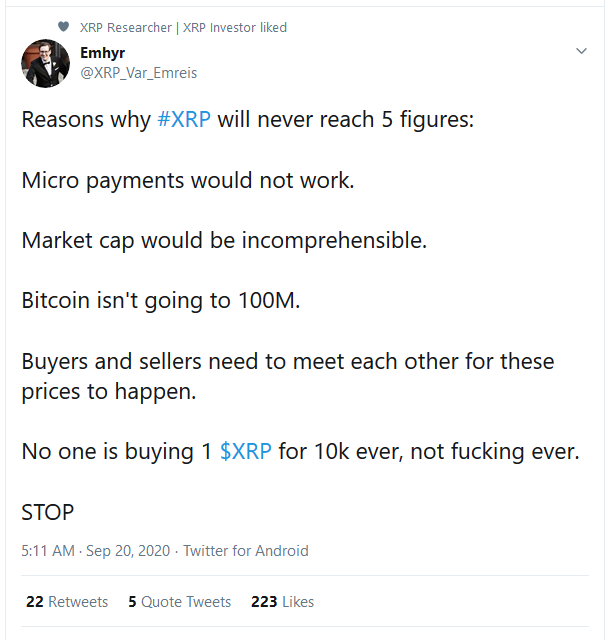 In a follow-up response, a supposed XRP enthusiast averred nothing is impossible in the world of cryptocurrency, urging the trader not to assume that a price is unattainable:
"The truth is no-one know the exact price. Please do not assume over this. Relax and let surprise when it get there!"
Responding to the crypto user's opinion, Emhyr emphasized the major reason for his grievance regarding outrageous predictions of the price of XRP:
"No we don't, but what shits me is influencers giving people false hope of riches; telling people "it was designed for $10k, it's going to $1k overnight" and all the rest of the nonsense. Ride the cycles, take profits and never sell all your XRP, that's the best strategy."
Join us on Twitter
Join us on Telegram
Join us on Facebook