Ethereum (ETH), the second-largest digital currency by market cap, has managed to record another all-time high on the Binance exchange. This time, the leading cryptocurrency soared above the $1.800 resistance level.
At the time of filing this report, ETH is trading at $1,810, with about a 10% price upsurge in the last 24 hours.
Read Also: Gemini's Tyler Winklevoss Says 'When in Doubt, Ethereum" As ETH Is Now 9% Away from ATH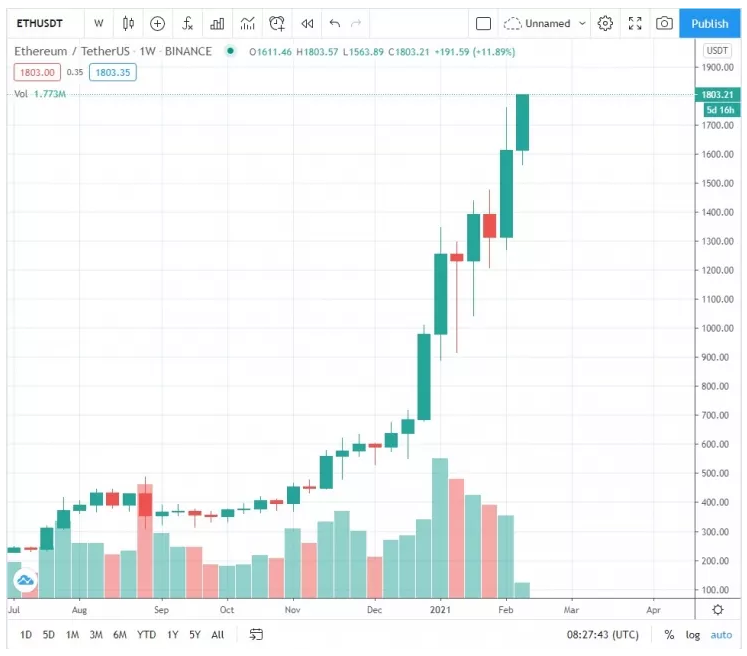 Obviously, the meteoric rise in price has been driven by the launch of Ethereum Futures on CME on 8th February. On the first day of trading Ethereum Futures, 388 contracts were reportedly traded.
On the other hand, Bitcoin (BTC), the largest cryptocurrency by market capitalization, has also earlier today recorded new all-time highs around $48,000.
This BTC peak was clearly initiated by the news of Tesla adding a whopping $1.5 billion worth of Bitcoin to its balance sheet and also allowing payments in BTC.
Read Also: Elon Musk Says Bitcoin (BTC) Is On the Verge of Broad Acceptance
These positive trends are expected to persist for the next couple of months, according to a number of crypto analysts and traders.
---
Follow us on Twitter, Facebook, Telegram, and Download Our Android App