Binance, the arguably largest cryptocurrency exchange by trading volume, is likely behind the relatively 18 stake pools on the Cardano blockchain.
An information from the Daedalus wallet reveals that there are 18 stake pools with metadata that shows the owner is Binance exchange.
This discovery has so far raised two opinions. Some members of the Cardano community are excited due to the exchange's pedigree, while others are of the opinion that this could deter the hope of realizing the full decentralization of the Cardano network.
Howbeit, this should be good news for the Cardano community, considering the increase in the number of stake pools, which is expected to attract a number of largest players in the industry, including Binance.
Read Also: Charles Hoskinson: We Are Building Infrastructure to Make Cardano Blockchain Suitable for Future Elections
Discovery of About 18 Stake Pools Founded By Binance
As aforementioned, the new development has attracted a number of reactions from the Cardano community members.
The host of The Cardano Effect podcast, Rick McCracken, was the first to share the discovery of over a dozen stake pools belonging to Binance on the Cardano network.
Captioning an image to support his claim, McCracken tweeted, "Dear friends at Binance and Changpeng Zhao are the pools on the Cardano blockchain really yours? This is an exciting and interesting development, yet ominous at the same time, so I ask out of pure curiosity. Thank you!"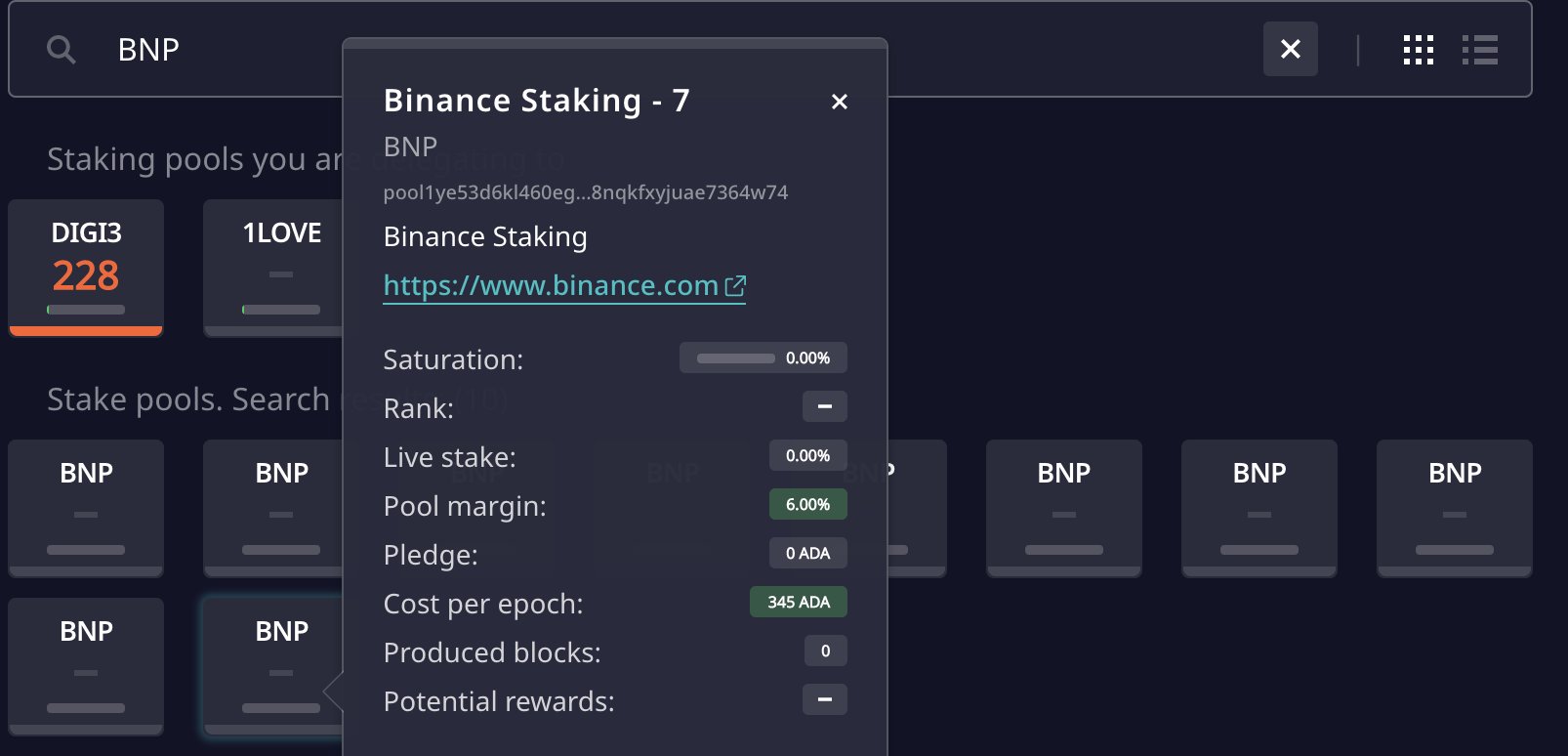 However, despite the obvious metadata to show that the stake pools are founded by Binance, neither the exchange nor any of its representatives have confirmed the exciting discovery.
Read Also: Cardano (ADA) Is Up and Running Again On Bittrex Exchange
What Could Be the Impact of Binance's Stake Pools on Cardano?
Although there is no official reaction to the claim, many Cardano community members are already convinced that Binance has an eye on Cardano. As earlier mentioned, many have celebrated the move, with the hope of impacting the price and k-parameter of Cardano.
Nevertheless, not everyone has faith in what the presence of top players such as Binance could bring to the emerging network. Some also warned that giving a single source to found multiple stake pools could hamper the hope of decentralizing Cardano, which could be detrimental to the growth of ADA, citing the situation of EOS blockchain as a good example.