According to the recent report published by Ripple, the global trading volume of the digital token XRP rose 299% in the fourth quarter of 2020 to $148.15 billion.
XRP recorded such an outstanding figure despite the vast number of market participants that suspended or completely removed the cryptocurrency from their platforms following the lawsuit filed by the United States Securities and Exchange Commission (SEC) in late December 2020.
Read Also: Ripple, Coinbase, Bitfinex Moved Almost 100 Million XRP
The lawsuit and XRP trading restriction that followed initiated the loss of just 12.49% of the token's trading volume.
Huge Volatility of XRP in the Fourth Quarter
According to the report, the fourth quarter of the past year was full of volatility for the US-based cross-border payment behemoth, Ripple, and its digital token XRP.
After embarking on a magnificent upward trend to hit $0.77 in late November, a price surge that was initiated by Flare Network's airdrop of the Spark tokens, XRP dipped over 78% in one month due to the Ripple-SEC lawsuit.
The Ripple's digital token, XRP, got its second wind in early February, revisiting its November high and then shedding more than half of its value as a result of a manipulated pump-and-dump.
Expectedly, the digital asset's volatility saw a sharp 174% increase in the fourth quarter of 2020.
Read Also: American Rapper Soulja Boy Who Currently Holds Bitcoin Showcases Stern Interest in Buying XRP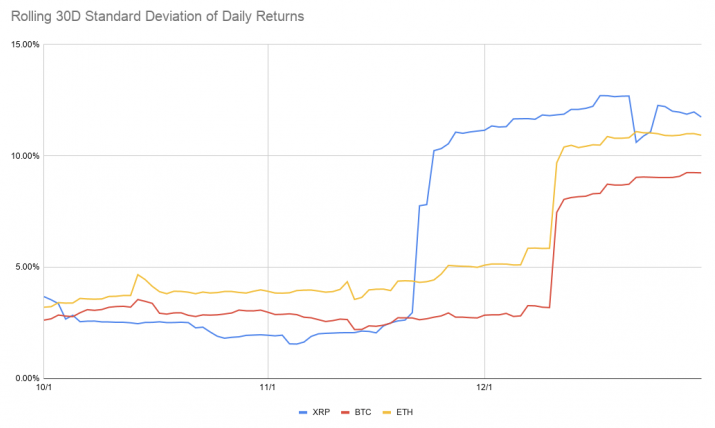 XRP Sales Grow 112%
Ripple's XRP sales—which are at the heart of the legal battle with the SEC—actually grew 122 percent in the fourth quarter to $111.12 million, representing 0.05 percent of the global trading volume.
According to the firm, the sales are related to the development of the On-Demand Liquidity (ODL) product.
---
Follow us on Twitter, Facebook, Telegram, and Download Our Android App.