XUMM, the popular noncustodial wallet for assets based on XRP Ledger, has released a new version that seems to be the Last Beta of the wallet, with improvements, new features and fixes.
XRPL Labs, the team behind a number of XRP related products such as XRP Ledger and XUMM wallet confirmed the release of XUMM's "Last Beta".  The next release is expected to be a stable version of the product.
XUMM Wallet's Improvements, New Features, Fixes
The newly released version includes meaningful updates that are partially submitted by the community. This implies that the XUMM wallet now gives mobile app users the means to check XRP Ledger operations and receive notifications once the updated software version goes live.
Read Also: About 1 Billion XRP Now Set Up By 17,077 XRP Accounts to Claim Spark Tokens; Top Exchanges Pledging Support
Additionally, the new version now features a plugin module for WooCommerce, a well-known e-commerce platform. With this new plugin, merchants will be able to accept XRP payments seamlessly.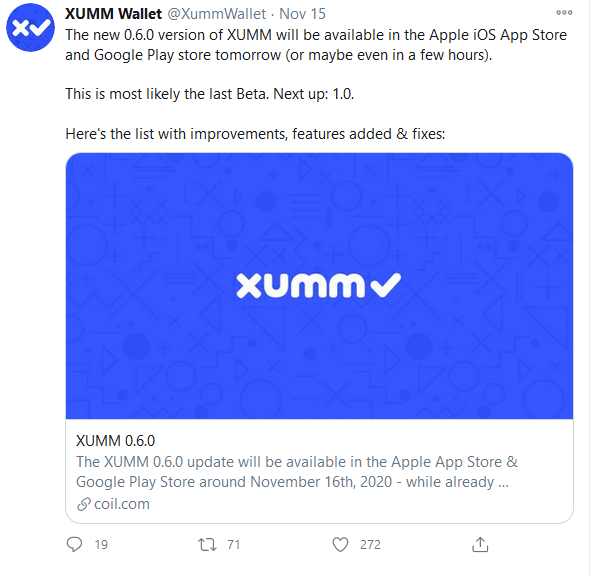 According to the lead developer of XRPL Labs and XUMM wallet, Wietse Wind, the latest version of the wallet is more stable than the past versions.
Wind noted:
"But we already removed the balance warning last version, as XUMM security, sending & receiving has been thoroughly tested."
Specifically, the features incorporated into the new version are meant to improve the user experience for XRP holders.
In the new version, every XRPL object is now displayed on a dedicated tab. Accounts that are yet to be activated will receive a special QR code for initial funding. Also, QR codes may now be used to check the destination of the transaction.
Read Also: XRP is the Most Popular Crypto Asset on this Major Exchange, Surpasses BTC By Far
Every link related to XRP Ledger can now be opened in an alternate browser. Once the payment is canceled, its destination account will appear on the Sign Request screen.
Developers reconsidered transaction search, sending screen and added separators to show balances correctly.
It's also of note that the XUMM wallet now runs a translation bounty campaign. So, interested experts in all languages are urged to join as contributors.