Weiss Crypto Ratings, the provider of independent ratings of cryptocurrencies, has some hours ago stated that the second-largest cryptocurrency by market capitalization, is poised to print new highs now that the pullback is here.
According to the top crypto rater, $112 million in Ethereum options is set to expire in two days' time. Despite that the digital token ETH dropped below $380, data continues to indicate that traders are resolutely bullish.
Weiss Ratings added that Ethereum (ETH) was overheated and due for a pullback, which it said has also been realized.
So, the fact that the pullback is here indicates that ETH is now poised to record new price highs. However, at the time of writing, ETH is trading at $386.71, with a 1.03% price uptrend in the last 24 hours.
Weiss Crypto Ratings tweeted, "$112 million in Ethereum options expire on August 28 but data shows traders remain bullish even as ETH trades below $380. ETH was overheated and was due for a pullback. Now that the pullback is here, the next stop for ETH is new highs."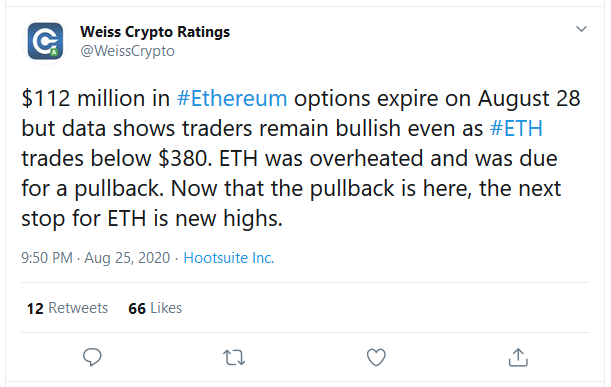 Ethereum (ETH) Correlation with Bitcoin (BTC) On the Increase
As a report has it, the 30-day correlation of Ethereum with Bitcoin has been on the increase in the final days of August. This observation was noticed and reported by Unfolded, a market insights channel.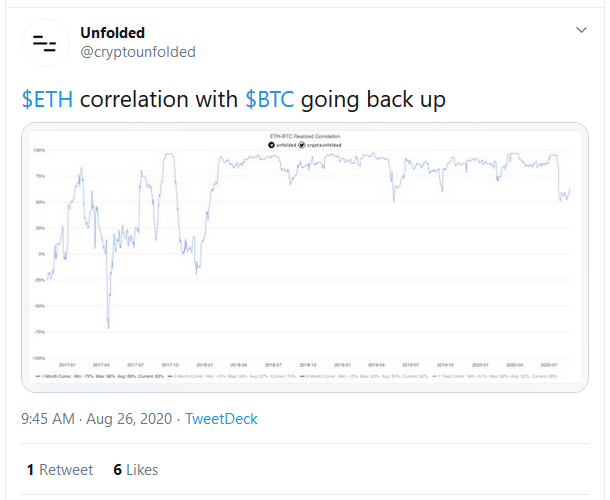 The observation is further confirmed by the ETH/BTC correlation chart made available by the analytics platform, Coinmetrics. Although the analytics platform used a 90-day correlation, its steady increase can still be seen through a little change in gradient of the chart to an upward trajectory.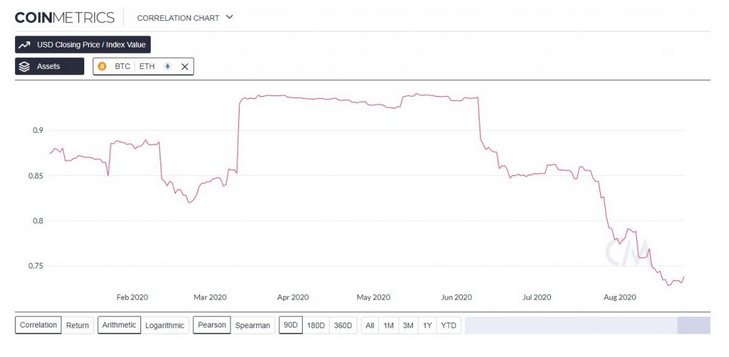 How Can This Affect Ethereum (ETH) Price Trend?
According to some crypto pundits, the success of DeFi over the past few months has contributed to the uncorrelated growth experienced by ETH over the same period.
Also, the expectation of a possible launch of Ethereum 2.0 in July 2020 is believed to have contributed to the bullish trend of ETH as indicated in the above chart.
So, if this correlation continues between the two largest cryptocurrencies, ETH will have to follow the price trend of Bitcoin (BTC) as usual.
Join us on Twitter
Join us on Telegram
Join us on Facebook