Vitalik Buterin: ETH 2.0 Is Taking a Long Time, but I'm Happy with the Progress of Launched Testnets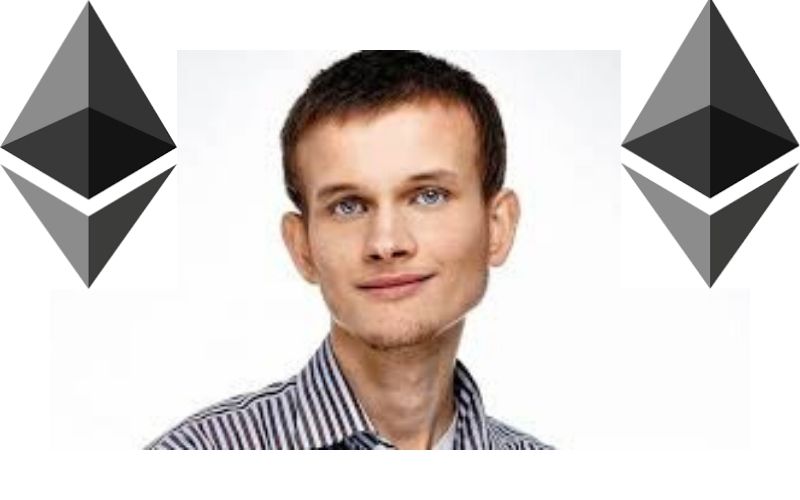 Many non-Ethereum community members, especially the Bitcoin Maximalists, have seized the opportunity of the delay in the launch of ETH 2.0 to throw jibes at the blockchain project led by Vitalik Buterin.
The Ethereum co-founder is obviously not relenting in answering the teeming number of unbelievers in his blockchain project. There has been a mockery related to the increase in Ethereum transaction fees, and Buterin himself has never denied the fact.
Also, mockeries have surfaced regarding the delay in upgrading Ethereum network from proof-of-work (PoW) to proof-of-stake (PoS), an upgrade that is seen as the solution to the issues of the network.
Road to the Launch of Ethereum 2.0 Is Getting Clearer
As aforementioned, Vitalik Buterin has been having a difficult time with trolls that often challenge the use cases of Ethereum (ETH), especially on the Crypto Twitter. However, the road to the launch of ETH 2.0 that will turn the situation around is somewhat getting clearer, considering Buterin's recent gesture.
In a thread on Twitter, a crypto enthusiast, who probably supports the two largest cryptocurrencies, Bitcoin (BTC) and Ethereum (ETH), stressed the importance of scaling to the Ethereum network.
He also described the anticipation of the community for the much-awaited upgrade. He further asked Buterin of his opinion regarding the unexpected delay to ETH 2.0 launch:
"Yeah, that's the point. Scaling is very important & that is what people have been waiting for years in ETH Today's technology WILL eventually be absolute in the future. We just need to update things but don't you think it is taking a lot of time for 2.0?"
With sincerity, Buterin admitted the heavily criticized delay, but stated that he's pleased with the latest developments and the progress towards the realization of Ethereum 2.0.
"Yeah, 2.0 is taking a long time. That's why I'm very happy we've finally gotten to having testnets, and simultaneously other scaling tech like rollups," Vitalik Buterin noted.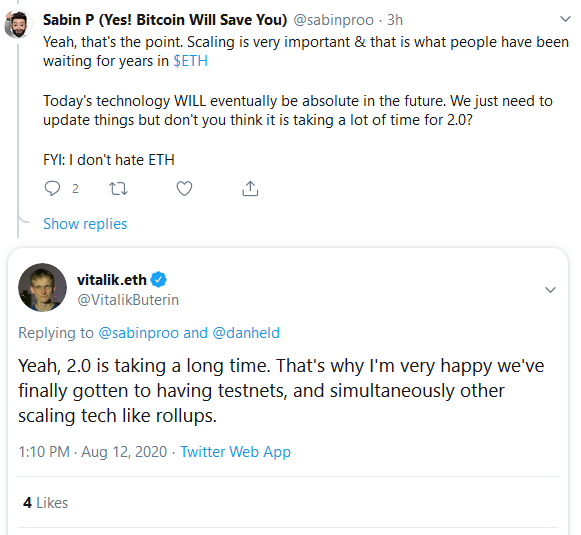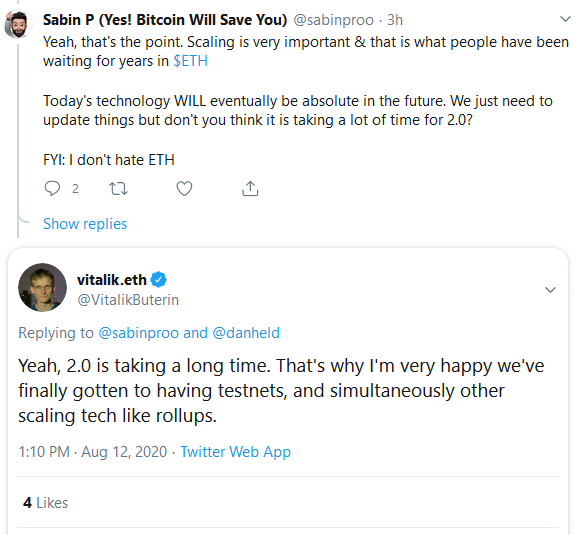 Meanwhile, Medalla, the final public testnet that precedes mainnet, has been recording good results since it was officially launched a couple of days ago.
On 9th August 2020, the Medalla deposit contract reportedly surpassed 1 million GöEth. And it's generally believed that the success of this finally testnet will determine whether the much-anticipated upgrade will play out in 2020.
Join us on Twitter
Join us on Telegram
Join us on Facebook