Over the past few days, the co-founder of Ethereum (ETH), Vitalik Buterin, has been in debates with a number of Bitcoin maximalists, especially, Samson Mow, the CSO of Blockstream.
He's widely criticized by Bitcoin maximalists for seeing supply caps as a blockchain security flaw. According to Buterin, "A supply cap prevents you from having guaranteed rewards, which prevents you from having any specific guaranteed level of blockchain security."
Adding that "If the chain dies, the coin dies. So IMO ensuring a minimum level of security of the chain, through a minimum coin issuance (which can be clawed back with EIP 1559-like techniques if there's usage), is the correct path."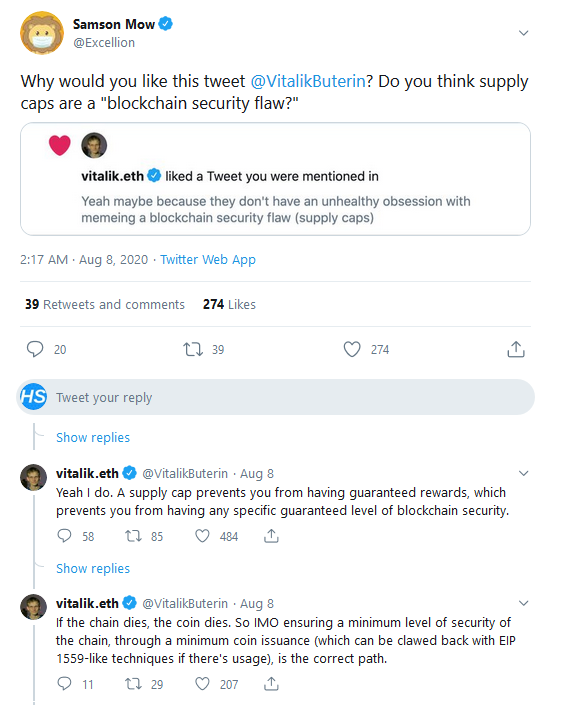 The fact that Buterin did not support the hard cap of coins such as 21 million for Bitcoin did not go down well for many maximalists. This resulted in tons of criticisms directed at his blockchain project that is on the verge to undergo network overhauling through the much-anticipated upgrade from proof-of-work (PoW) to proof-of-stake (PoS).
Ethereum (ETH) Present Supply Is Clearly Known
In another tweet, Vitalik Buterin expressed his love in how people have been flogging Ethereum's lack of a preset hard cap like Bitcoin, despite the fact that the ETH transaction fees have substantially surged in the past 2 months.
Vitalik Buterin Tweeted, "I love how people have been so awkwardly trying to press ethereum on its lack of a preset "21 million"-like hard cap, when transaction fees the past 2 months have been high enough to more than fully cancel out PoS rewards post-EIP 1559."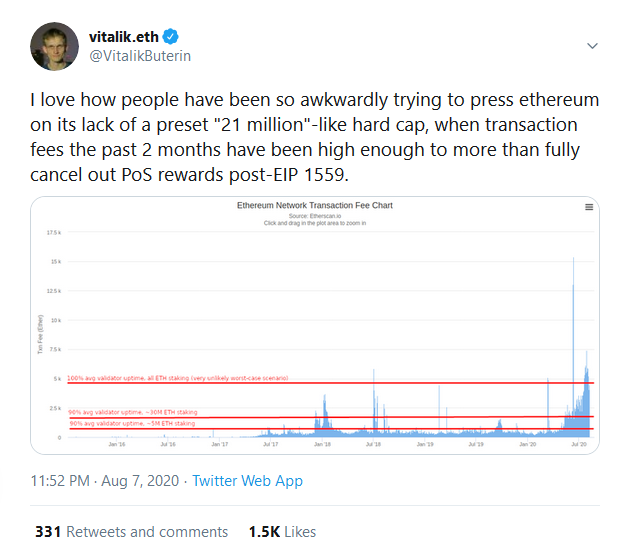 In response to Buterin's viewpoint, Pierre Rochard, a well-known Bitcoin advocate, said that there is room to debate hard cap, but coming up with the present supply of Ethereum (ETH) would be impossible for Buterin at the moment.
Rochard wrote:
"We can debate hard cap, but summing up present ETH total supply is a challenge. I had to put up a bounty to even get a first iteration."
Responding to Rochard's challenge, Buterin said, "The present supply is clearly known, here it is. What you're looking for is verification that the consensus rules were followed, which you can do by running one of multiple implementations."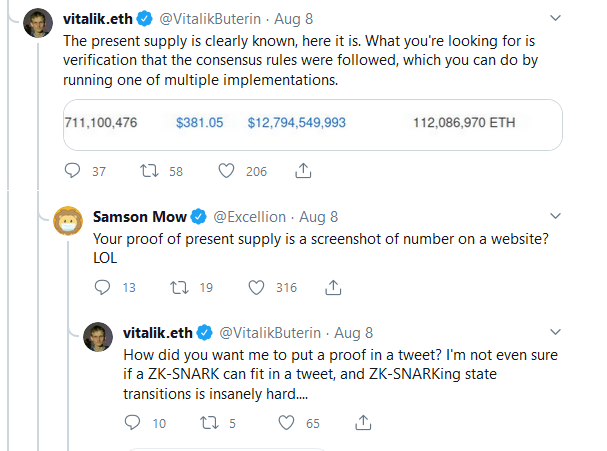 Join us on Twitter
Join us on Telegram
Join us on Facebook