Top Blockchain-Based Content Creation Platforms for Content Creators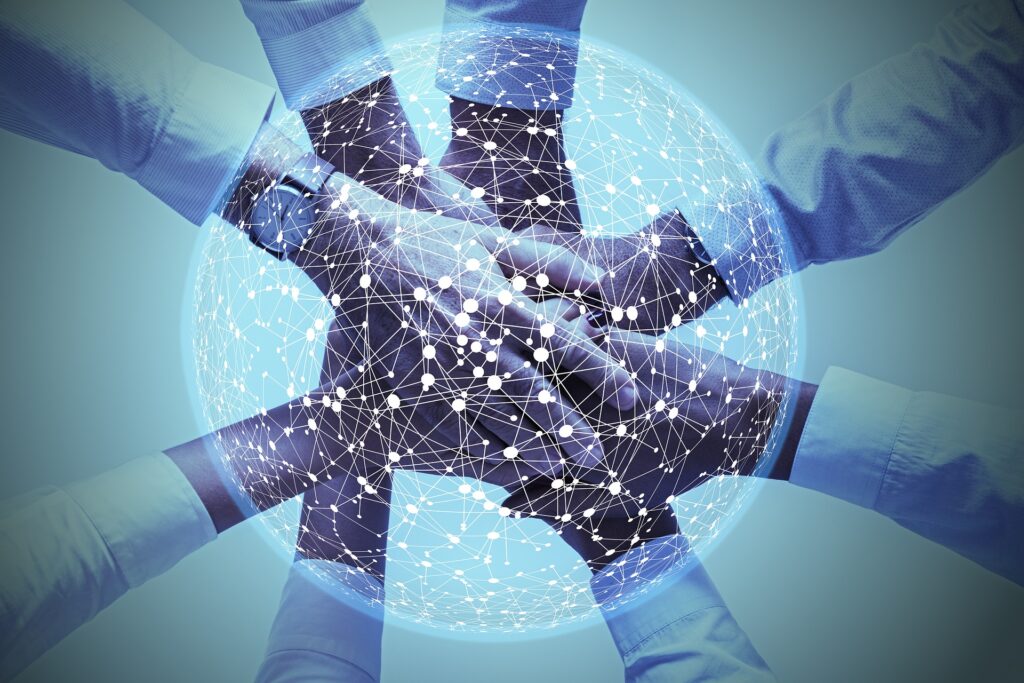 Now before you start googling what blockchain is, we got you. A blockchain can be thought of as a record that keeps notes of all transactions taking place across all users in a network. It can be described as a 'Public Ledger.' This record is shared with each user or "node" on the network, and hence, because there are so many people with the same records, nobody can manipulate them. This is one of the key concepts at the heart of decentralized currencies expressing transparency. This is now being utilized in content-creation platforms now allowing content creators to monetize all forms of different content; textual, graphical, or even vocal-like podcasts. One key game-changer is, they earn in currencies using blockchain technology.
In this article, we will be exploring the many platforms offering such services and hence give you a good idea of what the current state of Blockchain in content creation platforms looks like.
Content Creation
In one way or the other, we are all familiar with this term. Whether it may be a phrase you encountered while you were googling about how to be a YouTuber or were reading an article on how to earn some quick cash, content creation sits at the heart of monetization on the internet. When talking in terms of internet tech, some refer to art as digital content creation. Now, if you're still wondering if a proper definition of the term is going to be given or not, here it comes. Content Creation is the art of, well, creating content, more specifically for the internet in this context.
Estimated to have a market size of $38.2 Billion by 2030, Content Creation could mean a wide range of means of communicating a message. From those ant documentaries on Youtube to the memes you laugh at on Instagram, they all come under the label of digital content. Surprisingly, most content you get exposed to on the internet is already monetized in one way or the other. Think about all the clever ways Youtubers now segway into the fact that their video is sponsored by a particular company. Or the fact that Youtube now has non-skippable ads. It's not just Youtube, however. Going across many sites on the internet, you will see so many websites embedded with Ads.
While the advertising companies behind many famous platforms on the internet earn a very substantial amount of profit for themselves, how much do they share with the creators? This question, and the debate that followed, has been one of the most hotly-contested ones in the creator sphere. Many share the view that they could be earning more, much more than what the advertising company is willing to share with them. The average YouTuber only makes about 10-18K a year. Now while that figure may vary for a lot of people, it still gives a good idea of why people wish they could be making more on the content they have created.
To overcome this issue, many sought to directly contact the companies that need promotion and hence, remove the third party from becoming the middle-man and keeping a cut. Many creators hustle out making content with the intention that they will attract companies that the user targets and hence, do a direct collaboration with them. This is the main model which most seeks as earnings from a lot of famous platforms ensure they keep a considerable cut of the amounts for themselves and then pay you the rest.
The problem of third parties keeping a cut is something we have seen in the past and are even seeing in the present as well, although fortunately decreasingly. Banks. Banks are a perfect example to quote why people look for decentralization in the first place. In the past and even in the present, the banks owned your money. They also took cuts of that money in the name of transaction costs. Hence, when cryptocurrency came around, with the promise of being so decentralized, no one institution could dictate its price, it raised eyebrows and caught eyeballs. And as many wise men say, history tells us a lot about the future.
And here we are, a few years later, with content creation platforms being run on the same technology which promises transparency and decentralization; blockchain. Let's look at the wide array of creation platforms we have utilizing blockchain.
AIOZ Network
AIOZ Network is a Content Delivery Network built with keeping blockchain at its core. A Content Delivery Network is basically a group of servers distributed all across the globe to ensure quick delivery of information on the internet, no matter where you are in the world.
For example, when you watch a YouTube video, the data of that video is housed in multiple servers across the globe. Only the server that is nearest to you is used to send your device the information of the video and hence provide you the data in the shortest amount of time possible.
This, in theory, should make internet content very accessible. However, that sadly is not the case anymore. Picture the last time you were able to watch a 4K stream without worrying about buffering. For most of you, going above 2K is going to be a grand feat on its own, let alone 4K.
The problem exists because of the way traditional Content Delivery Networks work. They use centralized cloud storage to store and send data to wherever it may be required. This means they have servers with a set limited amount of storage and processing capacity in sites all across the world.
AIOZ Network changes this. Rather than housing servers in set locations, it lets individual users become nodes. AIOZ Network uses the processing power of certain individuals' PCs and, in return, gives them AIOZ coins which are its own cryptocurrency. This means a faster CDN because there are so many nodes from where information can travel to the end-user, and they are all across the globe as opposed to just certain places in each continent.
When it comes to how content creators earn from this, it's simple. AIOZ Network connects advertisers to content creators on its video platform, AIOZ Tube. Content Creators get paid directly by the advertisers on the AIOZ platform.
Backed by technology partners such as NVIDIA and Qualcomm, AIOZ Network is a go-to new platform for content creators looking to get valued for their quality. No middlemen and No buffering; what could be better?
Steemit
Steemit is a blockchain-based blogging platform that focuses on being decentralized at its best. Think of Reddit, but you get paid for likes, comments, and shares you get on the platform. Steemit incentivizes being social and hence, allows content creators who, by nature, need to be social to earn directly and via a decentralized method.
Steemit is built on the STEEM blockchain, which works similarly to other blockchains we have seen roll out in popularity. The STEEM Blockchain is indeed a ledger and, like all blockchains, relies on not being able to be changed. Hence, all transaction records are kept in a safe manner. It produces its reward tokens called STEEM and sends them to a "reward pool," which is from where the tokens are distributed among its users.
The STEEM blockchain powers other platforms as well, but the main principle is that it rewards the users in proportion to their impact on the platform. It distributes its rewards, the STEEM tokens, across its users according to how many and what kind of engagements such as likes, comments they have gotten and have given.
Although users have other ways to earn STEEM tokens, the two mentioned below are of utmost importance to the context of this article.
Curating Content: This means liking/upvoting content that also gets liked or upvoted by other users. If you correctly engage with a piece of content before it becomes popular, you receive a reward for that. This could mean upvoting a post you find informative or true early on, so when it picks up momentum after you correctly upvoted it, you receive a reward for correctly curating a piece of content.
Making Content: The Quality content you create can receive upvotes/comments, and you may get a certain amount of reward tokens in proportion to how great your impact was. Thus, producing better quality content, such as more engaging videos or posts, could mean better earnings.
It should also be mentioned that joining Steemit is totally free. No costs to post, upvote, comment at all. You may as well earn some if you do it right.
Brave Browser
We have all seen Brave Browser rise in popularity as major social media moguls got criticism for the controversial use of all the immense user data they collect. Brave Browser came to be different, and it did so very well by ensuring the data of all of its users were protected.
Major social media platforms have gotten a bad rep for how they keep all the ad spend paid to them by companies for showing their ads to the end-user. The argument is that if the end consumer has given their attention to the sponsored image, let's say, and the platform earns. As a result, the end consumer should get a cut of that profit as without the end consumer, the profit would not have been possible in the first place.
Brave takes into account the value of the attention of the end-user and hence, allows them to earn a piece of the adspend Brave receives. Brave rewards its users to view ads that it calls are "privacy-respecting." This means that Brave does not use any trackers or collect any information about the user or their browsing activity and, in return, rewards its users for viewing privacy-respecting ads.
It rewards them via its own reward tokens called BAT. The end-user stays in complete control of how many ads they want to see in an hour and gets rewarded the BAT tokens accordingly on a monthly basis. They receive these tokens in a wallet which is also provided by Brave itself.
Now, content creators can earn via this as each user is asked by Brave Browser itself as to whether or not the user wants to contribute their monthly amount to the content creators in proportion to how much of their content the user has watched. For example, if a user spends 60% of their time on a particular math website, Brave Browser will allow the user to send 60% of their reward token amount to the content creator site.
Brave Browser now advertises for industry leaders such as VICE, Consensys, and others, making the platform very credible.
Theta
Theta is another decentralized video-sharing platform we have in this article. However, it is different in terms of a few factors, which also make it a very strong considerable platform for content creators.
It is the only decentralized content delivery network that is peer-to-peer. This means that every user using Theta is involved in sharing the content/data of others as well as their own.
Content Delivery Networks (CDNs), as described earlier, have traditionally been centralized. They were units of storage in certain places across the globe allowing everyone accesses to the content stored on the internet. Even the article you are reading right now is stored on a CDN and is being delivered to you via the one that you are nearest to. However, there is a problem.
When was the last time you were able to watch an entire video in a crisp, sharp HD quality and did not worry about buffering?
With ever-advancing technology in the realms of videography, the quality dimensions we now have that users want on their screens range from HD to 4K and even 8K in some places. This creates a problem as delivering HD in most areas was difficult as is, but now we have to move even greater file sizes, even greater amounts of content.
To target this problem, Theta was founded. Theta could be described as enabling users to become nodes across the web acting as a Content Delivery Network. Each user shares some of their bandwidth and processing capacity to process data for the Theta network and, in return, gets rewarded. Content Creators also get rewarded as, due to an efficient system of content delivery, they earn decentralized revenue.
Theta is advised by the co-founder of YouTube himself, Steve Chen, and Justin Kan, the co-founder of Twitch. Companies as big as Samsung, SONY, Binance, and even Google itself act as Enterprise Validator Nodes on the theta blockchain. Big Affiliations, Big goals.
ContentBox
ContentBox is a blockchain network solely focusing on the digital content aspect of today's world. As with any great venture, ContentBox was founded to solve problems. The problems it outlines as its target are the difficulties users face in the conventional way in which digital content flows on the internet. Digital Content Creators face difficulties, including but not limited to only being able to monetize certain content in a certain way. There are also long payback periods meaning a content creator often has to wait weeks before being able to cash out their hard-earned money.
On the other hand, huge industry leaders are now faced with more operational costs like storing data, accounting, and so on. These costs are also increasing as these companies are faced with ever-increasing challenges to meet the demands of the end consumer. Speaking of the end-consumer, they are the source of greater demands. They spend time on platforms where content is shared; however, they do not get rewarded for their curations.
ContentBox intends to solve this by creating a unified content pool, a unified user pool, and a unified payout system. By having such levels of unification, they ensure that the content creators don't have to bear the major costs of production and do not have to wait for prolonged periods of time before their payouts. It also means that end consumers could be rewarded for their contributions to curation.
Conclusion
In a nutshell, this article was written to highlight the problems content-creators face, and as you may have found out, end-users to face. Along with highlighting those problems, we also presented the change of preference taking place amongst content creators as more options are now available to them.
Utilizing blockchain technology allows all parties to effectively communicate with each other, removing the need for a third party, which takes a considerable amount of the money flowing from the advertiser to the content creator. Transparency of the ledger ensures the safety of the entire system hence, making a shift to blockchain-powered technologies backed up by industry leaders is something that every content creator should be looking into.

HeraldSheets.com produces top quality content for crypto companies. We provide brand exposure for hundreds of companies. All of our clients appreciate our services. If you have any questions you may contact us easily with Herald Sheets Facebook Messenger App. Cryptocurrencies and Digital tokens are highly volatile, conduct your own research before making any investment decisions. Some of the posts on this website are guest posts or paid posts that are not written by our authors and the views expressed in them do not reflect the views of this website. Herald Sheets is not responsible for the content, accuracy, quality, advertising, products or any other content posted on the site. Read full terms and conditions / disclaimer.