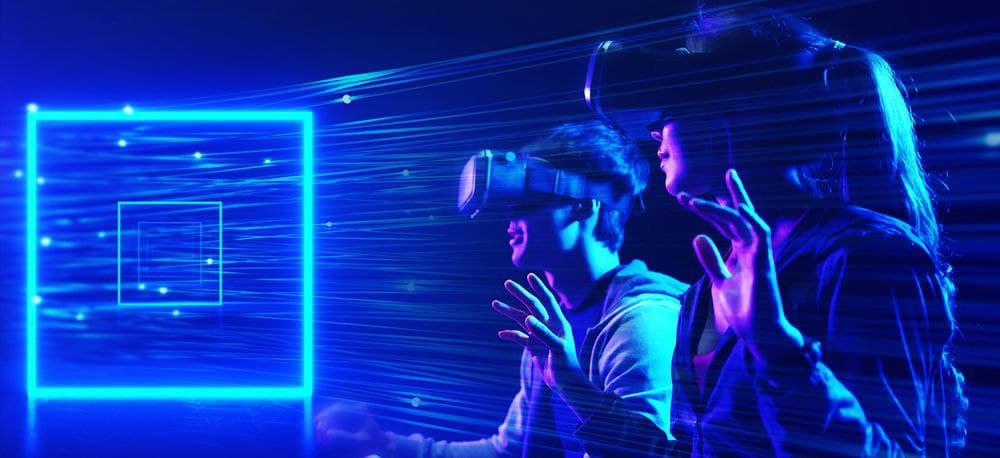 Facebook has recently renamed itself to Meta and stated that Metaverse would be the internet's future in a statement released lately. Epic, the developer of the popular internet-based multiplayer game Fortnite, secured $1 billion in investment earlier this year, demonstrating that financiers all across the globe are all prepared and willing to spend large sums of money in engaging online experiences.
The term "metaverse" has instantaneously become the hottest topic in the IT industry, and every investment company wants a piece of the action. But what is the Metaverse in its truest sense? Is it only about wearing virtual reality glasses and playing video games? Is it already being extremely overrated? Does Crypto have a role here, too? This article would answer all these queries, just hold on and keep scrolling. Happy reading ride!
What does the Metaverse Actually Mean?
Everybody these days is obsessing over "the Metaverse," which investors and internet technicians believe will fundamentally change our internet experience. On the other hand, everyone seems to have their own understanding of "the Metaverse." All individuals have a distinct understanding of the topic, but what is this actually?
It was Neal Stephenson's famous cyberpunk book, named the Snow Crash that introduced the concept of the "Metaverse" in the present world. However, what exactly is the Metaverse? As per Stephenson's literary piece, it is the imaginary realm or the virtual world that that is made accessible to the public through an optical fiber. The word may thus be used to describe digital environments that have been modified using high-tech gadgets such as Virtual Reality.
The word "meta" relates to"beyond," and the word "verse" makes reference to the "universe." It is basically the name given to imaginary spaces in which participants can wander around and communicate with each other. Teams can likewise construct structures and objects that don't really exist in real life, such as parks, auditoriums, and signs, in this imaginary world. It is like a free zone, where users can do whatever they feel like. They can even kill or hunt each other; the zone is open for anything and everything. Though the concept of Metaverse has been in action for several years now, the latest pandemic COVID-19 outbreak particularly piqued the public's attention towards it, thereby causing technicians to look into the virtual world and explore and modify it. Indeed, as more people are working from their homes and students are even taking classes from their laptops, there's been an increase in the need for approaches that make online communication more realistic and comfortable.
In July 2021, Facebook CEO Mark Zuckerberg said that the business wants to build a more collectivist social media platform that encompasses presence on social media, administrative work, and amusement features. From Facebook to Meta on October 28, 2021, the company's name reflects the company's more substantial commitment to the creation of a virtual world known as the Metaverse.
Metaverse In the Present World
A look at what's occurring right now that might pave the way for the Metaverse of the future is as follows:
Meta
A number of big expenditures in virtual reality have already been made by the digital titan previously known as Facebook, including the purchase of Oculus in 2014. Meta proposes a virtual world in which digital avatars can interact with one another for the purpose of employment, travel, or leisure, all while wearing virtual reality headsets. Zuckerberg is optimistic about the Metaverse, and he believes that it has the alternative to transform the world as we perceive it.
Microsoft
The technology powerhouse, Microsoft, already employs holograms and is working on extended reality (XR) apps too, which the sole intention of merging the world today with virtual realities, using its high-tech Microsoft Mesh platform. Microsoft has likewise demonstrated its ambitions to add mixed-reality, featuring holograms and simulated portraits, to Microsoft Teams around 2022. In addition, explorable 3D virtual networked areas for retail and offices will also be in the pipeline for release next year. A Hololens 2 virtual environment headset for troops to educate, perform and battle in is being developed by the United States Army in collaboration with Microsoft too. You can already see Microsoft's strenuous efforts towards a powerful Metaverse integration into its existing technical framework.
Epic Games
It is no surprise that Epic Games, the company that designed Fortnite, is committed to the development of the Metaverse, according to Tim Sweeney, the company's CEO. With its own MetaHuman Creator, it's also working on creating indistinguishable digital people, which may be utilized for the personalization of your virtual doppelganger in the future of video games.
What Makes Metaverse the Future of Internet?
As previously stated, major information technology businesses are now on a frantic rush into the Metaverse, with all of their weapons loaded and ready to fire. CEO Mark Zuckerberg appears to be fully on board, as does Microsoft, which is making significant strides toward the transition of the Metaverse.
It is only recently that the computational complexity necessary for the widespread deployment of virtual reality has been accessible. Corporations such as Hadean that specialize in highly distributed computing technology may support up to 10,000 gamers on a particular server at the same time. It is being discussed by many metaverse companies if it is conceivable to organize simultaneous performances and sporting activities for up to 50,000 individuals, which would have been formerly virtually impossible to even think. New business opportunities are also being opened up in the Metaverse as a result of the use of digital currencies and non-fungible tokens (NFTs).
The fact that such exchangeable devices will eventually make it possible to carry your online signature and goods across numerous metaverse domains is an important point to keep in mind. For example, you could use your artistic sword from the Roblox videogame and change it into a lethal firearm in the Fortnite battle royale video game.
This is the point at which the Metaverse turns fully "meta," and you may move smoothly across worlds in the manner depicted in sci-fi books such as Ready Player One, as well as in multiple video games. Consider the period in the 1990s when cell phone devices were newly born. They enabled individuals to text one another across different channels. As a result, mobile communication blossomed in a way that no one could have predicted at the time.
Core Principals of the Metaverse
Science fiction is responsible for some of the most prominent concepts in the Metaverse. In this perspective, a Metaverse is commonly described as a form of computerized "jacked-in" internet, which depicts actual truth but is based in a simulated (often amusement park-like) environment. The following are some of the primary characteristics of the Metaverse:
The Metaverse is an ongoing and real-time interaction for all participants, exactly like "real life."
The Metaverse never halts, pauses, stops or resets but just continues indefinitely without stopping.
Everybody may participate in this virtual world and participate as per their choice.
It is necessary for a person and enterprises to be able to develop, own, invest in and sell a wide range of goods and services that have value in the eyes of others, as well as to be reimbursed for their efforts.
The experience must cover both the physical and digital worlds, individual and communal connections, as well as closed or open institutions to be considered complete.
Offering unparalleled compatibility across each of the experiences is essential. For example, a vehicle produced for Rocket League might be moved over to Roblox and put to use in the company's place of business.
Mechanism Through Which the Metaverse Operates
In essence, the Metaverse may be separated into two types of platforms.
Firstly, blockchain-based metaverse firms are being established via using non-fungible tokens (NFTs) and virtual currencies like Bitcoin. On the Decentraland portal, anyone may purchase virtual land and use it to build their own setups. The second group refers to the Metaverse as a broad term for fantasy environments in which individuals may gather for commercial or recreational purposes.
Although many metaverse sites provide free accounts, anyone who purchases or barter digital commodities on blockchain-based marketplaces must utilize virtual currencies in order to do participate in this virtual land. In order to acquire and sell virtual products on some blockchain-based marketplaces, such as Decentraland MANA, Ethereum-based crypto tokens are required.
Users may exchange NFT masterpieces or charge admission to a simulated event or concert in Decentraland and make money this away. Aside from exchanging lands, which has witnessed a huge increase in price in recent times, they may also generate money by selling their products. Members of the Roblox community make money by charging other members of the community for membership in various videogames.
Holograms and the Metaverse
When the internet initially became available, it was accompanied by a succession of technical breakthroughs, such as the capacity to communicate between systems over greater distances or the opportunity to network from one website page to another. These technological characteristics served as the construction blocks that were later utilized to build the abstract structures which we now recognize as the world wide web: websites, applications, social networking sites, and everything that is based on those fundamental characteristics. It is also important to note the merging of interfacing technologies that aren't exactly related to the network but are nevertheless required for it to function properly, such as display technology, keyboards, mouse, and touchscreens.
As a result of the Metaverse, several new building blocks have been put in place, such as the capacity to host countless individuals in a specific instance on a computer server. It is desirable that future iterations of a metaverse should be able to manage hundreds of individuals at the same time or that motion-tracking technologies discern between where a person's gaze is directed or where their arms are placed. These new technologies might be quite intriguing and contemporary in their appearance.
However, there are several restrictions that may be insurmountable in the long run. When technology firms like Microsoft or Fa—Meta broadcast fictitious movies of their views of the tomorrow, they typically tend to skim over the specifics of how individuals will communicate with the Metaverse, which is a problem.
Virtual reality headsets are still cumbersome, and most individuals feel travel sickness or physical stress after wearing them for an extended period of time. The same difficulty confronts users of augmented reality glasses, as they find it challenging to wear them properly in public without being considered "weird." As a result, how can tech businesses advertise their sleeky gadgets without revealing the reality behind those enormous headgears and goofy spectacles?
Another demo by Meta depicted characters floating through space. Following the viewing of this virtual presentation, a slew of queries emerges. Is this individual tethered to a comprehensive aerial setup, or is he or she just sitting behind a desk doing nothing? What kind of face-scanning technology does the person who is depicted by a holographic use? Does he have his headset on, and if so, how is his or her face scanned? Indeed, there are so many unsolved pieces to this jumbled-up puzzle. It's an exciting world, to be sure, but it's also difficult and super complicated to fully comprehend.
This confusion is acceptable on a certain level, though. It's important to remember that Microsoft, Meta, and any other firm that gives crazy demonstrations like this is also attempting to create an aesthetic sense of what the future may be like, not necessarily to answer every technical concern that might arise. A long-standing practice that dates back to AT&T's demonstration of a voice-controlled folding smartphone that could miraculously wipe individuals from photographs and build their 3D models, all of which seemed to be equally unachievable at the time, has continued to this day.
But, there's one thing we know for sure. As soon as VR and augmented reality headsets become lesser expensive, lightweight and comfortable enough for people to use on a regular basis, your dream of playing virtual poker with your buddies while they are all robots, in an area where all you see is blank space and holograms could be a little closer to reality.
Unlocking the Metaverse Through Cryptography
When it comes to possibilities, the Metaverse's purpose is to give individuals an enhanced reality perspective that, in many respects, may surpass the physical, objective world. However, in order for any VR technology to attain widespread acceptance, its security and data integrity are key features to consider. Cyber-attacks and security breaches are all too prevalent nowadays. Therefore, if individuals are expected to conduct their business totally online and virtually, they should be given an utter safe environment to work in.
The fact that crypto transactions are absolutely safe and secure closely ties them to Metaverse. Not only does cryptocurrency leads to faster verification of online data, but it also guarantees that all transactions conducted are algorithmically secured. Blockchain technology and cryptocurrency assets are a key and vital part of the future deployment of virtual reality.
As a continuation of the preceding argument, the Metaverse will desire and require operations to be performed on request, which blockchain commodities may assist in facilitating. These activities must be safe and as quick as possible over a virtual network. Particularly important will be the ability for participants in this environment to transact and interact as easily as they would if they were in reality, and also have confidence that all these transactions would be accomplished securely without their integrity being compromised at any point.
People and institutions may make transactions in a virtualized, verifiable, and real-time way via the use of cryptographic transactions, which are practical and well-established techniques of transaction processing. Although the usage of cryptocurrency and crypto-asset innovation is expected to continue, the tendency towards digital and electronic transactions has been expanding all these years. Trading and doing business in an online world have evolved into a widespread progression that has grown even more prevalent with the introduction of cryptocurrency payments by Visa, PayPal, and other payment providers.
In a virtual environment like the Metaverse, crypto-enabled transactions have become even more widespread. It is reasonable to expect that certain settlements will become more common in the future. The Metaverse is a field that is currently in the early stages of development and expansion. Nonetheless, the fact of the matter is that in order to sustain and materialize a fully operational multiverse, blockchain technology, and cryptocurrency assets will have to make a significant contribution in its eventual development and execution.
The Metaverse's Long-Term Viability
Whether a genuine metaverse that exactly matches real life can be created or how long it'd take to develop is still up in the air. Many blockchain-based metaverse systems are still developing augmented reality and virtual reality technologies, which will eventually enable users to interact with their surroundings. Because of the anticipated growth of the cloud technology and interactive virtual industries, Facebook Inc, owned Google, and Microsoft Corp all have made investments in cloud computing and virtual reality startups.

HeraldSheets.com produces top quality content for crypto companies. We provide brand exposure for hundreds of companies. All of our clients appreciate our services. If you have any questions you may contact us easily with Herald Sheets Facebook Messenger App. Cryptocurrencies and Digital tokens are highly volatile, conduct your own research before making any investment decisions. Some of the posts on this website are guest posts or paid posts that are not written by our authors and the views expressed in them do not reflect the views of this website. Herald Sheets is not responsible for the content, accuracy, quality, advertising, products or any other content posted on the site. Read full terms and conditions / disclaimer.