Stellar Winning Battle of Blockchain Payment Networks against Ripple with XLM's Vast Uptrend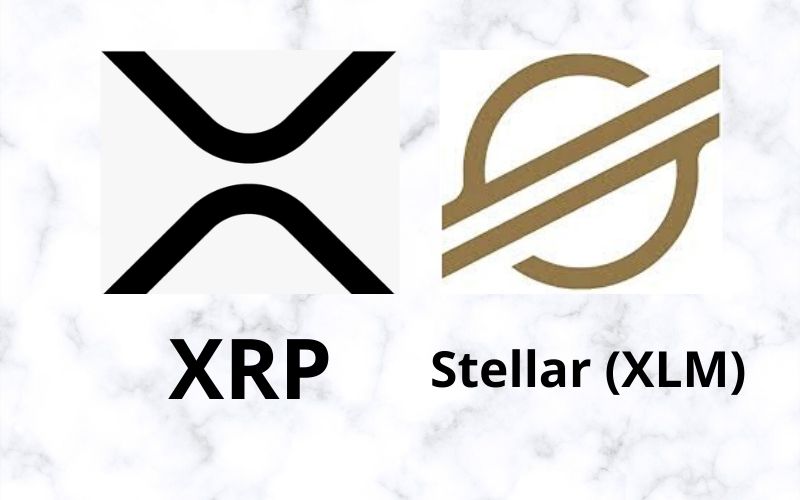 Over the past hours, XLM, the native token of Stellar Lumens, has failed to correlate with the embattled digital token XRP, following the news of the partnership with the Ukrainian government on helping to build the digital version of the country's national currency.
The recent outstanding performance of XLM shows that Stellar is winning the battle of the blockchain payment networks against Ripple. Also, this week's sentiment flips indicate that Stellar is taking the advantage of Ripple's lawsuit to get stronger.
Read Also: From a Tech Perspective, Stellar (XLM) Has Always Been One of the Best Projects –Weiss Crypto
XLM Surpasses XRP In Terms of Sentiment
According to the data from monitoring resources, The TIE, the long-term sentiment towards XLM is higher than towards the digital token XRP, the cryptocurrency majorly distributed by the cross border payment firm, Ripple.
The figures serve as the latest warning to XRP investors, who have looked on in dismay as legal problems for Ripple in the United States cause its value to dive by over 60%.
As of 5th January, the long-term sentiment score collated by The TIE stood at 70 for XLM but under 70 for XRP. Before the legal action, XRP sentiment was at an all-time high.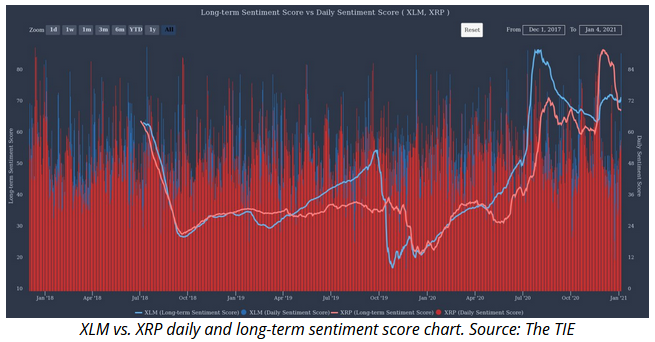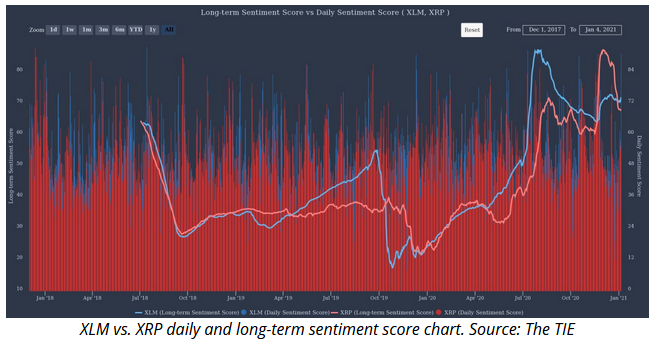 Read Also: XRP Dips as SEC Files Suit against Ripple for 7-Year $1.3 Billion XRP Sale
Stellar Lumens (XLM) Receives Boost with Ukraine Partnership
Stellar Lumens (XLM) joined 2021 altseason since the announcement of a high-profile partnership with Ukrainian government a couple of hours ago.
XLM against USD has been rising, with the addition of 33% to hit $0.209 on Tuesday 5th January 2021, trending closer to its highest price since 2018.
Stellar Confirms the High Profile Partnership
The executives at Stellar Development Foundation has confirmed that the blockchain payment network will form a major part of the deal.
Read Also: Stellar Lumens (XLM) Spotted with Potential of 195% Price Upsurge –Popular Analyst Explains
Reacting to the partnership, the CEO of Stellar Development Foundation, Denelle Dixon said:
"We look forward to working with the Ministry and other stakeholders to digitize the hryvnia, to bring Stellar-based tools and services to the people and businesses of Ukraine, and to introduce new partnership opportunities in Ukraine to businesses in the Stellar ecosystem."
---
Follow us on Twitter, Facebook, Telegram, and Download Our Android App.