According to Whale Alert, a total of 1 billion XRP was unlocked from Ripple escrow and returned the sum of 800 million XRP into the escrow wallet after the release on 1st November 2020.
Aside from the huge transaction reported by Whale Alert, XRP tracking platform, XRPL Monitor also reported that the cross-border payment giant transferred the sum of 58.6 million XRP to BitGo and its internal wallets.
Read Also: David Schwartz Says Ripple Is Making Strategic Adjustments to Enhance XRP
Ripple Unlocked 1 Billion XRP
The recent 1 billion XRP worth $239.5 million reportedly unlocked by Ripple has always been initiated at the beginning of every month. This indeed does not necessarily imply that the firm has initiated a notable sell-off since the majority of the funds unlocked were returned into the escrow.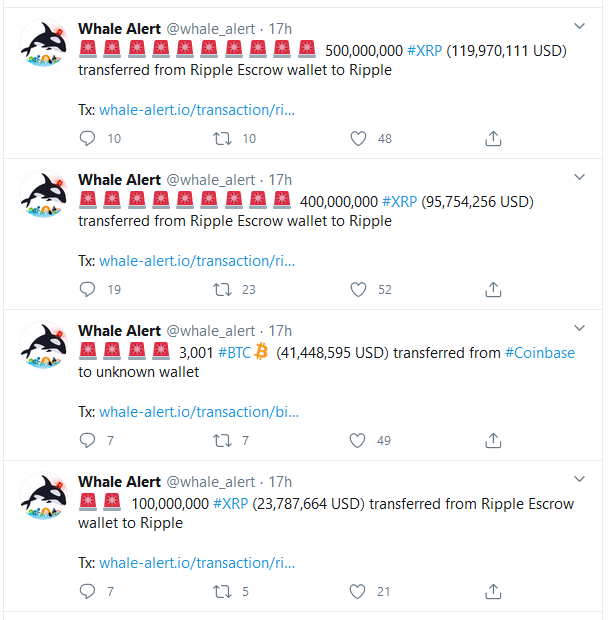 What was left for Ripple to cover its current needs is the sum of 200 million XRP.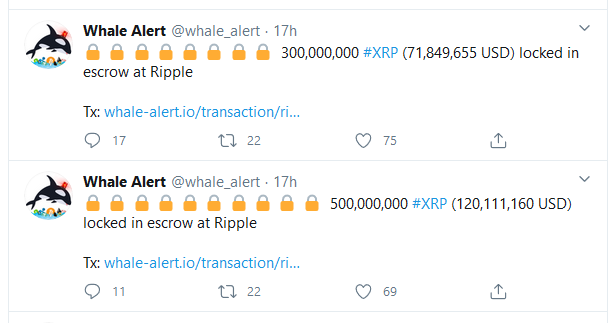 Obviously, there is no reason to fear for XRP community members, since these usual transactions have no significant impact on the price of the digital asset.
Ripple Moved 58.6 Million XRP
As aforementioned, the XRP tracking platform, XRPL Monitor also reported that Ripple effected the transaction of about 60 million XRP over the past 15 hours.
XRPL Monitor reported that three lumps of XRP were transacted consecutively, one of the transactions worth 20 million XRP, while the rest are 19.3 million XRP each.
The first lump was wired to BitGo, a wallet and custodial service that works with institutional investors and stores XRP for Ripple, while the rest was moved between Ripple's internal wallets.
Read Also: Brad Garlinghouse Explains Why PayPal Did Not Include XRP in Its New Crypto Business
At the time of publication, XRP, the fourth largest digital currency by market capitalization, is priced at $0.23596, with a 1.41% price plummet in the last 24 hours and a 7.45% price plummet in the last 7 days. The digital token has been trading in this range since early September.