Ripple Has Managed To Hurt SEC Where It Matters Most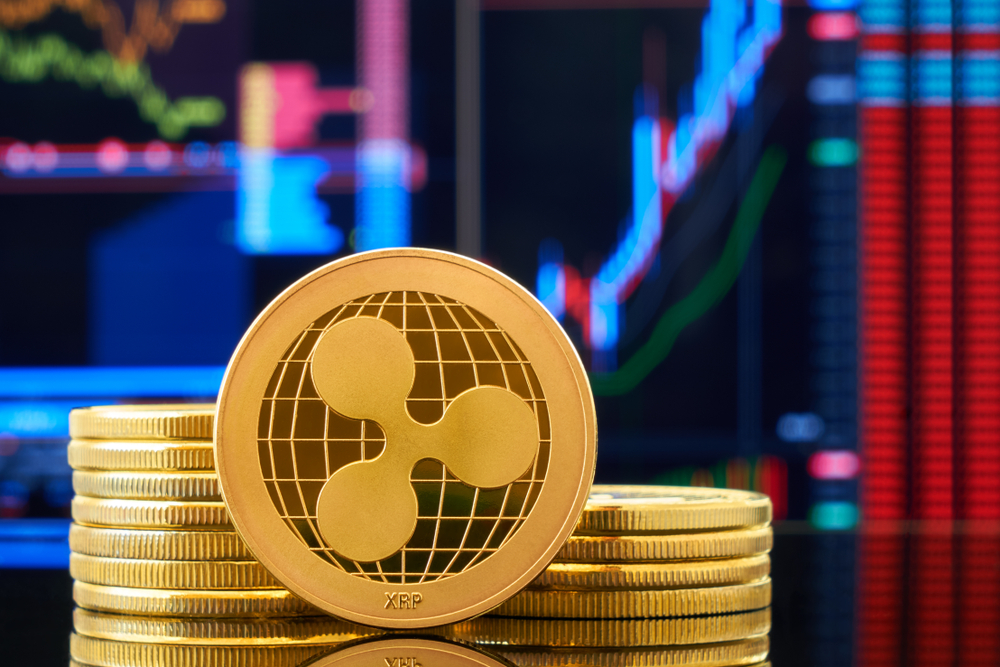 XRP requested that the SEC provide its preclearance trading documentation for Bitcoin and Ethereum, but the SEC has blatantly refused that request. Ripple's legal team made this request to uncover SEC's regulations regarding digital currencies.
SEC Dismisses Ripple's Claims As Irrelevant
However, one of SEC's trial attorneys, Pascale Guerrier, argued that Ripple's request has no relevance to the case at hand. He further said that such a request represents an illegal probe into the finances of its employees, which are supposed to be private.
If SEC had produced the requested information, Ripple would have argued that SEC and its employees' behavior indicate that XRP isn't a security. It wouldn't have known whether XRP could be classified as one. Ripple legal reps also argued that it had held different discussions with the regulatory body to iron out the problem, but the meetings didn't yield any result.
The SEC refused to provide any information regarding its employees' XRP investments. Three months ago, Ripple obtained the court's permission to force the SEC to produce the requested information as mentioned above. However, the SEC only produced the documentation stating that SEC staff could trade digital assets before January 2018.
Ripple argued that its motion aligns with the case because the SEC hasn't classified virtual currencies as securities. Hence, it couldn't argue against Ripple selling its token as securities. Also, Ripple claims that it has good grounds for this motion since this court case goes back eight years. Last Wednesday, Brad Garlinghouse accused SEC of handling the case shoddily, saying, "SEC has shown from the beginning of this case that it is deploying double standards for various digital assets."
XRP Stabilizes At $1.07
Almost 24 hours after shedding about 23% off its price, XRP is recovering slowly per various metrics. XRP was already on a price correction before yesterday's flash crash caused a further decline. Before yesterday's market crash, XRP was trading at $1.24.
XRP's 24-hour candlestick chart indicates a similar chart to the other leading digital assets. Even though the volatility is lower than in the last few days, it has been better since yesterday. The upper and lower Bollinger bands can be found at $1.367 and $1.036, respectively, with each of these points representing strong resistance and support.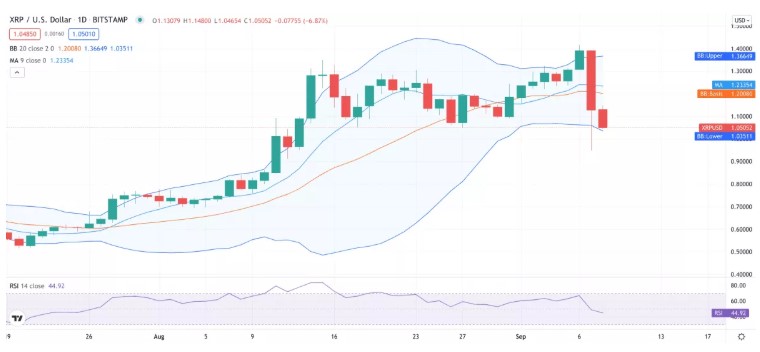 XRP 24-hour chart. Source: TradingView
XRP's 9-day moving average and Bollinger bands show bearish trends like the other top digital assets are showing. However, its RSI of 44.93 is a sign that buyers can take advantage of this bear trend. The XRP's bear trend is also noticeable on the 4-hour chart. It is clearer on this chart than even the 24-hour chart. 
XRP price continues to bounce between $1.06 and $1.07 as of this writing as it struggles to maintain its support range following yesterday's flash crash. If it doesn't go lower than this support range, it will be on a rally in the next few days. However, it fails to maintain this support range; it might soon start trading below $1.