Ripple Co-Founder Chris Larsen Moved about 500,000,000 XRP worth $116 Million to Unknown Wallet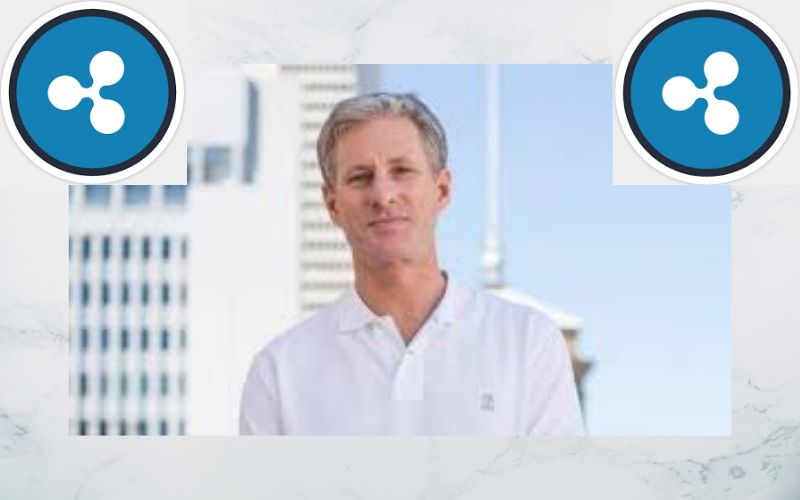 According to Whale Alert, the tracker of large cryptocurrency transactions, the co-founder and Executive Chairman of Ripple, Chris Larsen, has some hours ago effected the transfer of the sum of 499,999,979 worth $115,847,491 at the time the transaction was initiated.
About $116 Million Worth of XRP Moved By Chris Larsen
According to the data provided by Whale Alert, the huge transaction was made on 22nd September 2020, at 17:16:11 UTC, from a wallet (rwAzZQgYHfrVYsRoUG1g4gpdKssPUEmNDP) belonging to Chris Larsen to an unknown wallet rJK1oVBBEpbHwpB67ZyKhZameJjh8Dhrd6.
Whale Alert shared this, "499,999,979 XRP (115,847,491 USD) transferred from Chris Larsen to unknown wallet."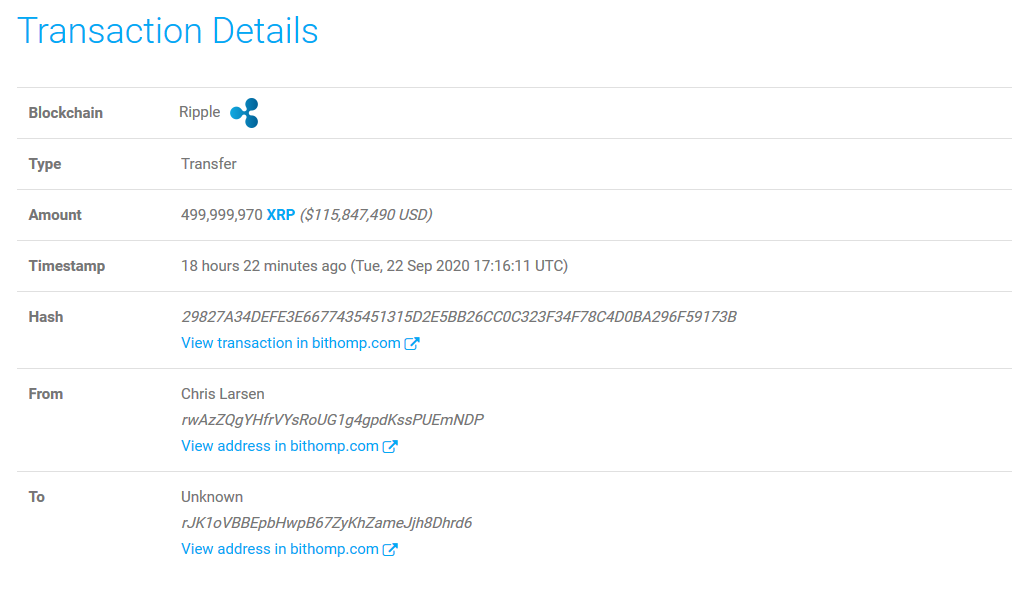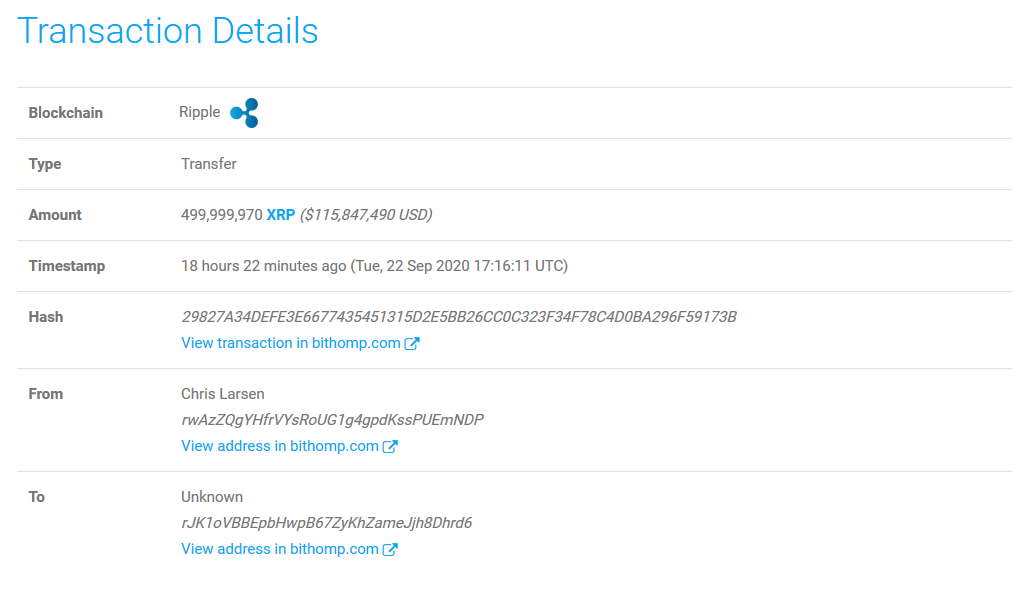 The movement cannot be termed as a selloff, considering the mode of the transaction, unlike Jed McCaleb, who cashes out his XRP holdings in batches. Had it been it was moved to an exchange, it could then be called a cashout, which could leave a negative impact on the price of the digital token XRP.
Chris Larsen's Possible Reaction to the Notable Transaction
Moments after the transaction was effected by Chris Larsen and reported by Whale Alert, the Ripple co-founder took to Twitter to hint the community about a recent action taken on his XRP holdings, which could be related to the XRP transaction attached to his personal wallet.
In the tweet, he pointed out that he moved an XRP wallet to NYDIG, a platform that provides the full suite of digital asset services to premier institutions and sophisticated investors.
Larsen tweeted, "As some of you may have noticed, I moved an XRP wallet to NYDIG. I've known the founders for a while, and am impressed by their security and top notch institutional standards — this is truly custody 2.0."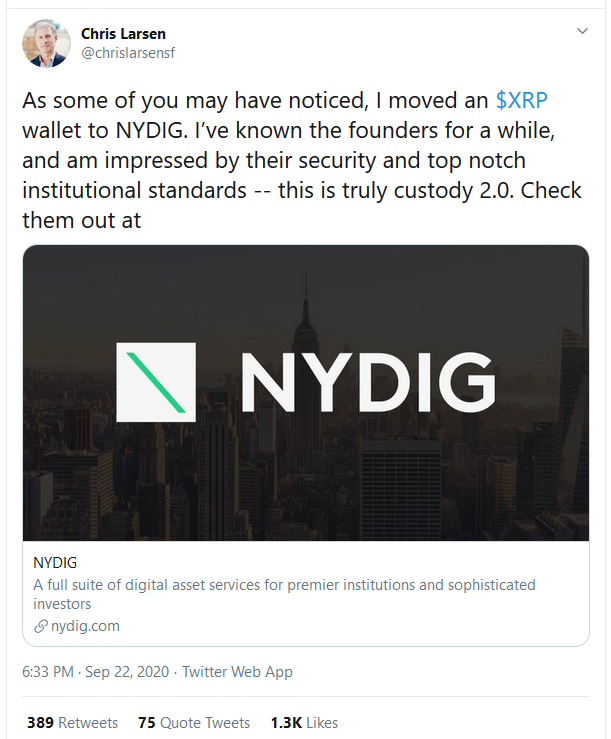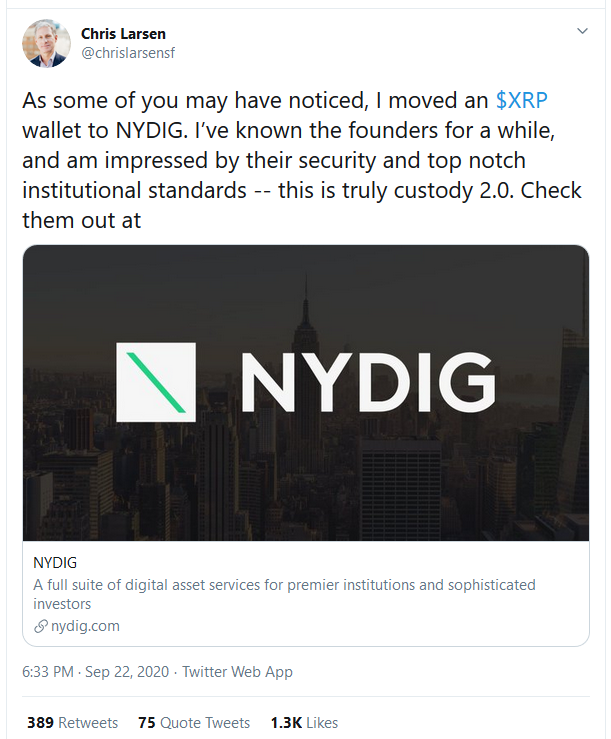 Ripple's XRP and Other Cryptocurrencies in the Market
Bears have managed to overwhelm the bulls in the cryptocurrency market over the past few days. Digital currencies such as Bitcoin (BTC), the largest cryptocurrency by market capitalization, XRP, and other top coins were notably affected.
The top cryptocurrencies in the market have been struggling to recover from the huge loss. Some are getting back on track, while others have failed to make any tangible price trend since the major correction. At the time of publication, XRP is trading at $0.232849, with a 0.08% price downtrend in the last 24 hours.
Join us on Twitter
Join us on Telegram
Join us on Facebook