Ethereum (ETH), the second-largest cryptocurrency by market cap, and the aggregated altcoins market are currently printing an outstanding performance as the Bitcoin price action stalls.
It looks like investors are moving further along the risk branch as they rotate out of Bitcoin (BTC) into other assets that have yet to see a full-fledged price discovery.
A cryptocurrency analyst is pointing to a technical pattern that suggests that Ethereum (ETH) has huge upside potential in the near term.
Read Also: Fundstrat Global Strategist Says Ethereum (ETH) Has Potential to Hit $10,500
Ethereum (ETH) Surges Towards All-Time Highs as Momentum Builds
At the time of writing, Ethereum (ETH) is trading up nearly 10% against both its USD and BTC trading pairs, with a current price of $1,382.
The digital currency is still trading off of its all-time highs, which sit around $1,450. There is a strong possibility that this is the next level that the cryptocurrency targets in the coming weeks.
It also recently broke out against its BTC trading pair, which indicates that it could be poised to see near-term upside.
Ethereum (ETH) is About to Post a Massive Long Signal
An analyst has explained in a recent tweet that Ethereum (ETH) is on the verge of printing a long entry signal with notable historical accuracy.
This could mean that a move past all-time highs is likely upcoming.
"4h ETH: bullish TK cross above Cloud potentially coming soon (long entry signal)," he said while pointing to the below chart."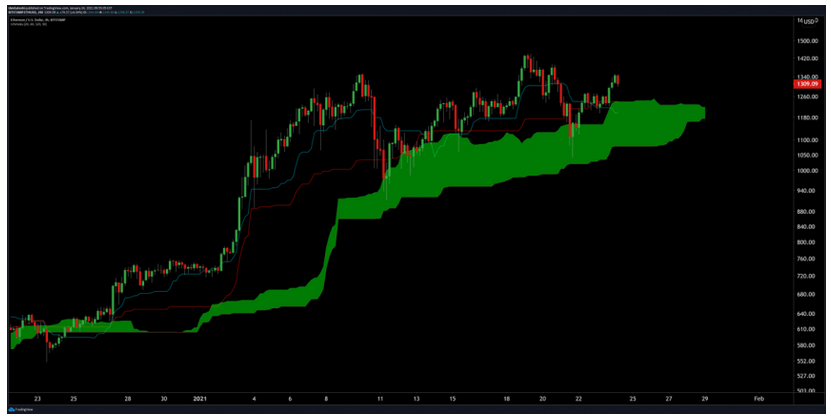 Image Courtesy of Josh Olszewicz. Source: ETHUSD on TradingView.
Read Also: Why Current Dip In Price of Ethereum (ETH) Remains Healthy and Attractive? Details
Unless Bitcoin (BTC) faces a further downtrend and cut short Ethereum's positive trend, the crypto could be positioned to experience a significant price increase.
---
Follow us on Twitter, Facebook, Telegram, and Download Our Android App.