DigiByte has got a new means to expand the reach of its native token, as Bitcoin.com exchange announced the listing of DGB token on its trading platform, coupled with the launch of a 10,000 DGB giveaway.
DigiByte (DGB) Goes Live On Bitcoin.com Exchange
The only means to showcase the utility of a digital token is to make it available for users across the world via exchanges. Such is the recent listing of the 36th largest digital currency by market cap, DGB, on Bitcoin.com exchange.
The cryptocurrency exchange made the new development public via its official Twitter handle a couple of hours ago. In the report, the exchange opened its users and followers to win from a prize pool of 10,000 DGB for their eagerness to learn about DigiByte and why DGB got listed by the exchange at this time.
Users will be able to ask various questions during an AMA that will be live on DigiByte's Telegram channel on 18th August 2020 at 18:00 UTC.
Bitcoin.com exchange tweeted, "DigiByte just got listed on our exchange! Want to learn why? And win from a prize pool of 10,000 DGB in the meantime? We are doing an AMA on DigiByte's Telegram channel on August 18th at 18:00 UTC. Join now!"
DigiByte (DGB) Listed On ICONOMI Platform
In another development, ICONOMI, a platform where users can buy cryptocurrencies, such as Bitcoin (BTC) and Ethereum (ETH) with Euros or Credit Card, has officially announced the addition of DigiByte (DGB) on its Platform.
According to the report, this listing has opened DGB users to an opportunity to follow crypto strategies created by experts.
ICONOMI tweeted, "DigiByte DGB has been added to the ICONOMI platform! You can now add it to your own Crypto Strategy."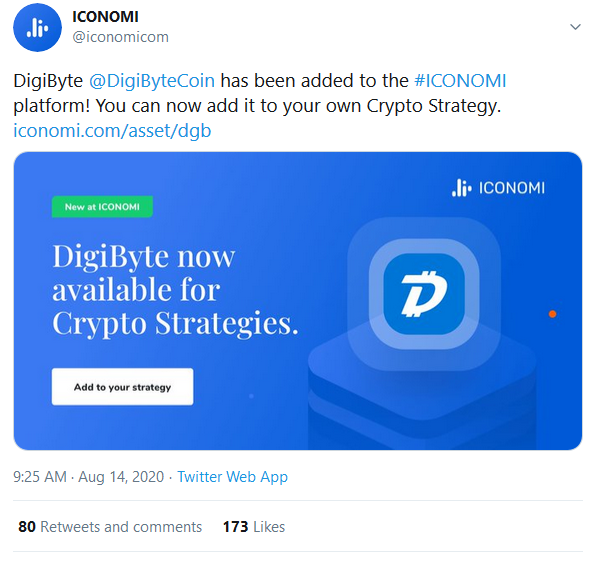 DigiByte (DGB) in the Market
The recent listings of DigiByte (DGB) seem to be the catalyst behind its recent positive price trend in the market, considering the price status of other cryptocurrencies in its chain.
At the time of filing this report, DGB is trading at $0.033937, with a relatively 9% price increase based on 24 hours estimation.
Join us on Twitter
Join us on Telegram
Join us on Facebook