A cryptocurrency trader has reportedly placed a huge bid worth $37,000 in Ethereum (ETH) for a digital drawing of the anonymous creator of Bitcoin (BTC), Satoshi Nakamoto.
According to Dego Finance, a crypto trader has recently made a 106 ETH bid to become the owner of a Satoshi Nakamoto non-fungible token (NFT).
Dego Finance tweeted, "The current bid amount of Satoshi Nakamoto NFT is 106 ETH, and the funds in the reward pool have reached 85 ETH."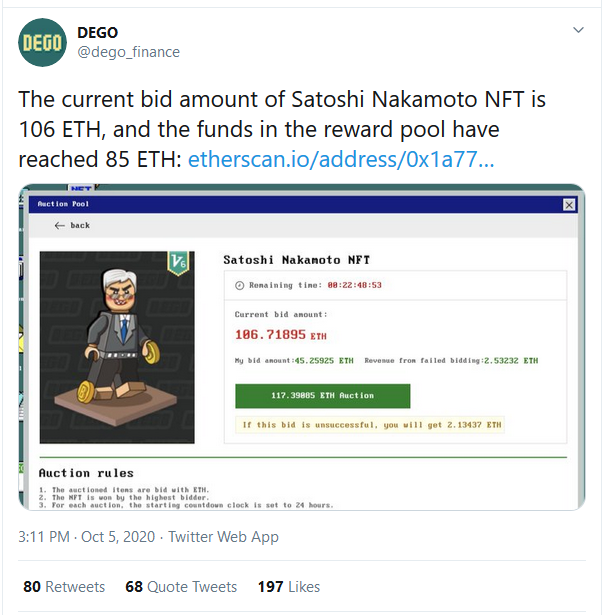 At the time of publication, anyone interested in purchasing the digital art still has about 11 hours to make a bid submission on the Dego platform.
Read Also: Satoshi Nakamoto Will Not Use His Bitcoin (BTC) Ever –Patoshi Researcher
Features of the Dego Platform
Dego, according to the description on its official website, sees itself as the Lego in the decentralized finance (DeFi) world.
The protocol also sees all DeFi platforms, including stablecoins DAI, lending protocol Aave, and decentralized exchange (DEX) Uniswap, as a module that aid users in making the right investment decisions.
Another significant feature of the Dego platform is to give users the room to make bids and auction on NFTs.
What Are Non-Fungible Tokens (NFTs)
Non-Fungible Tokens (NFTs) are a special type of digital asset that represents ownership of a particular asset such as video game items or artwork.
Read Also: KuCoin Hack Update: $152.7M in Ethereum, $4.4M in XRP and Other Assets Bring Total Loss to Nearly $200M
Non-Fungible Tokens are not interchangeable like Bitcoin (BTC), Ethereum (ETH), and others alike. Each NFT contains the identifying data of a particular asset stored in the blockchain.
Conclusively, the winner of the Lego-style Satoshi Nakamoto NFT will receive a unique token that serves as proof of being the certified owner of the digital artwork.
Join us on Twitter
Join us on Telegram
Join us on Facebook