Bitcoin (BTC), the first and largest cryptocurrency by market capitalization, has recently become a $1 trillion asset after breaking above the $54,000 resistance level, according to CoinMarketCap.
A few hours ago, Bitcoin (BTC) surged to record a new all-time of $53,800. Since then, the flagship cryptocurrency has been on a meteoric soar to new highs.
Read Also: Crypto Analyst Luke Martin Names Altcoins That Would Outperform Bitcoin (BTC) In 2021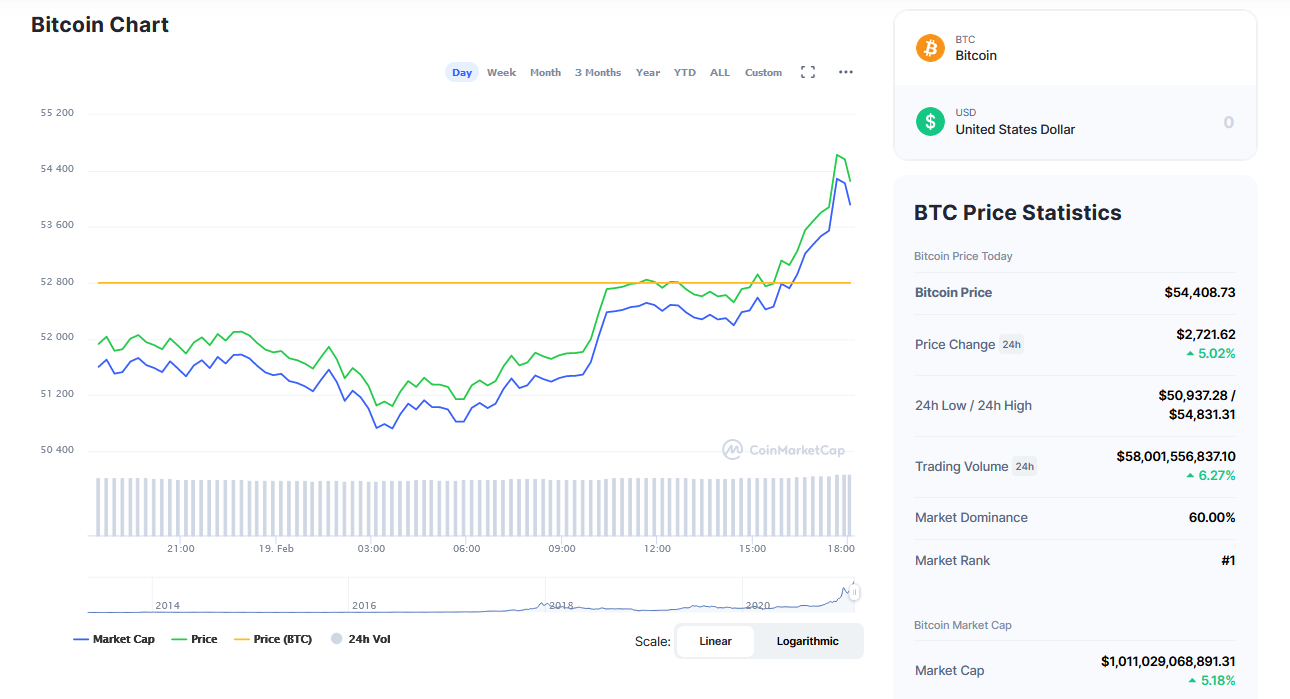 Bitcoin (BTC) Significant Performance in Recent Months
The price of Bitcoin (BTC) has climbed at a blazing rate in recent months. It has not halted its significant uptrend a bit since it broke through its all-time high of $20,000 it recorded in January 2018.
The current surge has been widely attributed to the increased institutional investors' interest, especially the latest Bitcoin purchase by Elon Musk's Tesla, the globally known electric car manufacturing company.
A trader and economist Alex Krüger, recently stated via Telegram that "Bitcoin's price continues its run higher as expected, driven by extraordinary interest from institutions, corporate treasuries, and retail investors."
He believes that the recent institutional interest in Bitcoin (BTC) cannot be overstated.
Read Also: American Singer Gene Simmons' $300,000 Investment in ETH Becomes $1.376 Million in 4 Months
At the time of writing, Bitcoin (BTC) is trading at $54,514.89, with a 5.1% price uptrend in the last 24 hours. Its market cap now stands at $1,011,029,068,891, with a market dominance of 61%, according to CoinMarketCap.