AMC Theaters Could Offer Shiba Inu Payment Option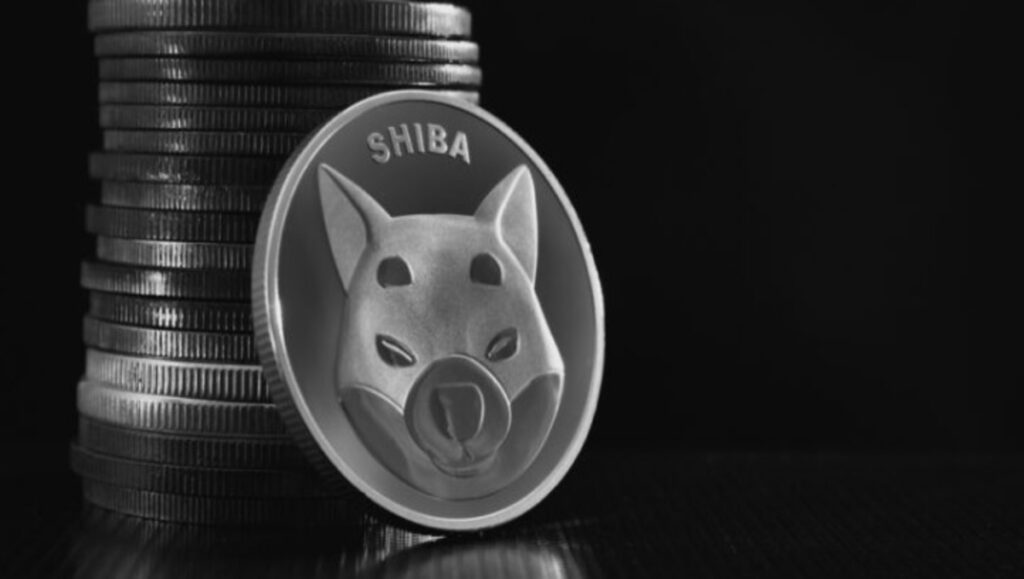 Shiba Inu is on the lips of everyone right now in the crypto universe. But many never gave it a chance calling a shitcoin, Dogecoin copycat, among other nasty names. This might be so because there have been several hyped-up tokens and coins in the past which are no longer in use today. Even though the market assumes SHIB will also fade as those that did, the token is still being deployed for several use cases.
Paying AMC Tickets With SHIB
One such use case is from AMC. The movie theater giants are considering the meme-themed cryptocurrency as one of their payment options at their cinemas. As of this writing, the firm is developing applications that support ticket payments using BTC, LTC, ETH, and BCH. Now, it is considering adding SHIB to that list. The movie giant CEO, Adam Aron, polled his audience via Twitter to seek their opinion for better decision-making.
TWITTER POLL #2: As you know, you can now purchase AMC gift cards using cryptocurrency, and our IT group is writing code so that soon we can accept online payments in Bitcoin, Ethereum, Litecoin and Dogecoin among others. Should we strive to take Shiba Inu too?

— Adam Aron (@CEOAdam) October 29, 2021
83% of the more than 125,000 people have voted in favor of AMC accepting SHIB as a payment option at its movie theaters. This isn't the first time Aron is seeking public opinion regarding accepting digital currencies at AMC theaters. He took similar action for Dogecoin with Dogecoin's number one supporter, Elon Musk, encouraging the DOGE community to participate in the poll.
The movie giants are already using cryptos for physical gift cards even though support for ticket payments will be fully available from next year. All of those who held on to their SHIB tokens are wealthy now. Hence, the hype surrounding the token isn't a surprise. Most of the early adopters of the project are now billionaires. A morning brew tweet revealed that a wallet bought $8K worth of SHIB in August last year, and right now, that $8K is worth $5.7B.
This wallet bought roughly $8,000 of $SHIB last August.

It's now worth $5.7 billion.

From $8,000 to $5.7 billion in roughly 400 days.

We may actually be looking at the greatest individual trade of all time. pic.twitter.com/LtdgQ83bKP

— Morning Brew ☕️ (@MorningBrew) October 27, 2021
SHIB price 12 months ago was about $0.000000000079, but its current price is now $0.0000738 and is currently ranked tenth on the CoinMarketCap's crypto rankings. Its astronomical rise has erased the notion that it is a Dogecoin alternative or copycat. Even though there are controversies surrounding DOGE and SHIB use cases, several businesses continue to cash in on these coins' interest from the market.
Shiba Inu Gains $27.3B In Seven Days
As of October 23, 2021, Shiba Inu's market cap was $13.3b, but as of this writing, it is now over $40B, indicating an increase of more than $27B in seven days. SHIB continues its bullish run, which has seen it gain 4.14% in the past 24 hours and an astonishing 166% over the past week. Strangely, DOGE's price keeps dipping. It trades at $0.29 following a 1.6% dip in the past 24 hours.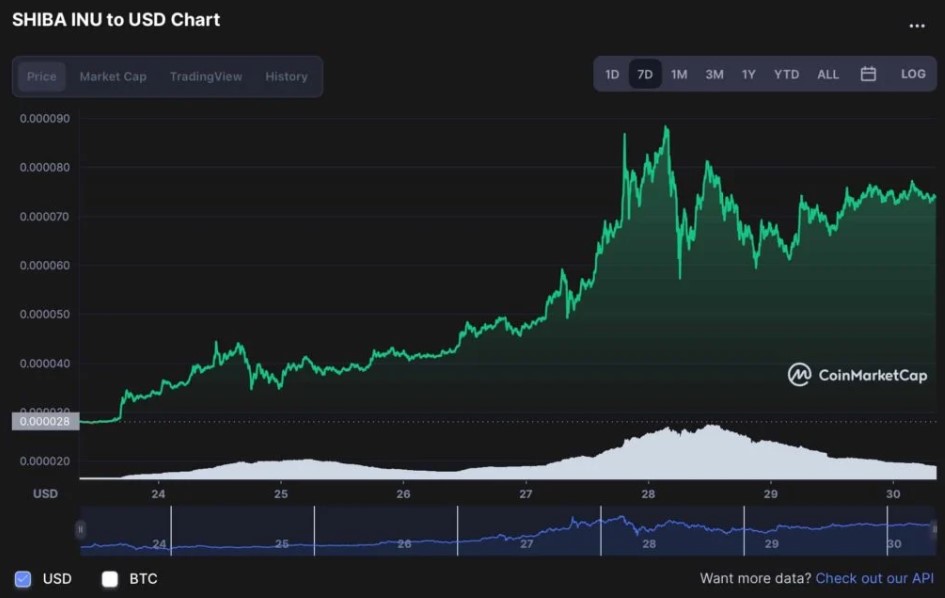 SHIB/USD 1-week Chart. Source: CoinMarketCap
SHIB's recent price action has caused an increase in the Shiba Inu community members. Various metrics (including CoinMarketCap data) indicate that there are now almost 850,000 SHIB holders, with 35,000 added in only on October 28.