A cryptographic project, VeChain (VET) established by Sunny Lu, is getting a boost after devising technology to verify the authenticity of KN95 masks amid the new coronavirus crisis.
Recall that Real Item, an enterprise and consumer applications built on VeChain blockchain, announced on 3rd April 2020 that VeChain has been chosen to verify the KN95 masks from Tricol Group.
Real Item stated that all the orders of the masks will be made on its platform, but they must pass through VeChain product verification before distribution.
Real Item statement reads thus:
"The next REAL ITEMS verified are KN95 masks from Tricol Group. Capacity to make 200,000+ masks per day, All orders made through realitems.io and our partners will have a VeChain NFT for product authenticity on each box."
This came after Shanghai Gas partnered with VeChain (VET) to build a trust-free "energy –as-a-service" ecosystem, to bring about a more transparent and secure way of trading energy.
Boost in VeChain (VET) Fundamental Data
All these put together, have aided the growth and popularity of the cryptographic project VeChain. As a report has it, VET FCAS has increased by 6 points in the past week (0.79%), with Developer Behavior climbing 4 points (0.53%).
Also, Market Maturity has increased by 13 points (1.62%), while User Activity remains stable.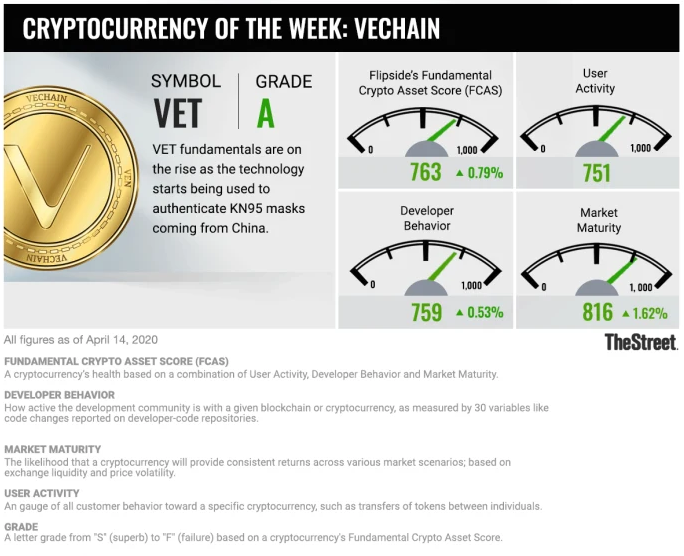 VeChain (VET) Aims to Eclipse Hyperledger
Adoption is expected, but old and inadequate regulations are delaying adoption. The Food and Drug Administration still needs a verification system to identify the authenticity of KN95 masks produced in China but hasn't adopted blockchain as the official and permanent solution.
In the quest to address obstacles with public blockchains, such as Ethereum (ETH) and Bitcoin (BTC), VeChain (VET) is striving to overthrow solutions like hyperledger that is presently seen as the last resort.