VeChain Partners with One of the World's Largest Professional Service Network to Provide Advanced Blockchain Solutions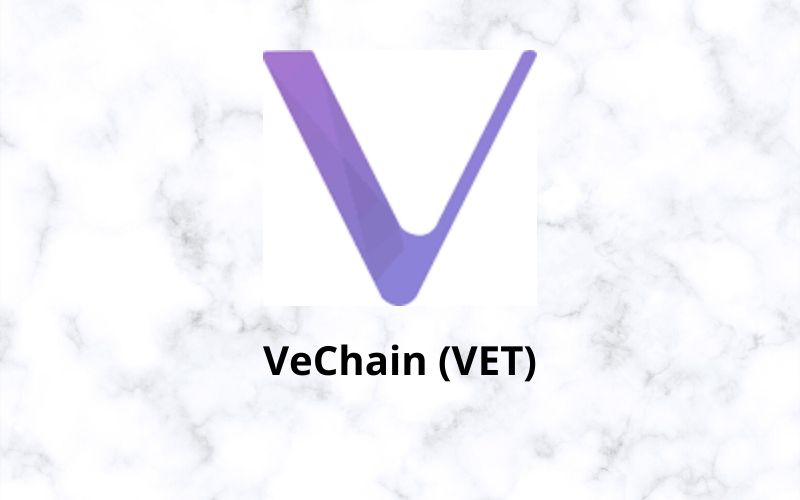 VeChain, the leading enterprise-friendly public blockchain, has announced its partnership with Grant Thornton Cyprus, one of the largest professional services network of independent accounting and consulting member firms in the world, to provide advanced blockchain solutions.
According to VeChain insider, Grant Thornton Cyprus is the world's seventh-largest by revenue and sixth-largest by number of employees professional services network, next to Deloitte and PwC.
Purpose of the Partnership between VeChain and Grant Thornton Cyprus
According to the report, the collaboration aims at pairing and utilizing the advanced blockchain solution of VeChain for various industries among the Grant Thornton Cyprus business partners.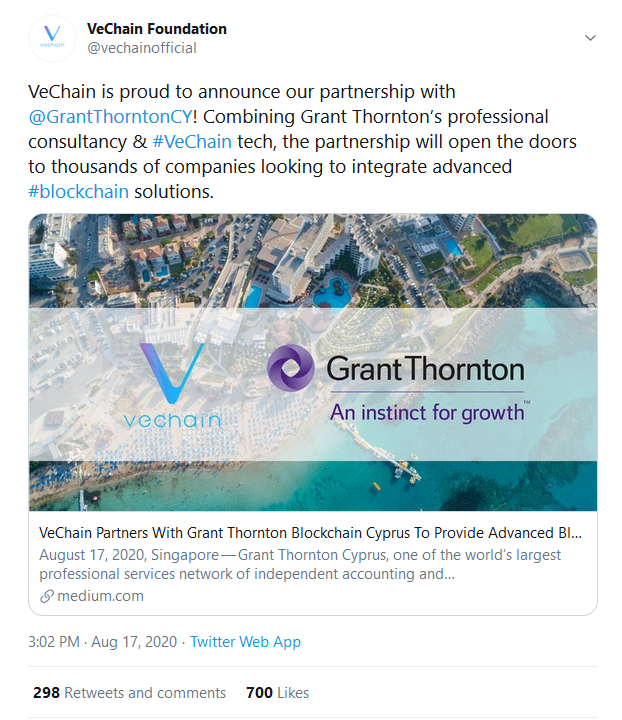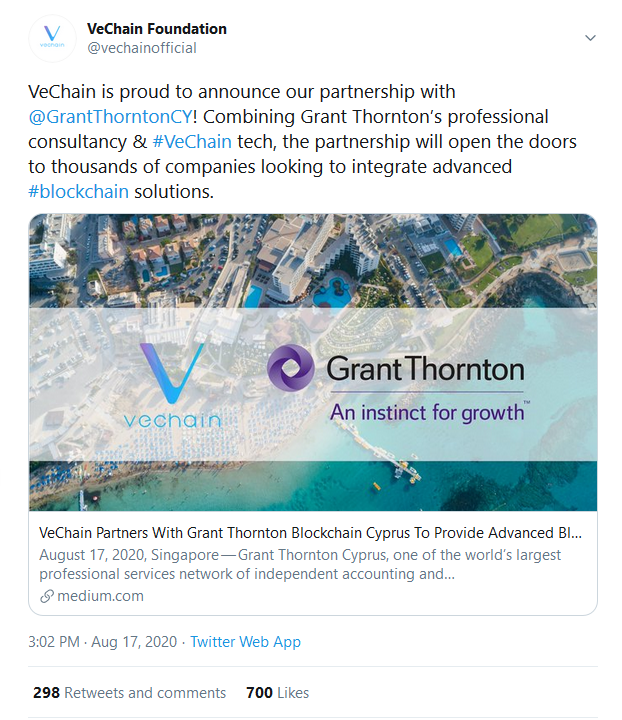 Grant Thornton Cyprus Blockchain Line to Work with VeChain's Experts
Going by the report, the blockchain service Line was launched by Grant Thornton Cyprus to grow its technology services in 2018, which now has a presence in over 135 countries of the world.
So, the blockchain service, Line, will be working with VeChain's technical and industrial experts for the delivery and implementation of services related to blockchain for Grant Thornton's clients across the world. This new partnership has been seen as a big boost to the blockchain industry as a whole.
The report further stated that the partnership between the two strong entities will open doors to many companies that have an interest in leveraging the opportunities that would emerge via the implementation of this technology.
Reacting to the new development, the co-founder of VeChain, Sunny Lu, said that the coronavirus pandemic has caused a big twist to the global economic order, which presently strengthens digitization.
Sunny Ly said:
The pandemic has been an imminent restructuring of the global economic order, which emphasizes the urgency of accelerating digitalization which enhances the need for digital solutions in the post-pandemic. We are dedicated to exploring more business scenarios with our partner Grant Thornton Blockchain Cyprus and are excited with what's to come as a result of this partnership."
The Grant Thornton Cyprus's Director of Distributed Ledger Technology, Alexis Nicolaou, also said:
"As the coming of legislation governing Blockchain Technology in Cyprus is imminent, Grant Thornton Cyprus is investing in partnerships with leading businesses in the industry, so as to be able to meet the needs of its client base and other local and foreign companies. The extensive range of applications that VeChain ToolChain™ offers, will help us in meeting those needs in the most effective and efficient manner".
Join us on Twitter
Join us on Telegram
Join us on Facebook