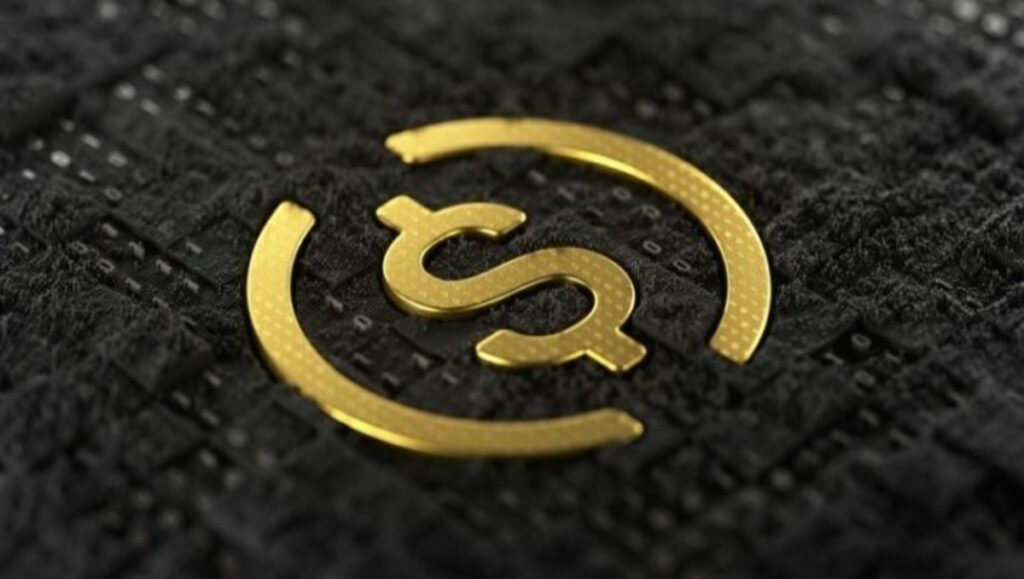 The growth of the stablecoin market this year has been astonishing. Various metrics indicate that stablecoins have gained more than 550% since the beginning of this year, with Terra recording the highest growth among other stablecoins.
UST eclipsed DAI as the top decentralized stablecoin based on market cap and now ranks among the top 22 digital assets. Also, UST's market dominance has increased, moving from 0.68% to more than 7% this year alone despite being listed on a few exchanges. Terra founder, Do Kwon, claims that there would be a further surge in demand for the UST in the incoming year.
About Four Times Growth In Less Than 12 Months
UST's overall evaluation grew from $250m as of January 2021 to about $10B as of December 24, 2021, making it the only decentralized stablecoin to achieve that feat. Also, it indicates an almost four times growth since the start of this year.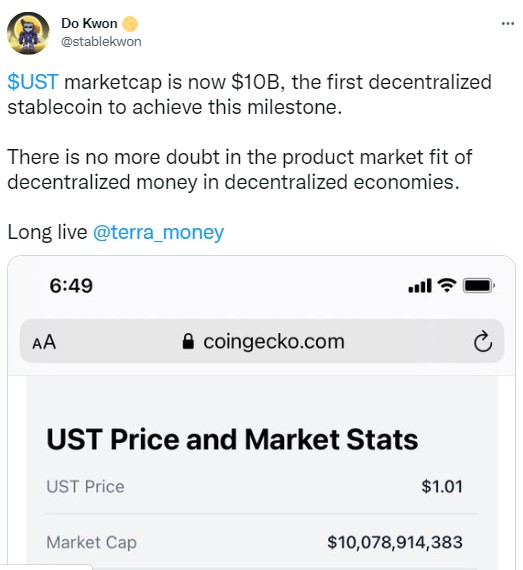 Do Kwon Tweet. Source: Twitter.
While UST is the first stablecoin to achieve a $10b market cap, it isn't as popular as other stablecoins, especially USDC, BUSD, and the popular Terra stablecoin (the USDT). However, the Terra team is also making continuous efforts to make the UST as popular as the stablecoins mentioned previously.
Already, two exchanges have listed UST on their platforms. Huobi and Binance exchanges listed the UST on December 23. Binance already approved three UST trading pairs, while Huobi included it in its pioneer zone. Nearly 250m UST were released after Binance's announcement four days ago. These issued tokens have been responsible for the surge in Terra's governance token price (the LUNA).
The LUNA price and UST supply have a direct correlation. As of this writing, LUNA was trading at $97. However, the price is poised to go higher as UST supply decreases and demand rises. More importantly, Terra's TVL has exceeded $22B, with only Ethereum having a higher TVL. Terra's TVL will continue to rise as buy pressure for the LUNA keeps growing.
Potential Investments And The Future Of The Stablecoin Industry
Investors are starting to take notice of the UST, with popular analyst Micheal van de Poppe predicting a minimum of 3x increase for the token. "Currently, LUNA, AVAX, and MATIC are among the strongest digital assets right now." – Micheal van de Poppe. Even though crypto price predictions are usually overestimated, this prediction might be among the few exceptions.
Delphi digital data indicates that a 170% increase next year is possible given the market's growth this year and some expected positive factors. The data further predicted that UST's market cap could reach $24B before the end of next year.
This data implies that the stablecoin industry will likely be of significant interest to investors in the coming year as the mainstream crypto industry regulation becomes stricter. The rapid rise in the UST market cap to 25% of USDC's market cap is proof that the future belongs to decentralized stablecoins.