A cryptocurrency analyst has stated that Bitcoin (BTC) would ride on the collapse of United States money velocity to print new price highs. While PlanB opines that it's a means for BTC to surge towards $288,000.
He said that there is too much money to spend as central banks keep printing paper money, which he thinks will propel Bitcoin (BTC) to attain its next phase of price parabolic movements.
According to a blog post published on 25th August 2020, by Jeroen Blokland, who is the portfolio manager at asset manager Robeto, the United States money velocity is on its historic decrease.
Money velocity is the speed at which money circulates in the economy, and this has experienced a significant drop year-to-date.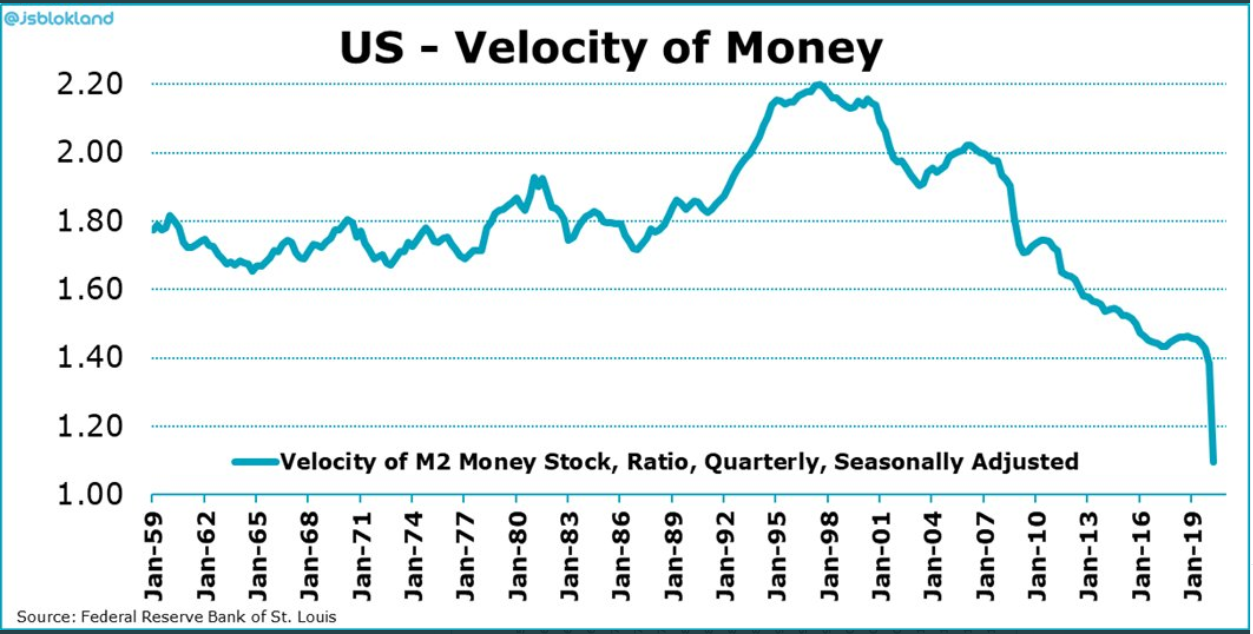 He noted:
"Theoretically, the velocity of money rises when economic activity increases…While the sudden economic stop obviously resulted in much lower economic activity, the sharp decline also suggests there is just too much money to spend. A quick look at central bank balance sheets confirms this."
Adding that "The low velocity of money also means that even more money is needed to create inflation. So far, however, this has only resulted in asset price inflation."
What PlanB's Stock-To-Flow Price Forecasting Model Says
PlanB, the popular analyst that applies stock-to-flow price forecasting models to predict the price of Bitcoin (BTC), stated that the collapse in the money velocity will only serve as the catalyst to push Bitcoin towards $288,000 by 2024.
According to PlanB, out of many phases that the stock-to-flow cross-asset model delivers for Bitcoin, $288,000 forms part of Phase 5.
Back in March 2020, PlanB made a point while explaining a chart on Twitter: "S2FX: $288k is the cluster center (S2F-marketvalue centroid) of next phase, like $6700 was the cluster center of last/current phase.
"We don't know exactly (yet) when phase 5 starts and ends, but looking at past clusters: roughly 6 months after 2020 halving, until 2024 halving+6m."
Join us on Twitter
Join us on Telegram
Join us on Facebook