A new decentralized finance (DeFi) digital asset is gaining traction of crypto traders and investors, including the co-founder of Ethereum (ETH), Vitalik Buterin, after skyrocketing by 1800% within two days.
Pickle Finance (PICKLE) Surges from $4.41 to $85
Pickle Finance (PICKLE) is the latest among the trending decentralized finance (DeFi) assets to make a rhetoric surge after the headline grabber, Yearn.Finance (YFI).
According to a crypto analytics firm, CoinGecko, PICKLE, a food-themed token jumped from a low of $4.41 on 12th September to a high of $85 on 14th September 2020.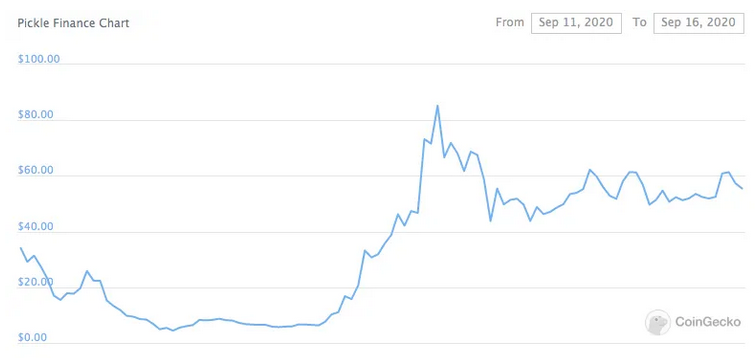 Why Pickle Finance (PICKLE) Gained Traction from Ethereum Creator Vitalik Buterin
The co-founder of Ethereum (ETH), Vitalik Buterin is giving Pickle Finance (PICKLE) special attention due to the unique use case and voting mechanic embedded in it.
According to the information published by Pickle Finance on Medium, it's basically created to help remove volatility in the four largest stablecoins in the DeFi ecosystem.
Additionally, Pickle Finance offers more rewards for stablecoin pools trading below their peg and fewer rewards for pools trading above their peg.
At the moment, Pickle Finance covers four stablecoin pools such as USDC/ETH, suSD/ETH, USDT/ETH, DAI/ETH.
As shared via its official Twitter handle PICKLE holders can also take part in the unique governance process:
"We use quadratic voting to prevent whales from having too much influence. Instead of counting votes nominally, we take the square root of it for each account.
"For example, the following two situations have the same amount of voting power: 1. A whale casting 100 votes. 2. 10 regular people, each casting 1 vote. This gives more power to ideas that can garner a large number of people's attention.
To vote, you will need to stake your ETH/PICKLE UNIV2 LP tokens into the ETH/PICKLE pool on pickle.finance."
The uniqueness of the voting system caught the attention of Vitalik Buterin, who responded to the series of tweets with the following remark and question:
"Nice! How do you determine individual identities to prevent individuals from splitting their funds into many accounts to avoid being square-rooted?"
In a follow-up response, Pickle Finance pointed out that the project is in its early stages:
"We can't, at least not now. We don't want to let the perfect be the enemy of the good. This will hopefully slow down the whales who want to game the system. But at the very least, we're excited about promoting the ideas of RadicalXChange and Quadratic Voting.
"Maybe later on we can devise a system to better identify users. But we are quite stretched for bandwidth right now. The project has been live for a little more than 2 days."
Join us on Twitter
Join us on Telegram
Join us on Facebook