A barely known cryptocurrency in the crypto space is winning the attention of thousands of investors after experiencing a 10,000% rise in value in just a few days after it's officially launched.
Santiment, the crypto-analysis platform is keeping a tab on the performance of YFI, the governance token of decentralized finance (DeFi) protocol, yearn.finance.
An analyst at Santiment explains via a YouTube video that the token serves as a means to generate passive income for investors by utilizing platforms that offer the most profitable yields.
"In a nutshell, YFI is something that makes you money, good ton of money. It is the only thing right now in the DeFi market that gives you the highest yield…
How it does that is by taking whatever you deposit, and it actually goes around and searches all the other platforms, whatever protocols are out there, and finds the best yields in the area and then deposits over there, ensuring that you get the best yields. Think of it as an automated yield aggregator."
The Stance of YFI's Creator
According to the creator of YFI, Andre Cronje, the cryptocurrency has no financial value. But the attention of investors it has caught due to the significant increase it has experienced makes it a point for discussion.
According to CoinGecko, on 18th July, YFI, the native token of yearn.finance, was priced at $31.65 before its notable surge to record its all-time high of $3,458.31 on 25th July 2020, a drastic rise of 10,828.6%.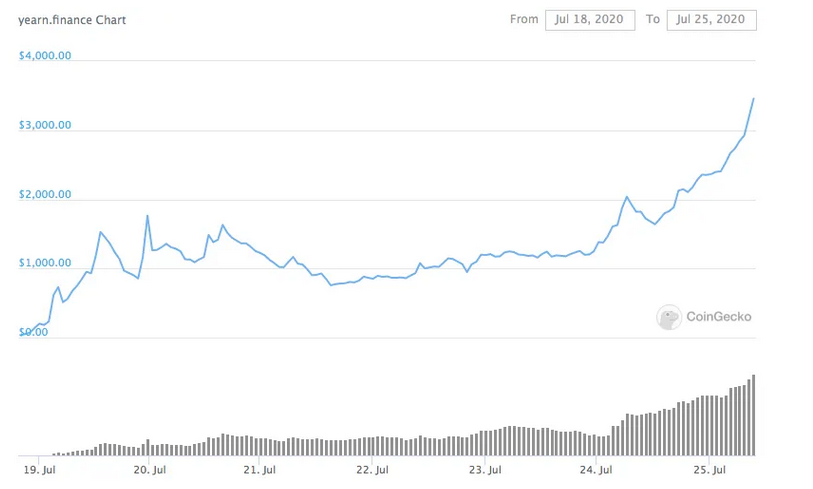 Despite the fact that decentralized finance (DeFi) tokens are garnering most attention at the moment, the crypto-analysis platform, Santiment warns that gains are never guaranteed due to the high volatility of the market.
"It's important to note that DeFi is pretty nascent. There are very real inherent risks involved: Smart contract exploits/bugs/hacks, collateral getting liquidated, Stablecoin de-pegging."