According to a report, nearly 20,000 accounts with over 1 billion XRP have been set up by cryptocurrency investors to receive the new digital currency, Spark, from the crypto startup Flare in December 2020.
19,977 Accounts with 1,110,000,000 XRP Set to Receive Free Spark Tokens
Over the past few weeks, Flare, a Ripple-funded firm, has been in the process of setting up the accounts of interested XRP holders to receive free Spark tokens, after the snapshot of XRP Ledger slated for 12th December. As a report has it, account holders will not have to give up their accumulated XRP to receive the new digital asset.
According to Xrplorer, the analytics channel for the XRP Ledger, 19,977 accounts holding about 1,110,000,000 XRP are now set up to receive free spark tokens. The report added that the largest XRPL account currently holds 168 million XRP.
"A little Flare Networks Spark token update. – 19,977 accounts have set message key – The accounts currently have a balance of ~1,110,000,000 XRP – The largest XRPL account has a balance of ~168M XRP followed by ~24M and ~13M," Xrplorer reported.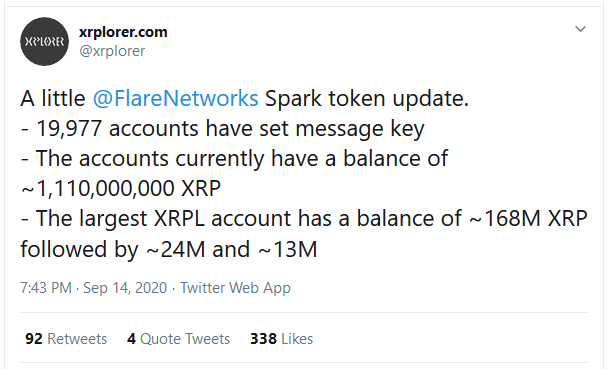 Flare To Bring Smart Contracts to XRP Ecosystem
A few days ago, the co-founder of Flare Networks, Hugo Philion, explained in an interview with a popular YouTuber and XRP enthusiast, CryptoEri that Flare is planning to bring smart contracts to XRP ecosystem and enhance the use cases of the Ripple's digital token.
Philion noted:
"What we're trying to do is we're trying to essentially expand the use cases without affecting the XRP Ledger itself. So Flare will have minimal-to-no effect on the XRP Ledger. It's just about transporting the value of XRP onto Flare and then it can be used with smart contracts in many different ways.
And smart contracts – all they are really are programs that run on a blockchain…  [At] the moment, on say the XRP Ledger, you have a limited amount of things you can do with the XRP token, and that was a design decision, and that's why XRP is so fast and so cheap to use. But with smart contracts, we can take XRP and we can do a lot more things with it."
Join us on Twitter
Join us on Telegram
Join us on Facebook