IGC Markets
Summary
We review a lot of Forex brokerages, and we put them through rigorous tests. Check out our review to see if you should trade with IGC Markets.
IGC Markets Review

The quest to find the right broker can be very challenging, especially if you are a new trader and not sure what to look for when assessing a Forex broker. Even professional traders like myself sometimes struggle to find a brokerage which suits us. If you're reading this review, then you're probably on the hunt for a good Forex and Cryptocurrencies brokerage, no, scratch that, — a great broker that caters to your trading needs.
If you want to trade the markets and make some extra, serious income, then you'd be on the search for a broker that provides you with excellent trading conditions, super-fast and reliable withdrawals, an easy-to-use trading platform, and one that defends the security of your funds. This is what I and the majority of fellow traders look for. If the broker in question has an excellent customer care team, that's an added benefit too. In fact, there are quite a few additional elements which I personally examine, and they'll become evident throughout this review of IGC Markets.
As a trader with years of experience in the industry, I've managed to gather knowledge that allows me to assess brokers from every angle. Unfortunately, a great deal of people fall into the trap of the numerous scammers, who pose as Forex brokers. It's these swindlers who have damaged and plagued this industry. Even with that said, there are still a good few brokers who have no intention of scamming you. Is IGC Markets one such broker? Continue reading on to see.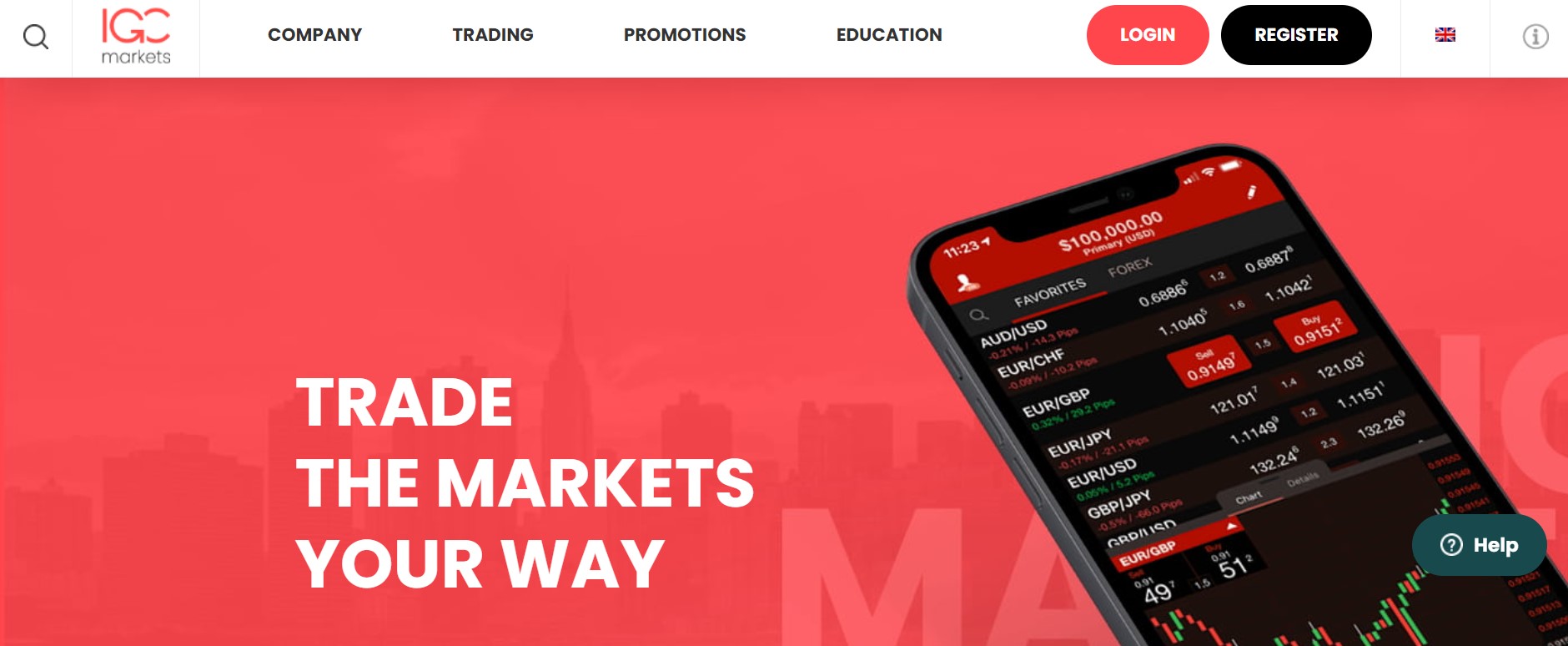 What to expect from our Forex broker review of IGC Markets
Personally, after having struggled to find a series of good brokers, I wanted to help other traders earn money without having to deal with never-ending problems. Therefore, I turned to writing reviews, as a way of assisting traders in finding their broker of choice.
So, when it comes to writing our Forex brokerage reviews, me and the team take a look at the following 10 features:
Who is the broker?

Are they regulated?

What are they like when it comes to withdrawals?

What's the deposit process like?

Do they have their own trading platforms?

Do they have a selection of trading accounts?

Do they offer bonuses and promotions?

What's their customer care like?

Do they have a big list of tradable instruments?

Can I trade using my mobile?
We really run through all of these features when reviewing any Forex brokerage, and IGC Markets is no different. Another important point I want to highlight is that it takes us two full weeks to review a broker like IGC Markets from top to bottom. So, here's everything you need to know about IGC Markets. Welcome to our full and frank review. We hope you enjoy it!
Who is IGC Markets?
IGC Markets is a Forex & CFDs online brokerage, authorised in various jurisdictions around the world. This broker is owned and operated by MaxxMedia LLC, and the company's headquarters are located in Saint Vincent and the Grenadines.
As a few brokerages have a good reputation when based in Saint Vincent and the Grenadines, I was curious to know how IGC would fare. Would this broker be confined to the stagnation of "bad brokerages", or would they surprise me?
Continue reading to see.
IGC — Making trading accessible to everyone
Whether you're new to trading or have some experience in trading the markets, you can rest assured that you won't encounter any difficulty when trading with IGC Markets. It's a massively bold statement to make this early on in the review, but one which I believe is fully justified.
To start with, IGC Markets has made trading Forex, Cryptocurrencies, Stocks, Spot Metals, Commodities, and Energies fitting for everyone who's looking to shine in this industry. How has this brokerage done this? Believe it or not, what distinguishes IGC is that it's built by traders for traders. This is why it has crafted all of its trading services to suit every trader, regardless of his or her level of expertise.
That's exactly what makes IGC stand out from the crowd. I cannot stress enough how important that is for traders like you and me, which is why I'll be talking more about this aspect later in this review.
For now, let's look at the bigger picture of IGC together.
A general sum up of IGC Markets
| | |
| --- | --- |
| Broker | IGC Markets |
| Website | https://igcmarkets.com/ |
| Asset Classes | Forex, Cryptocurrencies, Indices, Stocks, Commodities, and Energies |
| Trading Platforms | IGC Trading Platform |
| Transfer Methods | All major credit and debit cards, wire transfers & cryptocurrency payments |
| Trading Accounts | 7 (Standard, Core, Deluxe, Gold, Prime, Superior, VIP) |
| Leverages | Min 1:100, Max 1:500+ |
| Welcome Bonus | Up to 100% on the initial investment |
| Commissions | No commissions |
| Customer Support | 24/5, from 4am through to 4pm UK time |
Weighing in the pros & cons of IGC Markets
That comprehensive overview sure looks inviting, but how about we examine the advantages and disadvantages of IGC Markets? Let's enhance our viewpoint and better shape up our assessment of it.
Strengths

Weaknesses

Super-Fast Withdrawals

Easy-To-Use Trading Platform

Peace of Mind Trading

Safe & Secure Deposits

One-On-One Training

Outstanding Customer Care

Tailored Trading Services

Competitive Pricing

Low First Deposit

Biggest Range of Markets

Very Quick Execution

Zero Commission

No Hidden Fees

Traders in the USA cannot trade with IGC

Not regulated yet, but they're working towards being regulated
Can you be successful if you trade with IGC Markets?
No one would want to trade with a broker that doesn't understand them. Traders want a brokerage firm that they can instantly relate to, I know that myself! Plus, we, traders, always look for a broker that helps and gives us all the keys to success, especially when it comes to trading the markets. This is exactly what IGC does. How? It serves us the way we wish to be served because it recognises what we want as traders. Throughout this review, we're going to demonstrate how IGC does this.
Multiple trading account types
As IGC is founded by traders, the team behind it obviously knows what to offer their fellow traders. In order to please everyone, IGC offers 7 different types of trading accounts which include Standard, Core, Deluxe, Gold, Prime, Superior, and VIP.
Is this large selection of trading accounts a hindrance? No. You see, multiple trading accounts allow us traders to be flexible when it comes to trading. IGC nails this, and the features of their trading accounts scale gradually. This helps traders progress steadily and guarantees that they're given the flexibility to grow.
IGC Markets allows you to trade Forex, which includes Majors, Minors, and Exotics. Traders can trade Cryptocurrencies too, and a lot of traders worldwide find cryptos to be highly volatile, which is why Bitcoin is one of the most traded instruments in the world. Stocks such as Tesla and Amazon shares are super-hot right now, and they're available on the IGC Trading Platform. There's a series of Indices such as the DAX, and even Commodities. The entire trading asset spectrum is covered, and this is a major plus. With more than 200 instruments, you're given the opportunity to really expand your portfolio, and as an experienced trader myself, I strongly recommend that you leverage different asset classes. Never stick with simply Cryptocurrencies or Forex, but rather expand the asset classes.
The IGC Trading Platform — Is it any good?
The trading platform of any broker is one of the most important cogs in the overall brokerage. We've reviewed a great deal of trading platforms, so we were interested to see if IGC's trading platform was up to scratch.
The IGC Markets Management Team opted to use elements that some brokerages shy away from, such as proper Risk Management. The IGC Trading Platform has been created especially for beginner traders, while also being perfectly suited for both intermediate and professional traders alike.
From our two-week stint at reviewing IGC and their trading platform, we can definitely put the IGC Trading Platform in the "best-in-class" bracket. I personally found it super-easy to use, and the Risk Management features held within their platform are massively important for all traders. This is one of the common issues I normally find when researching brokerages, and this is why I mentioned it above. In my time reviewing brokerages, I found that the Risk Management section is either terribly lacking or not even there. If your trading platform doesn't have Risk Management features, I don't think I need to tell you that this is a massive red flag. Stay away from brokerages which try to hide their Risk Management features. Thankfully, there's no such thing when it comes to IGC.
Now, this is what usually causes the most trouble for traders, because many brokers charge quite a lot in fees. Brokers definitely like to indulge in fees, and the burden of these fees is felt by the trader as it makes it difficult, and sometimes even impossible for the trader to earn anything from their winning trades. Fortunately, IGC values honesty and has no hidden fees.
That's right, "Hidden Fees". This is the plague of many brokerages. You are bombarded with hidden fees to the point where it's simply not worth it to trade. IGC has stayed completely away from this strategy, and it's one of this brokerage's selling points.
Still, all brokerages charge an overnight fee, known as a swap, and IGC is no exception, unless you've opted for an Islamic Account. A Swap or "Premium" is a daily interest fee that you have to pay if you hold a short-term trade and want to keep it open overnight. In some cases, the brokerage pays you, but this is a rarity.
IGC boosts your trades significantly by providing you with leverage that ranges from a minimum of 1:100 to a maximum of 1:500. When we spoke with our IGC Account Manager, we were told that the leverage level can go beyond the 1:500 mark, but we never took up that option.
We won't go into leverage in this review, as it's already long enough. We suggest you speak with your IGC Account Manager, or their customer service team for more information.
IGC Markets rewards you with a bonus of 100% on your first deposit, following your registration (given that you've passed their KYC and AML checks) and acceptance of the bonus terms and conditions. The more loyalty you show to this brokerage, the more you're rewarded.
IGC seems to be in this for the long-term, unlike a lot of other brokers we've reviewed, which are there to gain as much as they can from inexperienced traders who don't know any better. Thankfully, this isn't the case with IGC. We took full advantage of their deposit bonus, and it worked in our favour, especially when we traded EURUSD and USDBTC.
Lightning-fast trading execution
We measured the trading execution of IGC against some of its closest competitors, and that list included a series of regulated brokers. What we found was that IGC really had lightning-fast execution. It's not the fastest we've ever encountered, but it's up there, and definitely faster than a lot of their competition. Trading execution is one of those features that a lot of new traders fail to notice. Overlook it at your peril!
IGC knows what matters to traders
As IGC's management team is founded by traders, they've got a fair bit of experience when it comes to understanding what traders, like me and you, want in their brokerage. Because of their in-depth knowledge, you can find some of the best trading conditions and trading tools that suit every level of trading experience on IGC.
Even though IGC gives great focus towards beginners, those with intermediate or professional expertise aren't left aside. Every trader can take advantage of the outstanding features housed within the IGC Trading Platform. The trading tools the broker offers also provide you with everything you need as a trader to excel. Unfortunately, many traders don't take up these features and dive headlong into trades. This isn't a wise approach, and IGC does warn traders against doing this, which is also a nice touch. More on that later.
Smooth withdrawals
This is one of the biggest hurdles we normally come across when measuring just how good a brokerage is. When it comes to us traders, having peace of mind is crucial, and withdrawals play such a major role. IGC ensures that the withdrawal process is carried out seamlessly and promptly, with respect to its terms and conditions.
After having tried so many brokers out there, we're really happy with the speed and security surrounding IGC's withdrawal process. As is the case with every broker we review, we strongly suggest you take the time and review IGC's T&Cs. They're not as long as Apple's terms and conditions, and so they're easier to digest.
With that said, IGC Markets also offers various withdrawal options to choose from, such as all the major credit and debit cards. This includes the popular MasterCard, Visa, and Maestro. They also accept bank transfers, and for those of you who prefer anonymity, you can even withdraw your winnings in Bitcoin.
After having tried all the withdrawal options myself, I can honestly admit that IGC surpassed many other brokers when it came to its excellent withdrawal procedures. The time it took for us to receive our funds never exceeded one week, which is fantastic for an unregulated broker. In fact, there are many regulated brokers which haven't been able to accomplish that!
Is making a deposit easy and secure at IGC?
Making a deposit is the first step towards gaining profit from trading the markets, which is why it's highly important to have a broker that guarantees an easy and straightforward deposit process.
IGC offers a multitude of secure deposit options, and these include all the major credit and debit cards such as MasterCard, Visa, and Maestro. Just like IGC's withdrawal process, you can make your trading account investment via bank transfer as well as Bitcoin, which is a great innovation, especially for traders who want to keep their trading investments anonymous.
Reliability & safety
This is such an important section of the review, and we hope that you read through it carefully, as it says a lot about IGC Markets.
Strict when it comes to protecting traders
No trader would ever willingly leave their funds with a broker that doesn't have the highest levels of security. Luckily, every new IGC client is shielded against money-spinning and the financing of terrorism, through the strict regulations that IGC follows. This brokerage advocates KYC (Know Your Client) as well as AML (Anti-Money Laundering) procedures. It doesn't shy away from them, and this is something that provides peace of mind when trading.
Before registration, IGC advises every trader to read and approve its terms and conditions. We always recommend that all traders carry out their trading activity with brokerages which have some form of regulation. When it comes to IGC, they're not a regulated broker, so why do we strongly recommend them? Read on to see why.
Honesty in stating the risks
Brokers like IGC who openly let you know of the risk associated with trading are quite few and far between. Usually, scammers refrain from divulging risks, and they do this to trick you into investing your money and losing it all to them.
Scammer brokers, of which there are many, never provide you with any sort of trading guidance. This is what differentiates IGC Markets. We were quite surprised by their continuous risk disclosures and disclaimers, which they've housed throughout their website, and in prominent positions. This brokerage actively wants to warn you about the risks associated with trading. It also provides you with the tools needed for Risk Management, which we've mentioned above.
Lawful in terms of standards
We've already mentioned that this broker carries KYC (Know Your Client), but did you know that they use the same processes as regulated brokerages? IGC Markets has established two teams to ensure that everything is legitimate and in-line with key regulators from around the world:
The Compliance Team is responsible for ensuring that every trader that signs up is actually capable of trading.
The Legal Team works tirelessly towards resolving any disputes that might occur.
Working towards being regulated
Now this is a big one, and to be honest, you won't find a review on our website which even remotely talks about an unregulated broker actively looking to get regulated. So, despite the fact that IGC Markets isn't regulated yet, they proved to be honest and legitimate by respecting all the obligations that regulated brokers follow.
Not only that, but due to this, IGC isn't far from becoming a regulated broker in the near future. This is the Management Team's aim, after all, it's made up of traders who cut their teeth working in the regulated world. With the Compliance and Legal teams working together within IGC, you can safely trade with this broker without having to worry about your funds or winnings going missing. We certainly didn't encounter any issues during our two-week review.
Impeccable user experience
When looking at UX/UI (User Experience and User Interface), I was personally thrilled to have such a smooth trading journey with IGC. Navigating through their website as well as trading via the IGC Trading Platform on our desktops and mobile was a breeze.
Their website is better than that of most regulated brokers, and yes, I know that it's subjective, but when you've encountered as many brokerages as my team and I have, you soon get to the point where you can offer an objective viewpoint.
Trust us when we say that the IGC Markets website is one of the best we've seen this year!
Outstanding customer care
Whenever you feel lost, have any concerns or even comments, there's IGC's customer care team whose top priority is you. These people are dedicated to pleasing you and making sure your peace of mind is guaranteed.
The exceptional support team is available 24 hours a day, 5 days a week, from 4am through to 4pm, UK time. But what makes this team truly unique is its super-fast response to any enquiry you present. They are also very friendly and helpful, so you'll enjoy your conversation with them through any means of contact you choose. We personally tried them out, using the phone, email, and their Live Chat feature. They made sure we felt comfortable and happy, and this in my book is an absolute plus!
Education to master trading
Apart from the amazing trading platform that this broker provides you with, and the tools it gives you to assess risks, it has one additional feature that makes it stand out.
Knowing that not all clients who register are going to be experienced, IGC provides you with educational videos to help you master the world of trading.
Another massive perk when it comes to trading with IGC is that you are literally provided with a trading tutor. At IGC, they call them an "Account Manager" as they help you manage your trading. What you're also told when you register and make a deposit, is that your Account Manager is there to provide you with one-on-one trading. Take full advantage of this!
When we registered our trading accounts, we were given our own personal Account Manager. We then, as usual, pretended to not be experienced. But to our surprise, our Account Manager spent a great deal of time walking us through the pitfalls of trading. They also covered what to expect from the different markets, and how to use their trading platform, especially the Risk Management section of it.
We were surprised at their level of care, and we do wish more brokerages took this approach when dealing with traders who were new to speculating on the markets.
IGC speaks your language
IGC is available in English, French, and German. We did ask their customer care team if they were expecting to add more languages. They explained that when the need arises, they will be adding more languages.
Final thoughts
There's a lot to praise IGC Markets about. We'll start with the website, as that was the first thing we encountered. The website is easy to use and quite dashing. The registration process is easy and streamlined.
Making my first deposit was effortless, and the entire process of meeting my Account Manager was seamless. I received a call from my Account Manager, who introduced me to the IGC Trading Platform. I soon realised I could use their trading platform on my iPad, MacBook Pro, and more importantly, my iPhone. I'm not one for being stuck behind my desk, so trading on the go is something I personally look for in any broker.
Following my sign-up, deposit, and set up, I received my 100% bonus on my first deposit, which was added to my account. Whenever we make our first investment, it varies from $1,000 to $5,000. With IGC, we deposited $5,000. We did have to validate that we agreed to the terms and conditions, but this is normal.
The IGC website — IGCmarkets.com — is so easy to use, that I didn't even have to speak with the support team. However, just to test the waters, I did reach out to IGC's customer care team. I tried to annoy them with common sense questions — I do this whenever I review a brokerage — yet no matter what I fired at them, they remained polite and were more than happy to help.
When it comes to the trading part itself, IGC was one of the very few brokers that made me feel safe. The Risk Management features, which I've talked about at length throughout this review, were easy to use, and they're an absolute must!
After trading a few assets, I had some winnings, which is always a plus, so I checked out their withdrawals. The withdrawal process with unregulated brokers can leave such a sour taste in the mouth. Not with IGC. They withdrew my funds seamlessly and without any questions. I did receive the standard security call to ensure that it was indeed me requesting the withdrawal, but that's commonplace with any investment firm.
So, even though I'm an experienced trader, the educational videos available on the IGC website helped me to perfect my skills in trading. I actually learned something new, which is a plus! As for the entire trading journey itself, I have been pleasantly surprised. I honestly recommend IGC Markets to every trader, whether you have zero, intermediate, or professional experience as a trader.