A crypto trader and analyst, identified on Twitter as "il Capo of Crypto", who accurately predicted the price drop of Bitcoin (BTC) to $3,000 region earlier this year, has recently stated that the leading cryptocurrency could dip towards $11,000 once again.
Over the past few weeks, Bitcoin (BTC), the largest digital currency by market capitalization, has been trending back and forth within $11,000 and $12,000 price levels. There have been lots of mixed predictions and analyses regarding its price trend.
Bitcoin (BTC) To Trend Towards $11,000 Once Again
On 13th August 2020, il Capo of Crypto shared a chart that indicates his opinion about a possible drop of Bitcoin towards $11,000.
According to the analyst, an attempt to lose the $11,000 lows on the second test would bring the price of BTC down to $9,200. He, however, opined that Bitcoin could trend to surpass $14,000 if it breaks and consolidates above $12,000 resistance.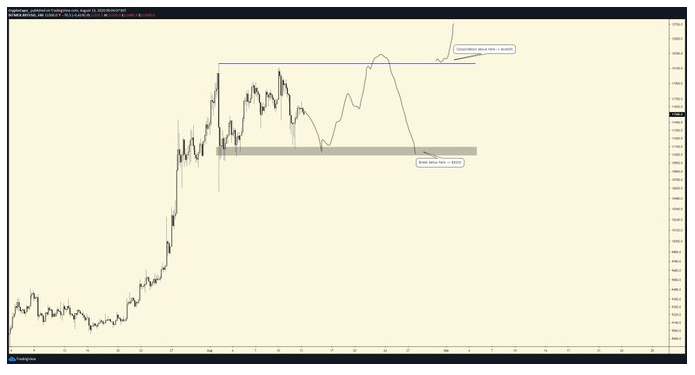 In a tweet on 5th August 2020, the analyst opined that altcoins would keep performing excellently well as long as Bitcoin (BTC) stays above $10,500 support level.
Capo of Crypto tweeted, "11500-11700, then down to test the 10400-10500 support zone, which should hold for a while. Looking for longs above that level and shorts below it. Altcoins should perform very well as long as BTC stays above 10.5k -> $EOS, $XTZ, $XRP, $XLM…"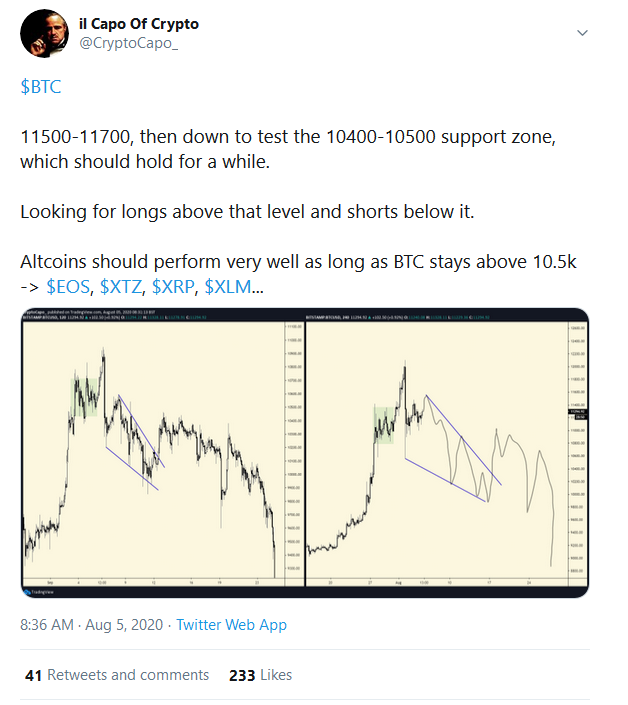 Earlier this year, Capo of Crypto accurately predicted that BTC and XRP would revisit $3,000 and $0.11 price regions respectively.
Bitcoin (BTC) Recent Price Trend
Over the past few weeks, Bitcoin (BTC) has been hovering around $11,000 price level. Some hours ago, BTC experienced a huge dip towards $11,000 mark, before a resurgence that took its digital currency to trade above $11,500.
Amidst this unstable trend, some altcoins such as Ethereum (ETH), Chainlink (LINK), and a number of minor cryptocurrencies, are proving their capacity of surging without the usual dominance of Bitcoin (BTC).
Many analysts still believe that the leading crypto is poised to record a new price all-time high before the end of this year, but nothing is certain when it comes to Bitcoin price trend. At press time, BTC is trading at $11,733.34, with a 1.38% price increase in the last 24 hours.
Join us on Twitter
Join us on Telegram
Join us on Facebook