Galaxy Digital CEO Mike Novogratz Reveals Percentage of BTC and ETH in His Portfolio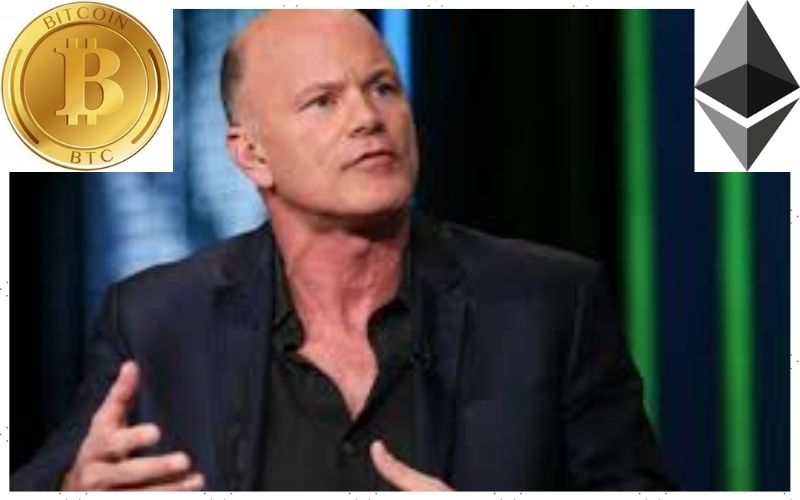 The CEO of Galaxy Digital, Michael Novogratz, has revealed the percentage of Bitcoin (BTC), Ethereum (ETH), and other cryptocurrencies in his portfolio.
The veteran cryptocurrency investor made this known in a tweet on 17th September 2020. According to Novogratz, the largest digital currency by market cap, Bitcoin (BTC), takes 87% of his crypto portfolio, Ethereum (ETH) takes 5%, while decentralized finance (DeFi) project tokens take the remaining 3%.
Mike Novogratz and Pierre Rochard Warn Investors about DeFi
In a Twitter conversation between Michael Novogratz and a popular crypto investor and pundit, Pierre Rochard, how cautious investors must be towards DeFi projects and their digital tokens was highlighted.
Starting the conversation, Novogratz intensified the necessity of buying his choice asset for investment, Bitcoin (BTC), urging the members of the crypto community to learn how DeFi works before investing in it.
Captioning an infographic for better description of his viewpoint, Novogratz tweeted, "The herd is coming. Slower than I once thought but the future is now. Buy Bitcoin. Learn and invest in DEFi. 2021 these old guys are in. So beat them to it."
In a direct advice, Pierre Rochard urged the CEO of Galaxy Digital and others concerned to only invest in Bitcoin (BTC), but wait for DeFi to stand the test of time before deciding on whether to trust it or not.
Rochard wrote, "Buy and hold Bitcoin. Wait for DeFi to prove itself through a couple of cycles, I doubt much if anything survives to be investable."
Corroborating with Rochard's point of view, Novogratz stated that everything outside of Bitcoin is a giant soundbox. Howbeit, he further pointed out that there are some DeFi projects that look suitable for investment:
"I have said outside of bitcoin everything is a giant venture sandbox. So bets should be scaled appropriately. I do think there are fascinating defi projects worth putting some chips on. I am like 87. 10. 3. Bitcoin. Ether. Defi. In percentage terms."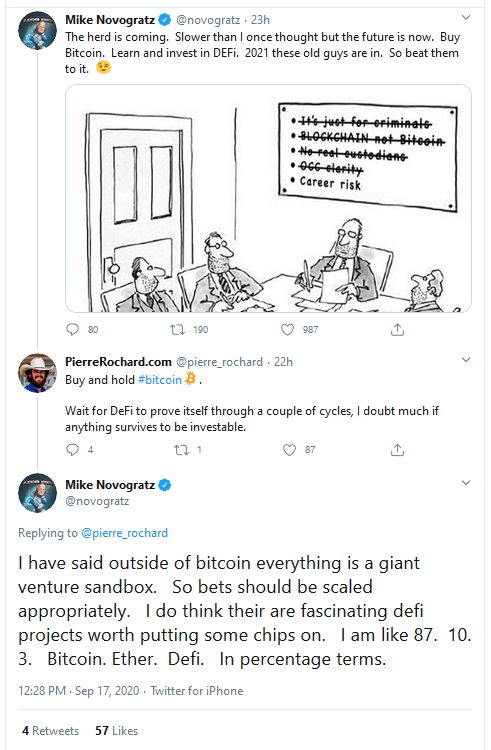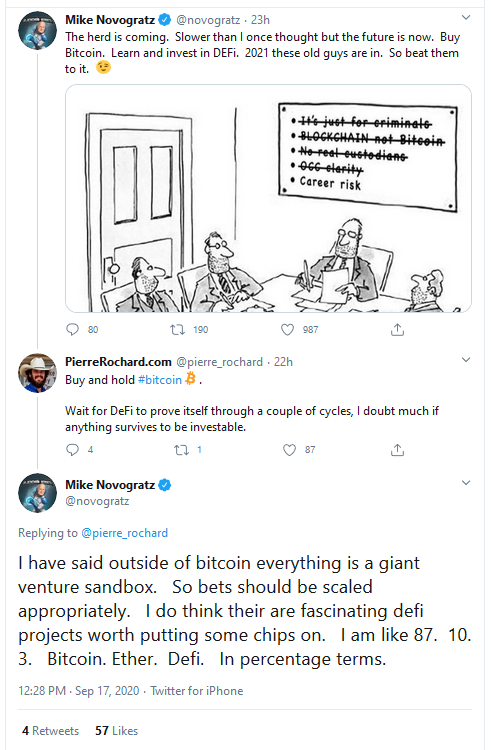 Join us on Twitter
Join us on Telegram
Join us on Facebook