According to Whale Alert, the bot that tracks large transactions of cryptocurrencies from and to exchanges, some hours ago, a crypto whale moved the total sum of 2,000,254,960 TRX from unknown wallets to another in 4 batches.
The sum of TRX moved is worth $40,422,633 at the time of publication. Crypto whales carry out their usual enterprise for different reasons. Some move their crypto holdings from one wallet to another for security reasons, while others initiate such a huge transfer for reasons known to them alone.
However, the huge sum of Tron (TRX) recently moved is definitely not a sell-off due to the nature of the transactions. If the transactions were effected from an unknown wallet to a cryptocurrency exchange, it could be termed a sell-off. So, the huge sum of TRX transferred is not expected to have any effect on the price of TRX in the market.
2 Billion TRX Moved In 4 Batches
As tracked and reported by Whale Alert, the first batch of the transaction was the sum of 1,130,254,924 TRX worth $22,326,095.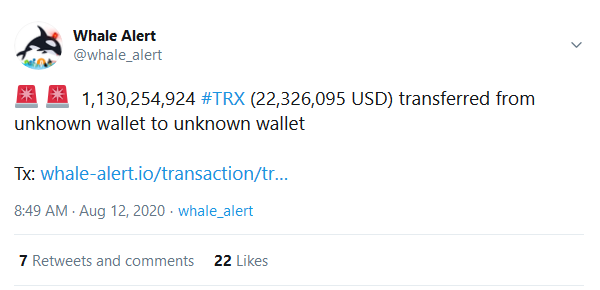 The second batch of the transaction was the sum of 320,000,011 TRX worth $6,358,678 at the time the transaction was initiated.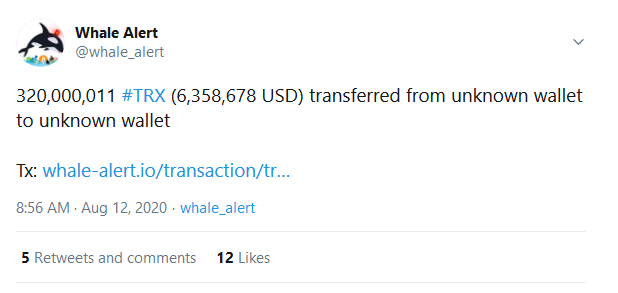 In the third batch of the transaction, the unknown TRX whale moved the sum of 280,000,012 TRX, which was relatively $5,563,843 when the transaction was effected.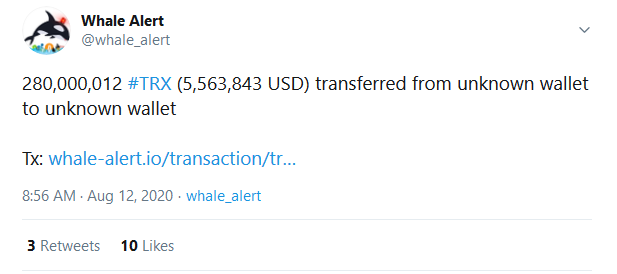 Lastly, the unknown crypto whale moved a total of 270,000,013 TRX from an anonymous wallet to another.

Tron (TRX) and Other Cryptocurrencies in the Market
At the moment, the best performing digital token among the top cryptocurrencies is the Chainlink's native token LINK. Its consistent price increase over the past days has enhanced its growth to the top 5 in the crypto market ranking.
Bitcoin (BTC), the largest cryptocurrency by market cap, is still changing hands within $11,000 price region. While Tron (TRX) that presently occupies the 16th position in the market is still struggling to print a significant price surge like LINK and some other top tokens. At the time of writing, TRX is trading at $0.020413, with a 1.84% price upsurge based on 24 hours estimation.
Join us on Twitter
Join us on Telegram
Join us on Facebook