Cosmos (ATOM) Now Available on Coinbase.com, Coinbase's Android and iOS Apps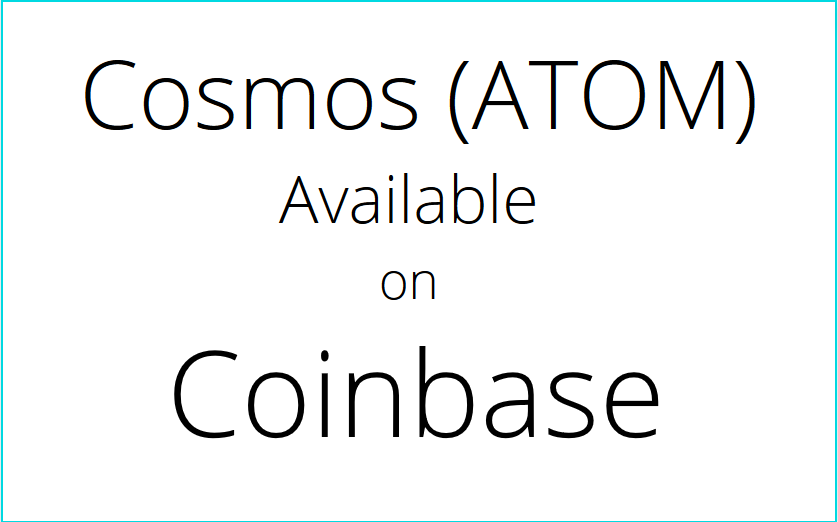 Coinbase, the US-based cryptocurrency exchange has recently announced the listing of Cosmos (ATOM) on its trading platform.
The information was passed across via its official website on 16th January 2020. The exchange related that ATOM will be available at Coinbase.com as well as Coinbase's Android and iOS Apps.
According to the digital currency exchange, users are now liable to buy, sell, convert, receive, or store Cosmos (ATOM) on the trading platform.  It also added that the digital token will be live for customers in all the regions supported by Coinbase.
Coinbase shared the requests of the users regarding the diversification of digital currencies on the trading platform, in order to have access to more cryptocurrencies on the exchange, which brought about the addition of Cosmos (ATOM).
The exchange then promised to support more digital currencies that meet its standards in the course of the review. It added that investment in new tools is ongoing. This was brought in order to enhance users' understanding about cryptocurrencies.
About Cosmos (ATOM)
Cosmos is a blockchain protocol that fosters the exchange and the use of information existing in chains. It carries out its operation through a hub-and-spoke model.
This gives Cosmos the access to the design of other elements of other chains in order to activate cross-chain interaction.
The Cosmos framework showcases a Byzantine Fault-Tolerant (BFT) consensus algorithm designed by Tendermint to improve the security of the protocol.