Cardano Finally Launches Shelley Mainnet; Introduces Staking Rewards for All ADA Holders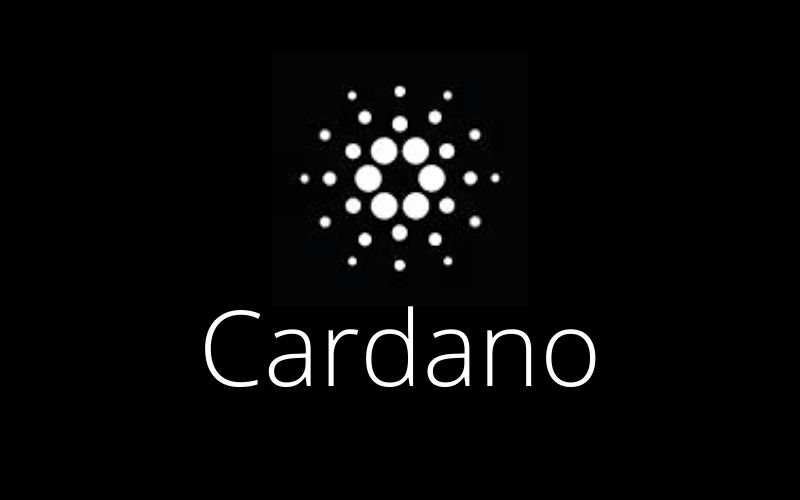 Shelley mainnet is now fully launched, indicating the full decentralization of the Cardano network. Cardano has introduced staking rewards for all users that hold the digital token ADA.
The launch took place on 29th July 2020, at 21:45 UTC. The event that just took place represents the hard fork that introduced the most relevant changes to the blockchain code of Cardano.
Charles Hoskinson tweeted, "We have reached Orbit. Shelley Hard Fork is Successful. When Shelley? Now!!!!!!!!!! Shelley has fully launched."
We have reached Orbit. Shelley Hard Fork is Successful. When Shelley? Now!!!!!!!!!! Shelley has fully launched https://t.co/ckuiVJfqnZ pic.twitter.com/jPYG7f5FOq

— Charles Hoskinson (@IOHK_Charles) July 29, 2020
Cardano (ADA) Staking Is Now Live
Cardano (ADA) offers two types of staking. Advanced users are enabled to operate their own staking pools that require technical management of reliable uptime. While typical users can delegate their digital token ADA to those pools run by advanced users to earn rewards.
As stated on Cardano's official website, users are estimated to earn a 4.63% interest per year. However, this rate may change depending on participation.
Users that stake their ADA tokens between 29th July and 3rd August will get the first payout on 18th August. How rewards are calculated can be seen below: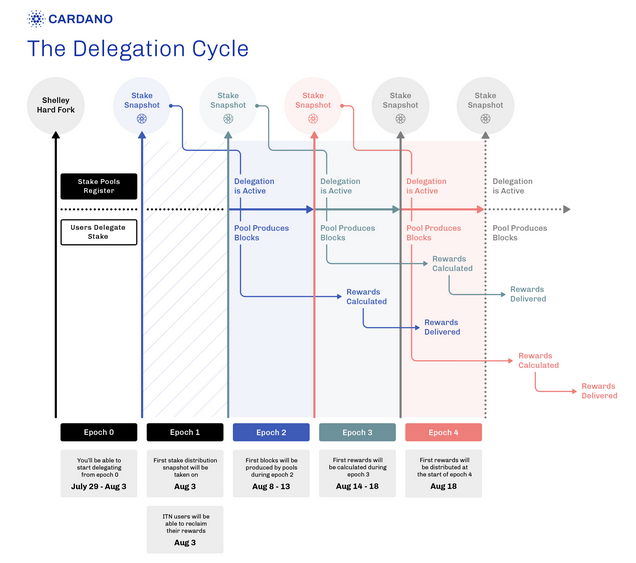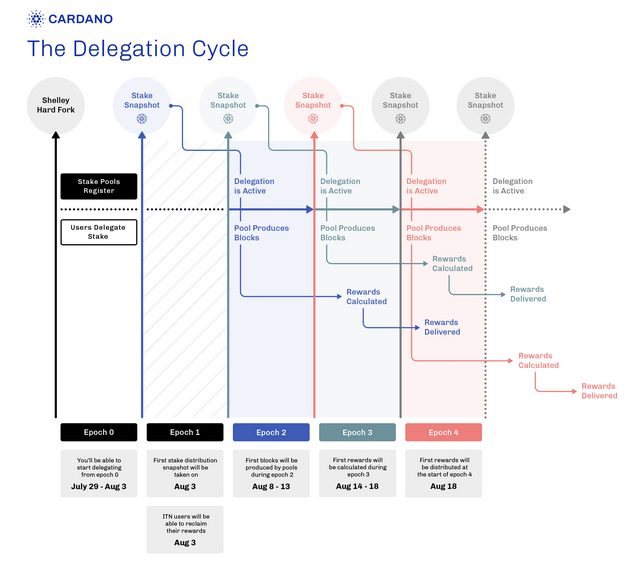 The Long Journey to Success
Since 2018, Cardano (ADA) staking features have been under development. The project attracted early participants to stake real value in December 2019, after months of work. In early July, the hype paid off after attracting nearly 14,000 new addresses on a daily basis.
With the look of things, the hype can be successfully maintained. Some suggestions averred that the social media and market trends are not really as positive as they seem to be, which may have a negative impact on the price of ADA in the market. However, that may not be the case eventually.
The road map of Cardano indicates that there will be an improvement in the number of applications that run on the network. The "Voltaire" stage promises to welcome a governance system to guide development, and "Goguen" will add smart contracts custom tokens and apps.
The CEO of IOHK, Charles Hoskinson has predicted that the recently achieved network upgrade will attract thousands of DApps, hundreds of assets, and lots of unique use cases towards Cardano network. These proposed achievements are needed to compete with Ethereum that has over 3000 DApps and tons of custom tokens already running on its network.
Charles Hoskinson tweeted, "This time next year I predict there will be hundreds of assets running on Cardano, thousands of DApps, tons of interesting projects and lots of unique use and utility. 2021 is going to be so much fun watching Cardano grow and evolve. The community is definitely ready to innovate"
This time next year I predict there will be hundreds of assets running on Cardano, thousands of DApps, tons of interesting projects and lots of unique use and utility. 2021 is going to be so much fun watching Cardano grow and evolve. The community is definitely ready to innovate

— Charles Hoskinson (@IOHK_Charles) July 26, 2020