The Bitcoin Block Bot has reported a huge movement of 47,835 BTC worth $417 million in block 630,082 with only a $1.78 transaction fee.
Bitcoin halving occurred some hours ago, and crypto whales have continued their usual movement of huge transactions for the reasons best known to them.
One of the things that make many people in the crypto community cherish Bitcoin (BTC) and digital currency as a whole is the free will to move a huge sum of funds at a given time without restrictions or government interference.
These huge movements of money can be done in any part of the world to any destination without the help of the banking system. Obviously, such cannot play out in the conventional markets.
However, all these huge transfer executed by crypto whales are most times meant to manipulate the market for personal gains. Such had played out in the past, and more are still expected as long as Bitcoin (BTC) and cryptocurrencies remain in existence.
Bitcoin (BTC) Whale Moved 47,835 BTC worth $417M
The Bitcoin Block Bot reported some hours ago that a Bitcoin whale moved the sum of 47,835 BTC worth $417 million at the time of transaction. According to the report, the huge transaction occurred at block 630,082, with only $1.78 (0.00020160 BTC) as a transaction fee.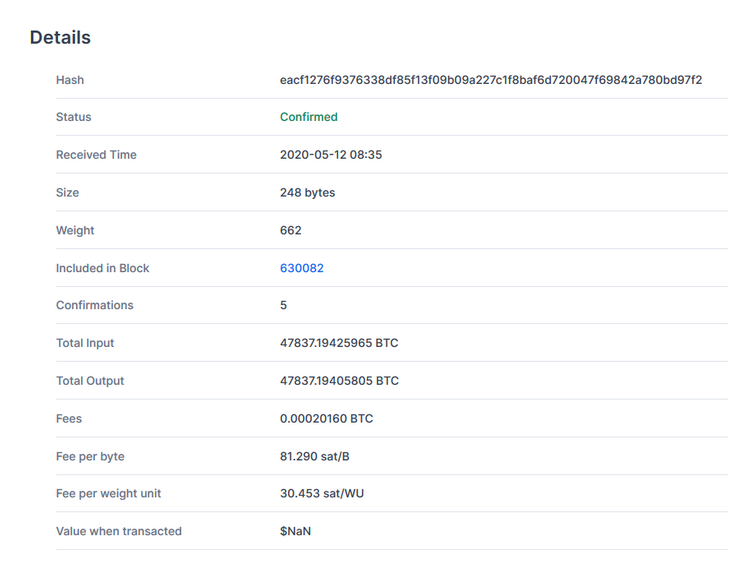 Image Source: Blockchain.com
Bitcoin Block Bot shared this, "Whale alert! Someone moved 47,835 BTC ($417M) in block 630,082."
Whale alert! 🐋 Someone moved 47,835 BTC ($417M) in block 630,082 https://t.co/IGVLJDF3sv

— Bitcoin Block Bot (@BtcBlockBot) May 12, 2020
Third Bitcoin Halving Has Come and Gone
The much-anticipated third Bitcoin halving occurred on 11th May 2020, resulting in the reduction of miners' rewards from 12.5 BTC to 6.25 BTC.
This implies that new BTCs will be released into the market at half of the speed they were released before halving, which will initiate the scarcity of the digital currency.
Many cryptocurrency and financial experts expect the scarcity to continue. Once the demand for Bitcoin (BTC) starts rising and the supply is low, the price of BTC is expected to increase exponentially. However, time will do proper justice.