Bitcoin Recovers Above $33K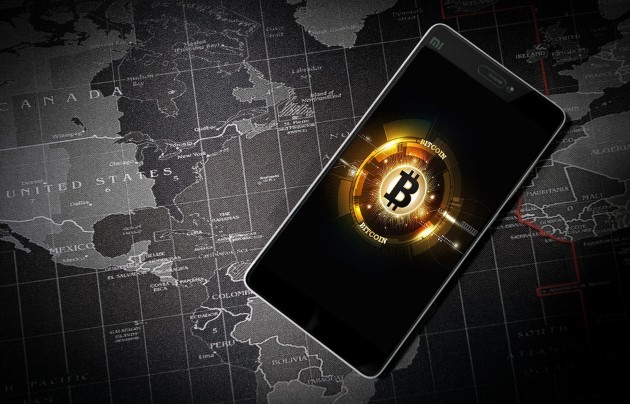 After a whale-induced price dip, bitcoin still rallied today.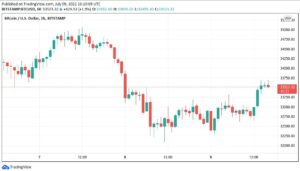 Bitcoin 1-hour chart. Source: TradingView
BTC Jumps 2% In One Hour
Tradingview metrics show that the BTC/USD rose by 2% in sixty minutes today and attain a new high of about $34K on Bitstamp. Yesterday, BTC's price declined to around the $32,000 price range, which resulted from a whale sale on BitFinex.
As bitcoin fluctuates around the $33K price again, traders are hoping that the current short-term analysis comes to pass. Popular Dutch crypto analyst Micheal de Poppe surmised that "bitcoin still holds a critical support level and might make a new higher low there."
Van de Poppe had previously predicted that if bitcoin could surge past the $36K resistance levels, it might still reach about $39K. Most analysts agree that the leading cryptocurrency's price rally resulted from Jack Dorsey's Twitter comments.
The square CEO confirmed that his payment solutions company would develop a "mainstream" virtual currency hardware wallet. He confirmed this by replying to the firm's hardware lead, Jesse Dorogusker, saying, "we are doing it."
Shortly after this announcement, BTC's price started a rebound.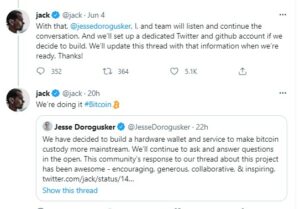 Jack Dorsey's announcement. Source: Twitter
Dorogusker had previously said that part of Square's plan is to offer a "service that makes bitcoin custody more mainstream."
Square's Decision Isn't a Surprise
It should not be a surprise that jack's Square is making this decision. The crypto market has been on the rise, bitcoin's popularity isn't abating, and Jack's Twitter profile is simply a bitcoin hashtag. Asides from their increased awareness, there isn't a way to use digital currencies simply, safely, and practically.
Several mobile financial apps now allow crypto transactions. For instance, users on Cash App (a squared-owned app) can purchase their cryptocurrency from their Cash App balance. Also, PayPal allows its users to buy, sell and hold some virtual assets, especially bitcoin. While these apps are suitable for small crypto amounts, anyone who wants to make large purchases or transactions would need safer alternatives.
Even though hardware wallets are safer than laptops or cloud-based services for storing their cryptos, most people still opt to store their digital assets on the latter. A hardware wallet has a similar appearance to a flash drive, but it's used for storing an owner's private crypto keys.
The concept is to prevent hackers from accessing your digital currencies since you won't need to connect your hardware wallets online. There is no timeline for the launch of Square's hardware crypto wallet. Hence, the best options are ledger's Nano S and X wallets.
New Bitcoin Entities Top 50K Daily
As widely reported, analysts had previously predicted a bullish trend towards the end of this week. These analyses proved that there are now over 50,000 new bitcoin network entities every day. 
However, it is only natural that whales would also want a piece of the action, and Willy Woo, famed crypto analyst, confirmed this theory. Woo had proved through a chart of exchanges' net flows that "whales are scooping off coins at the exchanges at bull prices since prices are bearish."