The continued growth of the crypto industry is still a surprise to those who have been keeping tabs on its progress without getting involved. New coins join the crypto market nearly every day, but you never can tell which of them could suddenly print a magnificent performance. This outstanding performance has recently been showcased by a little-known cryptocurrency, DREP.
DREP has come from nowhere within 6 hours to occupy the 14th position in the market following a mesmerizing price uptrend.
Read Also: IOG: Cardano's Project Catalyst Grows to Become the World's Largest DAO in Less Than 7 Months
According to CoinMarketCap, just about 6 hours ago, the price of the crypto was seating at $0.030315, but it took DREP only 10 minutes to trade at relatively $2. And the cryptocurrency has not stopped surging ever since.
At the time of writing, DREP is trading at $3.03, with a 7128.06% price uptrend based on 24 hours estimation.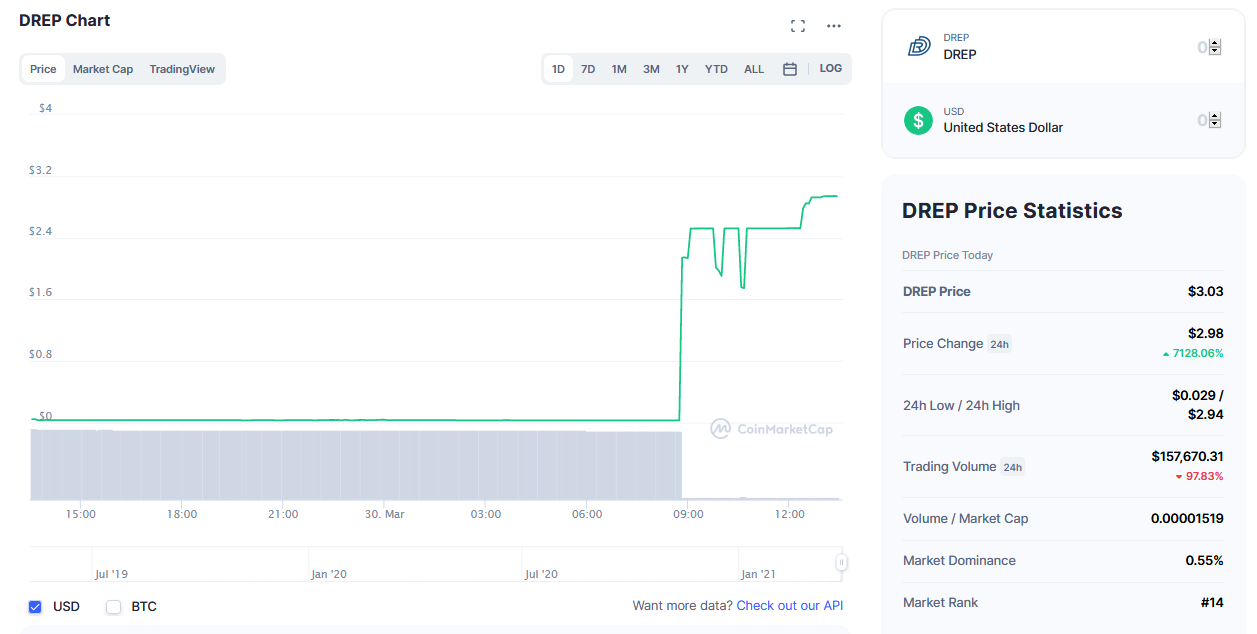 DREP coin is currently available for traders and investors on Binance, VCC Exchange, Gate.io, AscendEX (Bitmax), Hotbit, among others.
Read Also: Managing Partner of Moonrock Capital Says Ethereum (ETH) Is Poised To Hit $2500 Next Week
About DREP
DREP is a project committed to building connectors and toolboxes based on blockchain technology and aims to provide solutions that combine ease-of-use, flexibility, and frictionless integration.
DREP proposes the concept of Smart Pipeline technology that is aimed at improving data processing ability such as a layer2 solution with strong scalability and zero gas consumption.
DREP upgrades advanced technology solutions into APIs and Plug-ins, which in-turn lowers blockchain learning costs, development difficulty, and complexity on the application or enterprise side.
In order to enhance data privacy protection, DREP Chain embraces the use of homomorphic encryption to safeguard users' sensitive information.
Read Also: Galaxy Digital's Mike Novogratz Targets $2,600 As Ethereum (ETH) Hits New Price ATH
Moreover, to provide an easy-to-use tool interface for 2B enterprises and provide an efficient and frictionless service portal for users, DREP launched a comprehensive DREP Client integrating functions, such as asset management, identity management, application development, and traffic portal.
---
Follow us on Twitter, Facebook, Telegram, and Download Our Android App