XRP-based On-Demand Liquidity (ODL) is experiencing a significant drop in volume as the US-based cross-border payment firm changes its strategy in a coronavirus ravaged world.
XRP-Based ODL Experiences Drastic Drop in Volume
According to new data, XRP-based On-Demand Liquidity (ODL) volume peaked in May 2020 with a total of $316 million across four ODL channels, such as Bitstamp to Coins.ph, Bitstamp to Bitso, BTCMarkets to Bitstamp, and BTCMarkets to Coins.ph.
However, the volume dipped in June 2020 by relatively 92%. The data also reveals that the total volume in all the four ODL channels was $25 million.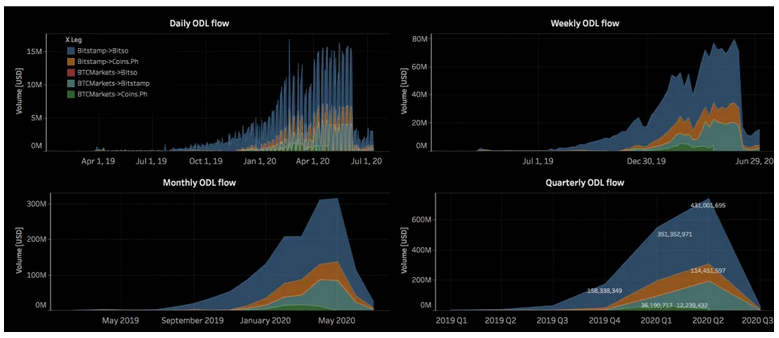 What Could Have Caused the Huge Drop?
Asheesh Birla, the senior vice president of product management and corporate development at Ripple had foretold this significant drop in volume. According to Birla, the payment company is changing its business strategy in order to adjust to a global economy battered by Covid-19, which may reduce overall ODL transaction volume.
Asheesh Birla noted:
"We are continuing to focus on supporting low-value, high-frequency payments with ODL—though transaction volume may look different in this new world.
In particular, we are reducing emphasis on large treasury payments—which are traditionally used to fund businesses and services in the absence of real-time transfers—to support individual, low-value transactions, addressing the growing need in remittances and SME payments. This may reduce overall ODL transaction volumes."
Ripple Moves to Launch on Demand Liquidity in New Corridors
Despite the notable drop in ODL volume, Ripple is still determined to launch ODL in new regions. Marcus Treacher, the Senior Vice President of customer success at Ripple, made this known in a conversation published by City AM a couple of days ago.
According to Treacher, the San Francisco payment company will soon launch ODL corridors in the Asia Pacific, the Middle East, and Africa.
Treacher said:
"We have established On-Demand Liquidity corridors into Mexico, the Philippines, Australia, and Europe, and we're hoping to further this expansion by opening corridors to APAC and EMEA this year."