World Economic Forum: XRP Is The Most Relevant Digital Asset For Wholesale CBDC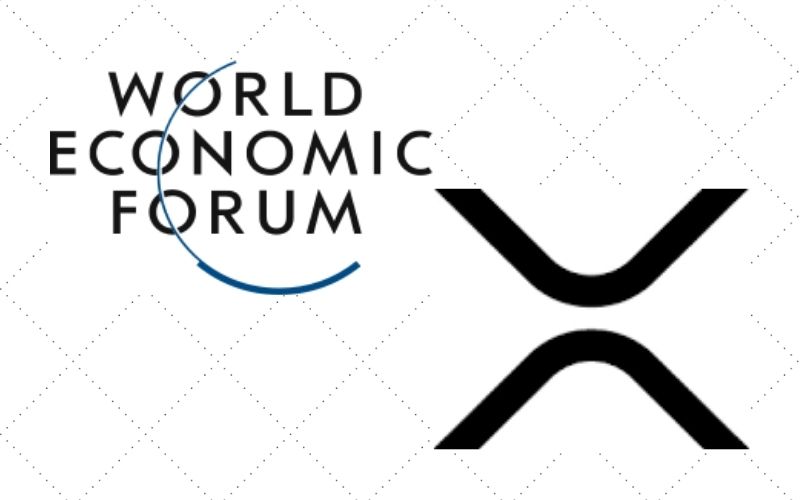 The World Economic Forum (WEF) has characterized the fourth largest digital currency by market capitalization, XRP, has the most relevant crypto asset for wholesale Central Bank Digital Currency (CBDC).
According to a report in a pdf format published in January 2020, Central Banks and Government agencies across the world are seeking means to solve the perennial global financial challenges using CBDC. These issues include the stability of payment systems and financial inclusion.
CBDCs and Cryptocurrencies Are Different
In the report, the international organization tried to enlighten the world by making a clear differentiation between Central Bank Digital Currencies (CBDCs) and cryptocurrencies.
The World Economic Forum wrote:
"CBDC is a digitized version of sovereign currency, created and issued by, and a liability of, the country's monetary authority. CBDC differs from other forms of digital or virtual currencies, including cryptocurrencies such as Bitcoin and 'stablecoins,' which are not issued by central banks or typically considered legal tender."
WEF Names XRP as the Most Relevant Crypto Asset in the Wholesale CBDC Space
According to the World Economic Forum under the "most relevant for wholesale CBDC, XRP and JPM Coin were cited as examples of crypto-assets designed for inter or intrabank payments and settlements. While Bitcoin (BTC) and Ethereum (ETH) are examples of globally available cryptocurrencies.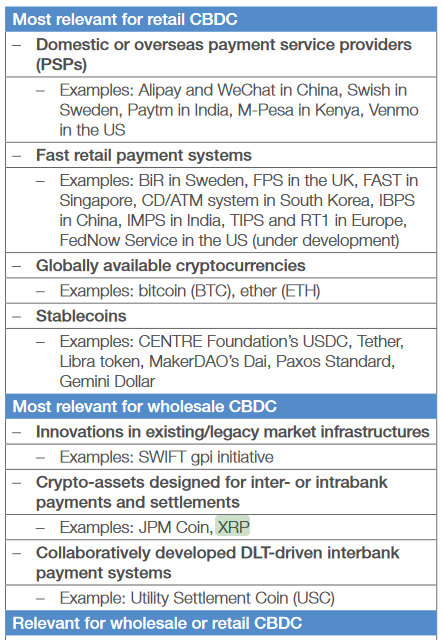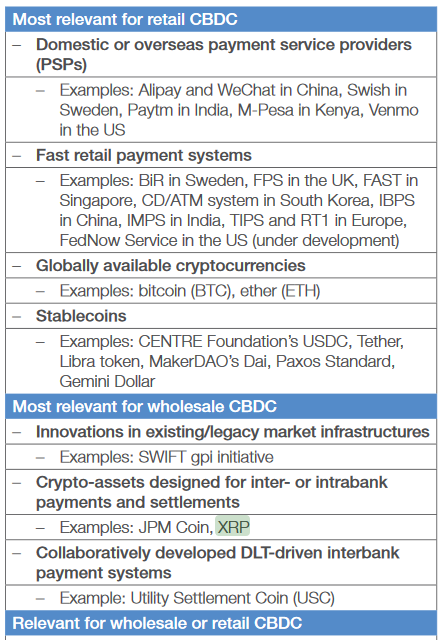 Ripple Points out How Central Banks Can Leverage XRP's Use Cases
Ripple, the cross-border payment giant, has also highlighted how the highly publicized Central Bank Digital Currency could leverage the use cases embedded in XRP to enhance its potentials.
"RippleNet's On-Demand Liquidity service allows financial institutions to transact in real-time across multiple global markets using the digital asset XRP and such a solution can also support the direct exchange of CBDCs. XRP is faster, less costly, and more scalable than any other digital asset, making it the ideal instrument in bridging two different currencies quickly and efficiently."
Also, the CEO of Ripple Brad Garlinghouse, in his tweet on 24th September 2020, emphasized the importance of interoperability in the world's financial sector. He thinks any country that fails to subscribe to this new wave of development will lag behind.
Brad Garlinghouse tweeted, "Over 70% of the central banks around the world are looking at deploying CBDCs – and one thing that's crystal clear is the importance of interoperability. If you're not prioritizing this, you're just rebuilding the same siloed system."
Join us on Twitter
Join us on Telegram
Join us on Facebook