Wietse Wind Explains What Happens To Escrowed XRP If Ripple Shutdown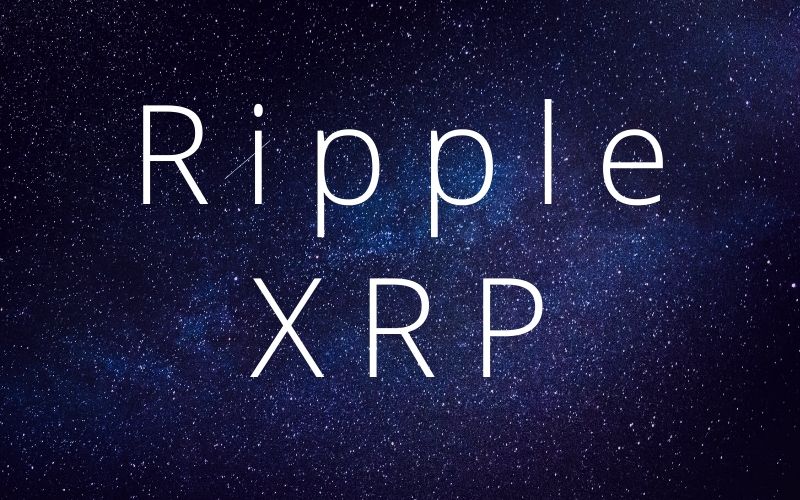 Wietse Wind, the founder of XRP Labs, has recently answered the question regarding the fate of XRP in Ripple's escrow if the San Francisco payment giant shuts down unexpectedly.
This question was initially directed to Galgitron by a supposed XRP community member, identified on Twitter as Mr. Anderson.
"Galgitron, do you know what happens to the escrowd xrp if ripple were to ever shut down and close permanently?" Anderson asked.
All Escrowed XRP Are Stored on XRP Ledger
In response to the important question, the popular developer Wietse Wind pointed out that all the escrowed XRP remain and controlled on the XRP ledger.
He further clarified that everything depends on the XRP Ledger and cryptography.
"It's on ledger, it's not depending on Ripple (the company). It's fully on ledger, depending on the (open source) XRPL & cryptography," Wietse Wind responded.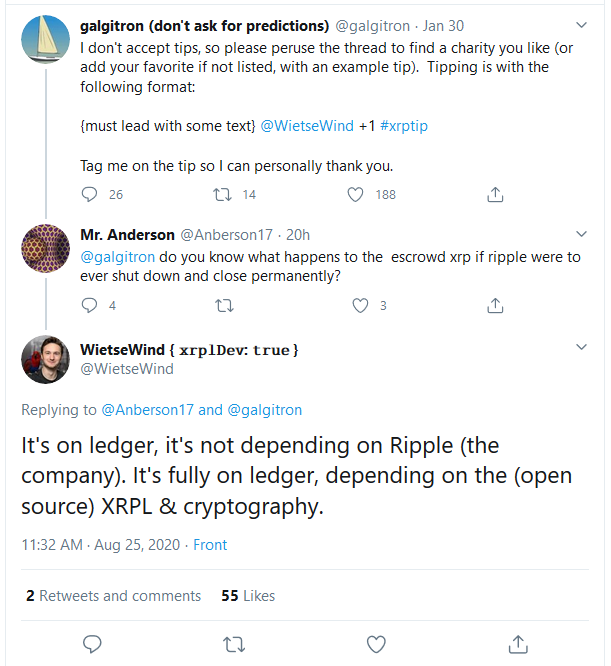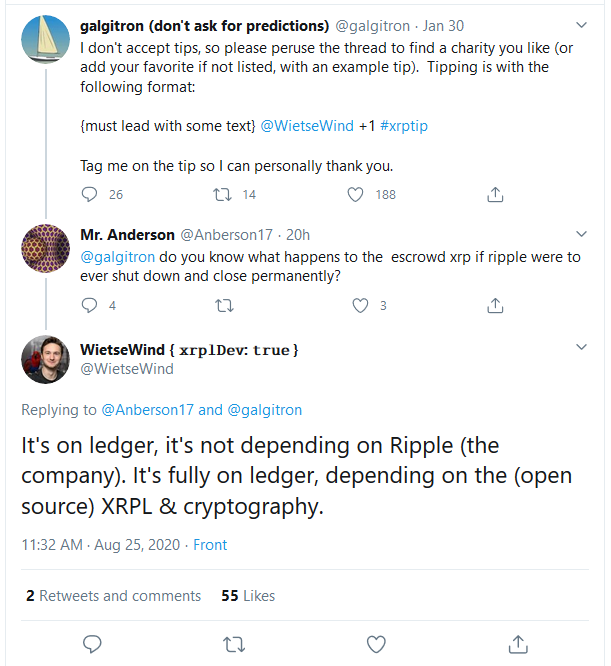 Another crypto enthusiast, identified on Twitter as Sean Kelly, who thinks the question is interesting also deduced another important question that received no response from those concerned.
Sean Kelly wrote, "It's an interesting question though. Right now it is set up to release to Ripple accounts. What would happen if, lets say, Ripple did shut down and the designated accounts were deleted as part of that process?"
Adding another opinion, Kelly stated that it's possibly impossible to delete accounts with open escrows:
"I don't think you could delete the accounts while there are open escrows. Or at least you would have to designate a new account. So the escrow transfers would go to whoever took ownership of those accounts as part of the process."
What Escrow Works On XRP Ledger
Based on the information made available on XRPL.ORG, Escrow is a feature of the XRP Ledger that allows users to send conditional XRP payments.
The conditional payments called escrows, hold XRP until certain conditions are met. Escrows can also be set to expire if those conditions are not met in time. No one can use or destroy the XRP locked up until the escrow has been successfully finished or canceled.
Join us on Twitter
Join us on Telegram
Join us on Facebook