Tether Testing New Tech For Travel Rule Compliance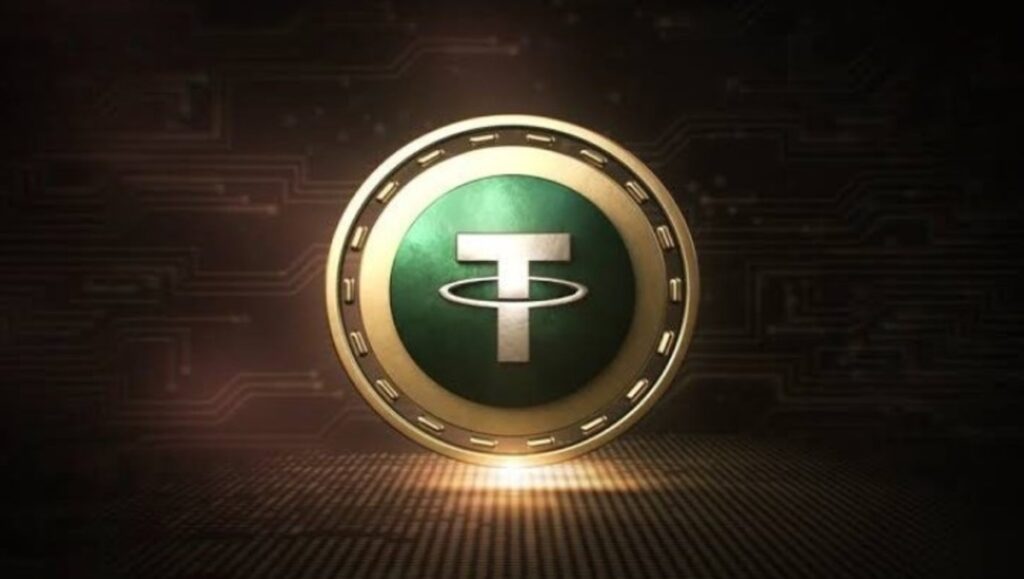 Stablecoin issuer, tether operations limited, has revealed plans to trial a peer-to-peer technology from Notabene for the new digital asset travel regulations. The first step for Tether is to test the tech's systems that monitor VASPs. Thus, helping it to identify money laundering and other financial crimes.
Notabene's Technology
This technology monitors digital currency transactions as they happen. Thus, the blockchain has improved transparency, and regulators can become more equipped to monitor financial transactions. The app's know your customer feature is adept at scanning areas financial transactions are not adequately monitored or not monitored at all.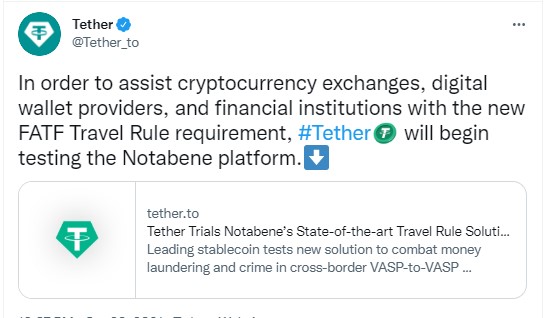 Tether's Announcement. Source: Twitter
The company claims to enable testing complex crypto use cases without a high-risk environment. Tether intends to deploy this tech to establish the secure transmission of data for customers on other VASPs. Thus, Tether can better shield its users from potential dangers.
The world's most recognized anti-money laundering agency, the financial action task force (FATF), recently ruled that VASPs and regulated financial entities must adhere to the same policies.
Preventing Fraud
Part of the 'travel rule' policy states that VASPs must share vital customer details within themselves for transactions that exceed specific amounts. Tether intends to help financial entities and regions combat financial fraud through this process, especially finances for terrorists and money laundering. This process will also help with compliance with the statutory regulations.
One of Tether's top-level executives, Leonardo, emphasized the relevance of the VASP partnership saying, "our company remains committed to maintaining new rules and shaping them to maintain our status as transparency leaders and innovators in the blockchain space. Basically, this travel rule is more applicable to financial entities. This is a chance for improved relationships between traditional and digital financial firms for better customer service worldwide. We are excited to be the innovators in this regard."
As previously reported in the media, the treasury department and other financial regulators have agreed that the US SEC will be in complete control of enforcing stablecoin policies in the US. The stablecoin industry's growth has spiked massively this year, with USDT 230% rise in market cap signifying this incredible growth.
Dutch Crypto Exchange Stops USDT Trading
Leading dutch crypto exchange, Bitcoin Meester, has announced that it would no longer allow USDT trading pair on its platform and would replace it with USDC without any added cost to its clients or change in the worth of the USDT in their wallets.
The company claims that Tether's actions recently haven't been appropriate. Thus, it is taking this action to protect users from any adverse effects. Bitcoin Meester believes that Center (the company behind USDC and founded by two companies – a partnership between Circle and Coinbase) has developed more security measures for its USDC than Tether has made for its USDT. Hence, their main reason for the switch. 
The crypto exchange giants also considered the transparency factor. Grant Thornton, LLP, was recently appointed by Center to confirm USDC inventories. The monthly certificates are public and are displayed on the center consortium website.