The world's third-largest producer of pasta, De Cecco, has reportedly adopted the Infection Risk Management solution My Care, which is built on the VeChainThor blockchain by DNV GL.
This new development implies that De Cecco is the first major food company to adopt My Care in Italy, at the time when the highly contagious virus, Covid-19, spreads across the world, bringing small and large scale businesses to a difficult state.
De Cecco to Leverage My Care
According to a tweet shared by DNV GL on 4th August 2020, My Care will be leveraged by De Cecco to evaluate measures that will ensure the safety of its employees and operators in the Coronavirus ravaged Italy.
The tweet written in Italian is translated as follows: "De Cecco has chosen DNV GL's My Care methodology for the evaluation of the measures taken against COVID-19 to guarantee employees and operators. The data from the verification are accessible via QRcode on public blockchain VeChain."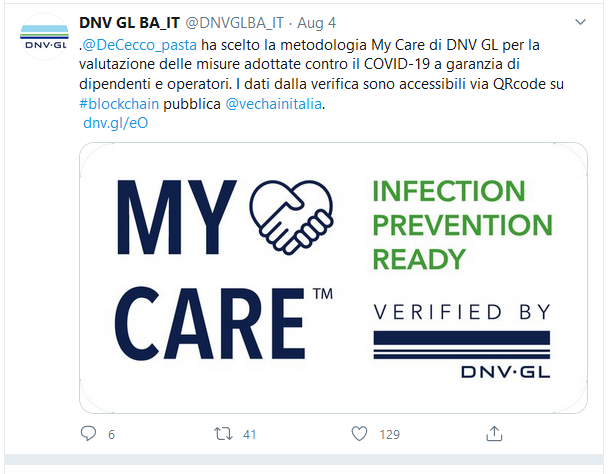 Despite the ravaging force of the Coronavirus pandemic in Italy, the report says that De Cecco did not shut down its operation like others. The essentiality of this company and its product in Italy makes the adoption of My Care highly necessary and timely.
Why VeChain's My Care Is the Last Resort for De Cecco
According to the report, De Cecco chose My Care because it provides independent verification of actions taken by the company to reduce the risk of infection in its daily activities.
DNV GL, a leader in digital business assurance has initially approved and certified De Cecco's internal protocols, hence the announcement of the adoption of My Care.
Reacting to the new development, the Insurance Manager Quality, and self-control systems of De Cecco, Vincenzo Ponte stated that the company is already developing compliance systems intended to drastically reduce the risk of infection.
He said:
"To make sure we have reached adequate levels of safety and to be able to give our operators and collaborators evidence of our commitment and the suitability of the procedures put in place, we asked DNV GL to verify their correct application and effectiveness. Being the first Italian agri-food company to adhere to My Care methodology is a great satisfaction."