A supposed XRP community member identified on Twitter as Panos has recently shared an email that could answer the long-standing question about the partnership between Ripple, the US-based cross-border payment firm, and on the largest banks in the world, Bank of America (BoA).
Over the past year until now, the partnership between Ripple and Bank of America has been an object of speculation, since there has not been an official announcement to the effect.
It has been the stern wish of XRP community members to see the continued success of the payment startup in terms of sealing notable partnerships, believing that such a development could be a blessing in disguise for the digital token XRP. Such partnerships could expand the reach and adoption of XRP.
However, as aforementioned, there has been uncertainty around the partnership between Ripple and BoA. Virtually all XRP enthusiasts are eager to know the relationship between the two payment entities.
Could This Be The Confirmation of the Partnership?
As per the tweet shared by an XRP enthusiast, Panos, there seems to be an existing partnership between Ripple and the banking giant BoA.
Panos tweeted, "Got an email by Ripple. It is now 100% confirmed that Bank of America is a Ripple partner and RippleNet member. Banorte bank is also a new addition and it's the 4th largest bank of Mexico."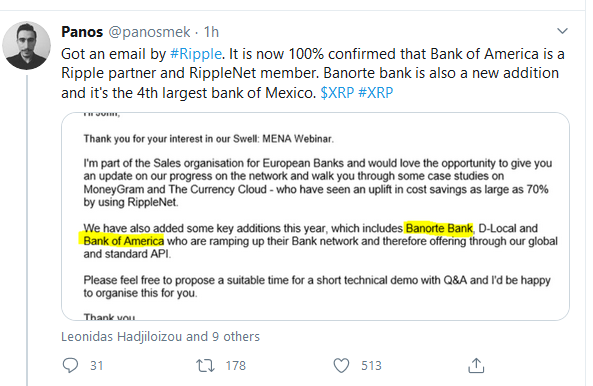 According to the email, aside from the Bank of America – Banorte Bank and D-Local were also added this year.
The email received by Panos reads in part below:
"I'm part of the sales organization for European Banks and would love the opportunity to give you an update on our progress on the network and walk you through some case studies on MoneyGram and The Currency Cloud – who have seen an uplift in cost savings as large as 70% by using RippleNet
We have also added some key additions this year, which includes Banorte Bank D-Local and Bank of America who are ramping up their Bank network and therefore offering through our global and standard API."