In a tweet shared on 23rd September 2020, Travala.com, a crypto-friendly traveling booking service, informed the cryptocurrency community about the integration of Chainlink (LINK) into its payment platform.
This new development indicates that LINK, the third-largest cryptocurrency by market capitalization, can now be used as a payment option by users for their travel bookings in over 2.2 million hotels and homes across the world.
Chainlink (LINK) Joins Other Top Digital Currencies
According to the report, Chainlink (LINK) will be featured alongside a number of top cryptocurrencies such as Bitcoin (BTC), Ethereum (ETH), Binance Coin (BNB), Travala.com's native digital token, AVA.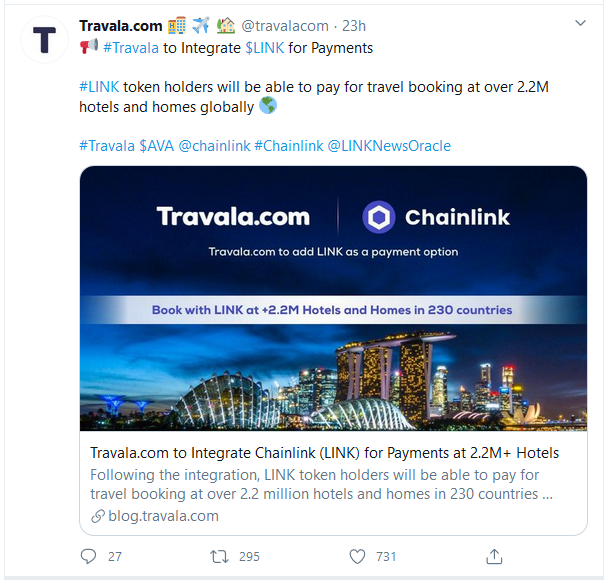 Reacting to the integration, the CEO at Travala.com, Juan Otero, stated that LINK is integrated as a payment option on the platform due to the continuous request of their customers.
Juan Otero said:
"With cryptocurrency adoption on the rise, we want to ensure our users at Travala.com have access to the most popular payment choices. LINK has always been a token requested by members of our community, so we have responded to this request."
About Chainlink's Native Token LINK and the Benefit of the Integration
LINK is the digital token for payments on the Chainlink network, a network that aims to bring real-world data onto the blockchain to make smart contracts interact with real-world events and information that are not the blockchain.
On the other hand, Travala.com is determined to make travel bookings with various cryptocurrencies easy for users, considering the increase in people's interest in modern payment alternatives and scalable blockchain solutions. So, the integration of Chainlink (LINK) into such a platform is expected to broadly enhance its exposure globally.
In another welcoming development, the cross-chain decentralized finance (DeFi) platform of Reef announced that it was using Chainlink's ETH and DOT price reference data to run its smart asset management tools.
Join us on Twitter
Join us on Telegram
Join us on Facebook