Cardano (ADA) has been in a positive trend over the past few weeks. The digital token has managed to displace a number of top cryptocurrencies, to claim a position among the top 10 digital currencies.
Recently, Cardano (ADA) was able to displace Litecoin (LTC) to occupy 7th position, after printing about 12% price uprising based on 24 hours estimation.
According to CoinMarketCap, the leading cryptocurrency tracking platform, ADA has so far accrued a relatively $2.8 billion market capitalization.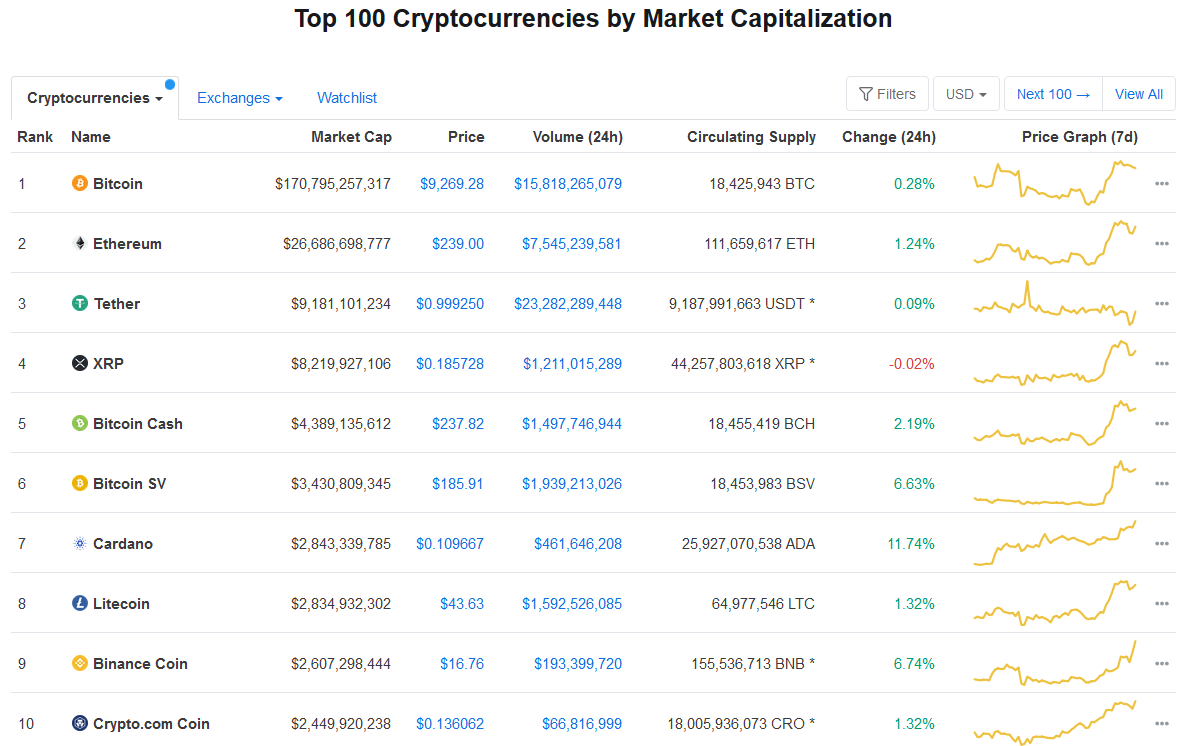 Cardano (ADA) Keeps Challenging Top Coins
Since the start of July, Cardano (ADA) has been on a notable price increase, adding about 31% to its price in just a week.
Cardano is presently in its highest value against the US dollar since September 2018, and its highest value against Bitcoin (BTC) since April 2019 after attaining 0.00001187 ADA/BTC earlier today.
Also, ADA has managed to increase by over 226% since the beginning of the year, making the digital token the best performer among other cryptocurrencies year-to-date.
Cardano (ADA) has easily outperformed the 82% price gained by Ethereum (ETH), 28.9% gained by Bitcoin (BTC), and 91.2% by Bitcoin SV (BSV) year-to-date.
In addition, Chainlink (LINK) has been one of the top performers in the market with over 210% price spike YTD, but the recent price growth recorded by ADA has set it apart.
Crypto Michael Says Cardano (ADA) Will Keep up This Positive Trend
The popular cryptocurrency trader and analyst, Michael van de Poppe, also known as Crypto Michael expects Cardano (ADA) to keep up this trend until it surpasses 1200 satoshis price level.
Crypto Michael noted:
"ADA CARDANO Onwards we go. Broke through resistance block like it's nothing. The next zone is the 1200-1215 sats area, after that 1330-1375 sats. Dips? I'm still looking at 900 sats possibility."
Onwards we go.

Broke through resistance block like it's nothing.

The next zone is the 1200-1215 sats area, after that 1330-1375 sats.

Dips? I'm still looking at 900 sats possibility. pic.twitter.com/OFV5qgk66x

— Crypto Michaël (@CryptoMichNL) July 7, 2020