According to CoinMarketCap Data, Cardano (ADA) has displaced Crypto.com Coin (CRO), to reclaim the 10th position it lost after bears hit the crypto market, plunging all the top digital currencies in the process, including Bitcoin (BTC).
Cardano (ADA) Reclaims 10th Position
The price of Cardano (ADA) has been displaying outstanding performance since the CEO of IOHK, Charles Hoskinson, hinted at the possible date of the launch of Shelley, the upgrade expected to bring about the full decentralization of Cardano network.
A few weeks ago, ADA, the native token of Cardano, made a big run to displace digital currencies, in its quest to be numbered with the top 10 digital currencies.
However, there was a twist after a huge price crash that affected virtually all cryptocurrencies in the market, which briefly ended ADA's stay in the 10th position about three days ago.
Presently, the cryptocurrency market is experiencing price rally, and Cardano (ADA) is so far the best performer among the top 20 digital coins, displacing Crypto.com Coin (CRO) to reclaim its lost position.
If Cardano (ADA) maintains the price uptrend, there is a possibility of eventually displacing EOS that presently occupies the 9th position. At press time, the total market capitalization of EOS is $2,380,483,873, and trading at $2.55, with a 2.68% price increase in the last 24 hours.
On the other hand, Cardano (ADA)'s total market capitalization stands at $2,045,047,057, and trading at $0.078877, with a 10.39% price upsurge based on 24 hours estimation.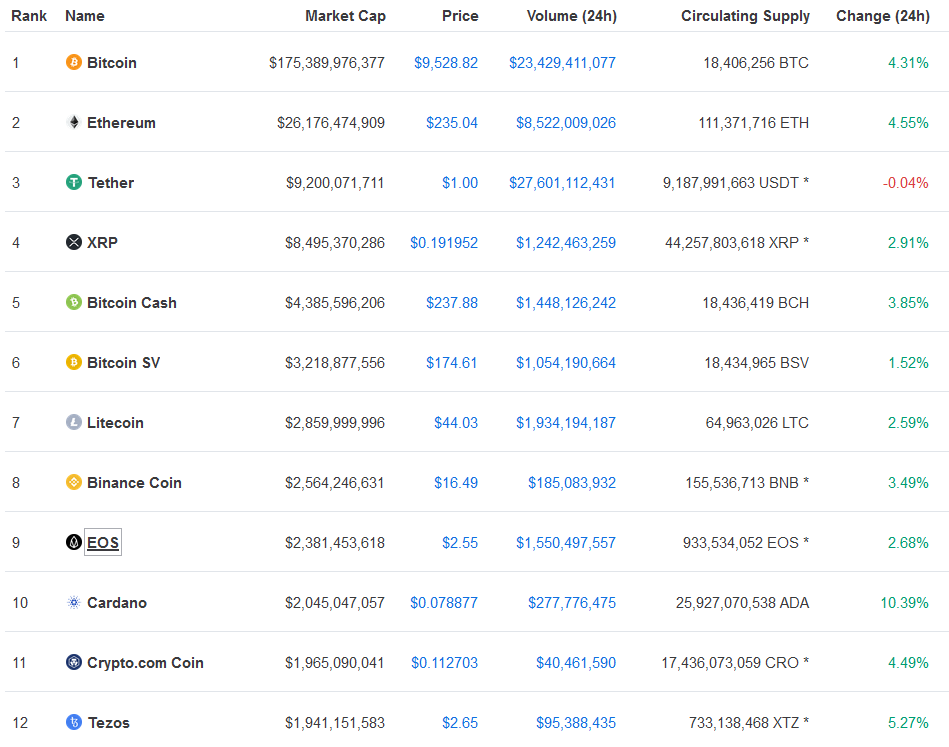 This development shows that ADA only needs about $340,000,000 to finally displace EOS, and the consolidation of the present price rally could make it happen.
Conclusively, the integration of Shelley testnet to mainnet is expected to happen very soon. Many cryptocurrency analysts believe that the upgrade could enhance the price growth of Cardano (ADA).