Capital.com Review – Is Capital.com Scam or a Proper Broker?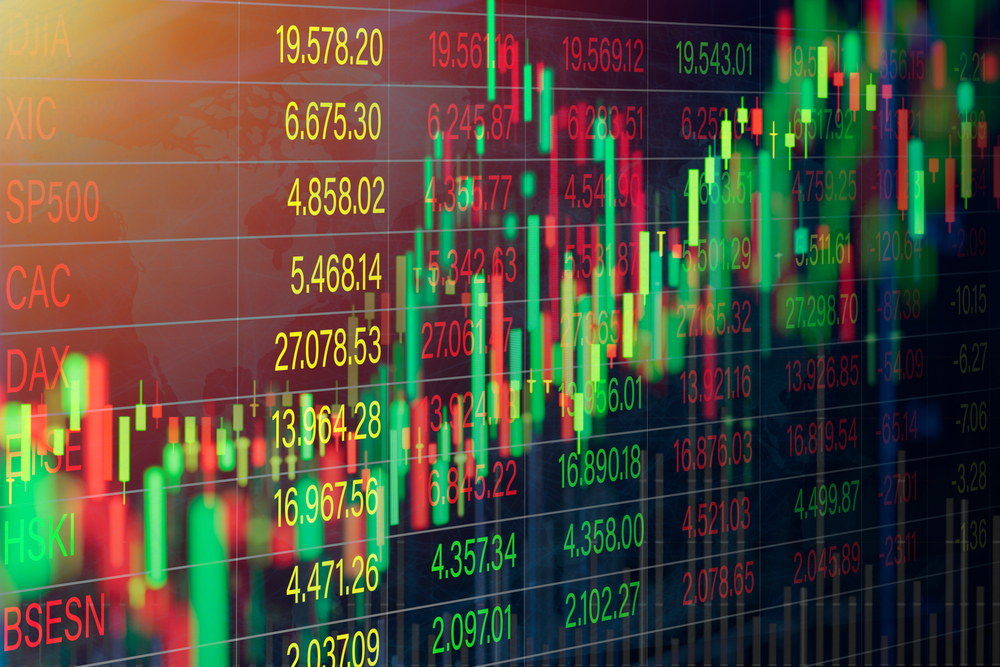 Capital.com Review
Capital.com is a worldwide CFDs and Forex brokerage company with offices in the United Kingdom, Cyprus, and Belarus founded in 2016. The broker offers traders narrow spreads, zero commission, and no hidden costs on over 3,000 markets. Investors who selected Capital.com as their broker are part of a global community of over 788,000 traders, which is unsurprising. Capital.com is renowned for its well-regulated nature and easy-to-use award-winning CFD trading platform. Capital.com's traders can trade a very high number of items and products, up to three thousand of the world's most famous and profiting commodities, indices, cryptocurrencies, currency pairings and shares on web and mobile platforms with market-leading spreads and zero fees.
In 2016, Capital.com made its debut in the United Kingdom. It was created by a team of software engineers and senior bankers and uses a proprietary way of transaction processing to enhance market efficiency and enable Capital.com to provide commission-free trading. You only pay the spread and overnight costs if you're trading with leverage. Capital.com is supported by significant investors and regulated by the Financial Conduct Authority in the United Kingdom and many other regulatory organizations, even though it is not publicly traded on any stock markets. Except for Taiwan, the United States, Belgium, and a few island countries, Capital.com is accessible in almost every country globally, including the Netherlands, India, Germany, and the United Kingdom.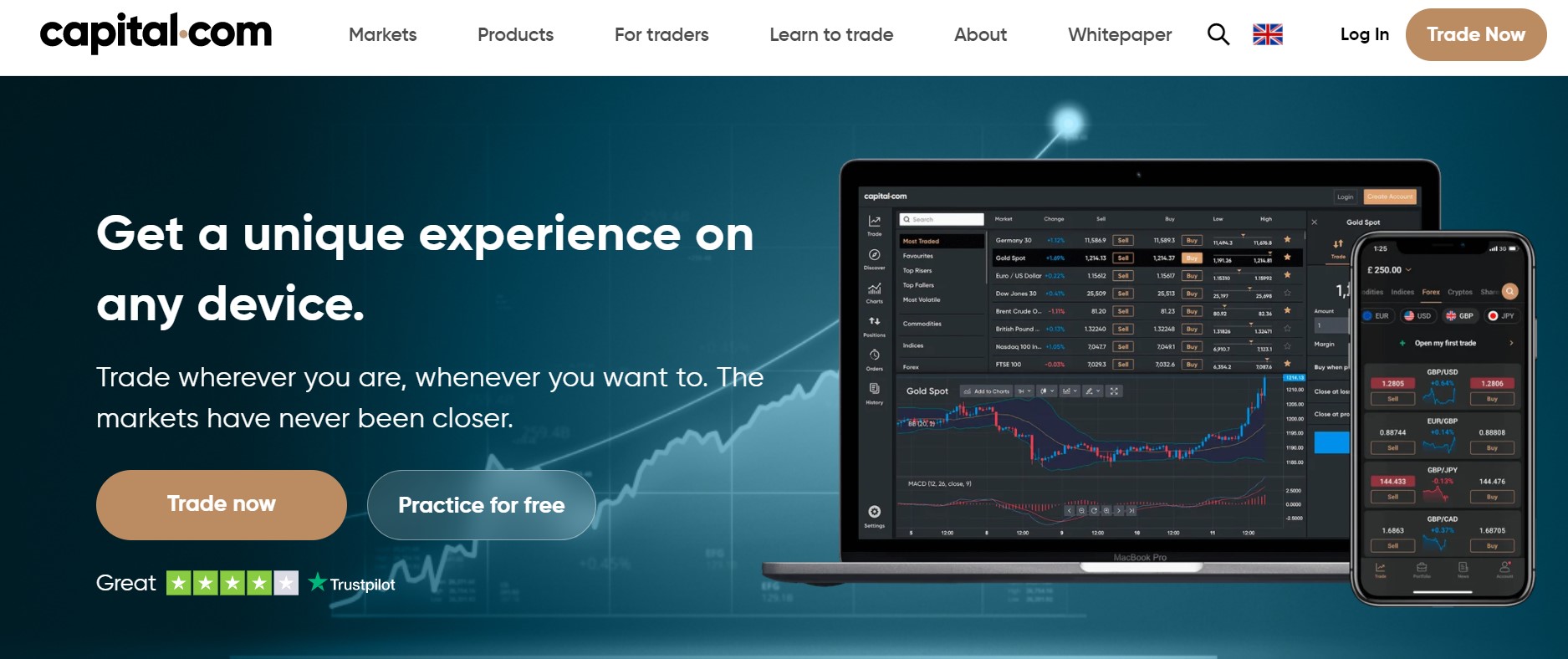 Regulation and Security
An essential thing to ask yourself before signing up with a broker is whether or not it is a safe broker. A safe broker will be regulated, meaning that it has been formed under a recognized and rigorous authority, which guarantees its financial maturity and set of criteria for registration. There are many brokers out there today, but it's always a good idea to stick with reputable companies that follow specific laws that recognize Forex trading brokers.
CySEC and the Financial Conduct Authority have thoroughly regulated, audited, and approved Capital.com. The Financial Conduct Authority has authorized and regulated the broker, which is registered in England. Capital.com is based in the European Union and conforms with the Markets in Financial Instruments Directive's criteria. It indicates that the broker is licensed and allowed to provide its trading services and the appropriate safeguards and controls.
Your funds are completely separated from the broker's and held separately in world-class institutions as a retail customer. Along with the rest, the business adheres to the necessary protection measures, trading accounts, and general administration of the traders to calm the state of mind. In line with regulatory requirements, every deposit is covered by the Investor Compensation Fund or the Financial Services Compensation Scheme in the United Kingdom.
The broker has introduced protection for negative balances together with margin closeouts that guarantee that traders never make more losses than the resources they invest.
Capital.com's operating requirements are very acceptable due to its EEA registration and offering of cross-border services with permission from cross-border authorities inside Europe.
Try Crypto Engine With Capital.com Now – FREE Sign Up
Leverage
Several variables typically determine leverage levels since this instrument allows you to trade with a more significant starting investment and multiply your profits. However, in addition to its tremendous potential, leverage raises risks by allowing you to lose and earn more money at the same time.
Since a result, regulatory authorities have placed substantial restrictions on retail traders' use of leverage, as the chances of falling into negative situations are incredibly great if you don't know how to utilize leverage correctly. Capital.com, being an EU and Cyprus regulated company, is subject to ESMA limitations and may provide lower leverage levels, which are also specified by each instrument individually and verified directly from the site.
Accounts
Next is a collection of account types through which you may trade, each of which is tailored to your specific trading requirements and offers a unique trading experience. So when you trade with Capital.com, you can anticipate a fully regulated and secure trading environment where you may create a trial account to test trading techniques or a real account to trade currency markets.
Capital.com offers three different account types: Standard, Plus, and Premier. The features and extra capabilities offered to traders vary across these accounts. Understanding the risks involved in trading is critical before opening an account, which is why the broker always encourages fresh traders to learn and educate themselves using a demo account and how to minimize risk using the educational tools available through the broker's learning programs.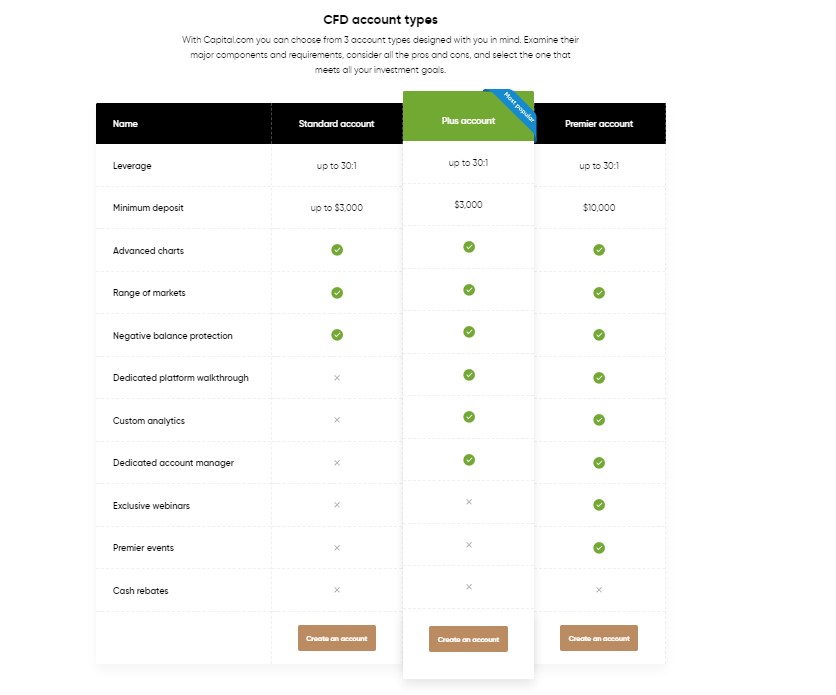 Advantages and Disadvantages
The following are some of Capital.com's advantages:
It's worth repeating that when you trade with Capital.com, you won't pay any costs other than overnight fees and spreads. This is a significant event.
In One Place, You Can Trade Crypto and Stocks
Capital.com is one of the few brokers that allows you to trade equities and cryptocurrency in one location. Better still, instead of relying on complicated crypto wallets, you may sell all of your crypto inside the Capital.com trading platform, just like any other stock.
Account Manager who is dedicated to you
This may not seem to be a significant change, but believe me when I say it is. Consider never having to wait on hold again.
Top-of-the-line desktop and mobile apps
Capital.com's PC trading interface and mobile app are both beautiful and powerful. It's simple to trade on the move while still knowing that you can execute complicated transactions whenever you need to.
You may use your trial account as a testbed to try out my trading techniques with no risk. In years of trading with Capital, this move alone may net you tens of thousands of dollars in earnings.
Some Drawbacks include:
Referral Program is one disadvantage
There is no referral program available at Capital.com. This is irrelevant if you wish to trade on your own; but, if you want to sign up your friends as well, you will get nothing in return. Of fact, many of Capital.com's rivals don't have referral programs, so before you dismiss Capital.com because of its lack of one, keep in mind that this is more of an industry issue than one unique to Capital.com.
Some clients are restricted from using leverage
Some traders, such as CySEC/FCA customers, are limited in their leverage, which is limited to 1-30 while trading.
In summary, the benefits and drawbacks are as follows:
With offices in Cyprus and the United Kingdom, Global Broker is a global brokerage firm.
Instruments such as forex and CFDs
Beginners and professionals alike will benefit from this course.
Commission-free MT4 platform Regulated international broker
Accounts that are segregated
Negative Balance Protection has been activated.
There is no referral fee for this program.
Leverage is limited to 1:30 for CySEC and FCA customers.
Fees
The majority of Capital.com's brokerage services are free. The broker's fee policy is open and straightforward. That is to say, if any costs are imposed, the business will make sure they are disclosed upfront. The majority of a broker's fees come from spread charges, which are competitive throughout the industry. The broker has the narrowest spreads on the market, with the EUR/USD trading for as little as 0.6 pips.
Try Crypto Engine With Capital.com Now – FREE Sign Up
Overnight Fee
For Shares, Cryptocurrencies, and Thematic Investments, Capital.com charges an overnight fee based only on the leverage offered rather than the total amount of your investment. On Indices, Commodities, and FX, the overnight cost is calculated depending on the total amount of your position.
Instruments of the Market
You may trade CFDs on commodities, stocks, currency pairs, indices, and cryptocurrencies at Capital.com. As a result, with access to the most liquid and famous markets, you may choose the most appropriate and understandable instrument for your trading needs and profit from trading using Capital.com's user-friendly site.
Withdrawals and Deposits
Capital.com partners with some payment service providers to guarantee that you have access to a choice of deposit options.
Deposits are made digitally in a flash.
The initial deposit is just twenty dollars, and there are a variety of deposit options.
Deposits and withdrawals are both free.
There are also optional deposits. You may create a live account with Capital.com in EUR, GBP, PLN, or USD. Your initial deposit may be made using a debit card, credit card, Bank Wire Transfer, iDeal, Sofort, Giropay, Przelewy24, Multibanko, QIWI, ApplePay, Webmoney, Trustly, AstropayTEF, or 2c2p. A minimum deposit is required.
All payment methods have a minimum deposit of 20 USD, 20 EUR, 100 PLN, or 20 GBP, except for wire transfer, which has a minimum deposit of 250 Euros or similar.
Withdrawals
Capital.com will refund your money using the same payment method that you used to finance your account in the first place. This implies that your money will be returned to your bank account by the broker if you choose the bank transfer option. If you pay with a credit or debit card, the money will be returned to your account. Capital.com typically processes all withdrawal requests within 24 hours. However, the money may take up to 5-7 business days to reach your card or bank account. Wire transfers may take longer.
Platforms for Trading
Capital.com offers many platforms, including its web-based platform and famous MT4, and mobile or tablet applications with the option to utilize well-known MT4.
The platform has the following features:
Trading software that is simple to use
MT4 and a proprietary platform are available.
Web, mobile, and desktop platforms are all supported by both platforms.
Demo Account is available for free.
Technical analysis and no strategy limitations
Various languages are supported.
The award-winning online trading platform of Web trading Broker is built for trailblazers looking for the best trading experience. Traders may use over 75 technical indicators, various trading chart styles, and comprehensive sketching capabilities using this software. It enables users to manage risk with stop-loss orders, benefit from price swings with take-profit orders, and feel secure with negative balance protection.
As previously stated, the broker also provides the MT4 platform, which has real-time charts, live quotes, in-depth statistics, and a variety of order management tools, indicators, and Expert Advisors to enhance the trading experience. The platform is simple to use, navigate and has a wealth of professional-grade features.
Trading Platform for Mobile Devices
Capital.com offers mobile trading for iOS and Android smartphones, allowing users to take advantage of the most attractive CFD trading platform ever created for a mobile device. The Capital.com trading software employs an artificial intelligence-powered trading bias detection technology to identify different cognitive biases that hinder traders from making successful trading choices.
Free and easy-to-use software for iPhone and Android smartphones also supports the MT4 version, allowing you to stay updated on trading while on the move. The app is well-regarded and well-developed, allowing you to fully customize your phone while also checking account status, requesting withdrawals, and seeing fee reports.
Customer Service
Customer Support is another excellent feature that we should mention. Capital.com offers multilingual assistance in over twenty languages and the everyday services that traders need, all of which are provided on a very long-term and professional basis. You may contact them by Live Chat, Phone, or Email at any time during business hours. The following are some customer service features:
Phone lines, Live Chat, and emails are all available for quick answers.
There are more than twenty languages that are supported.
Every hour of every day, help is needed.
Initial Deposit Requirement
Depending on the base currency you select for your account, Capital.com requires a minimum deposit of twenty dollars.  When you join Capital.com, you'll have to select between the Euro, the British pound, and the US dollar as your base currency. The currency of the markets you want to trade is the ideal currency for you. Because most major worldwide marketplaces use the dollar, it will be the case for many of us. However, if you wish to trade on European or international markets, you should choose the pound or the Euro.
It's worth mentioning that Capital.com doesn't impose currency conversion fees, so even if you use the Euro or the pound daily, you may wish to make the dollar your base currency to make trading easier.
Options for Deposits and Withdrawals
Deposits may be made using a debit card, credit card, bank transfer, wire transfer, or electronic transfer at Capital.com. Deposits may be made using a debit card, a bank transfer, or a credit card. Credit card deposits are immediately credited to your account, while bank transfers often take two business days. Regardless of the method, withdrawals take approximately two days to process. You may deposit money into Capital.com in US dollars, Euros, or British pounds in the markets.
Education
Capital.com teaches its customers via its Trading Courses and many instructional articles and trading guides by providing the best possible support and help, enhanced goods, and complete transparency. Capital.com's demo account is the best there is since it replicates the real-world trading experience. You may use the Capital.com demo account for as long as you wish, unlike many other brokers with arbitrary time restrictions on their trial accounts.
We must recommend Investmate, a trustworthy and convenient instructional software for learning finance on the move. The innovation provides customized financial education based on a learner's background and requirements. It comprises more than 30 information-packed courses created by financial professionals to help you become an expert. Aside from that, Capital.com gives its traders access to additional valuable resources, including Webinars, Capital.com TV, technical analysis, and news.
The demo account at Capital.com, on the other hand, allows you to switch between it and your real trading account with a single click. You may use your trial account to practice trading techniques without risking your real money. Capital.com offers a wealth of educational resources. Users may receive helpful training videos directly from the trading platform, and their website also has hundreds of helpful blog articles and videos.
Educational materials include the following characteristics:
Courses in Trading
There is a demo account accessible.
Analysis of the Technical
Tools for in-depth research
Webinars, Market News, and Web TV are all things that may be found on the internet.
Try Crypto Engine With Capital.com Now – FREE Sign Up
Conclusion
Overall, Capital.com is a worldwide brokerage firm with a long-standing customer-focused business that offers a safe and well-regulated trading environment suited for virtually every need. The services and products are customized to individual needs, and customers have access to a wide variety of platforms,  accounts, tools, and the opportunity to pick the best approach.
Aside from spreads and overnight costs, the broker's sleek, the powerful interface makes trading simple, and its dedication to zero commissions provides for a fantastic overall trading experience. You'll be pleased trading with Capital.com since you can trade equities and crypto in one location, and every new user gets a personal account manager.